The global automotive engineering services market was valued at USD 20.55 billion in 2022 and is expected to grow at a CAGR of 5.5% during the forecast period. Several factors drive the market, including technological advancement, shifting customer preferences, and governmental regulations. The demand is increasing for electrical systems design services such as circuit design, wiring harness design, battery management system design or control module design, software development and integration testing, and body control module systems such as sensor integration, actuator control, and software development which is leading to a surge in the market growth.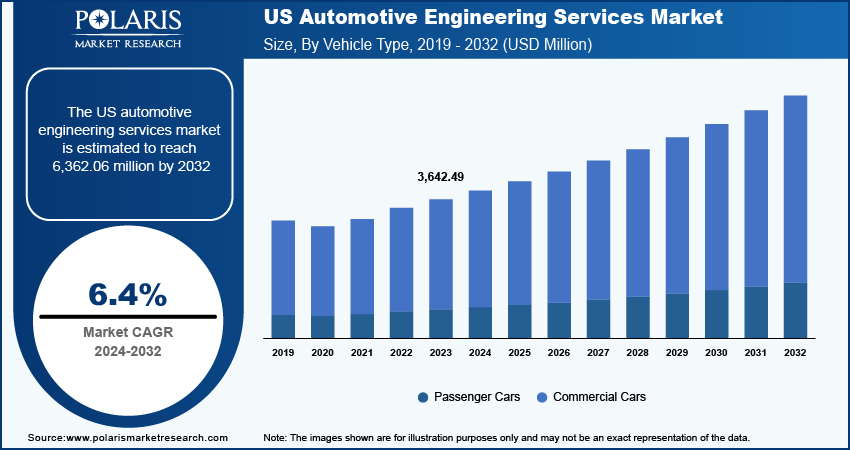 To Understand More About this Research: Request a Free Sample Report
In February 2023, STMicroelectronics introduced automotive High Side Drivers for single, double, and four channels in a standard PowerSSO-16 package type. These drivers' pin assignments make it easier to scale circuit designs to include more driver channels. The High Side Drivers focus on applications for the entire car, such as driver assistance systems, body electronics, infotainment, and engine.
The automotive industry is undergoing rapid technological change, driven by advances in areas such as electric and autonomous vehicles, advanced driver assistance systems (ADAS), and connectivity. ADAS technology is becoming increasingly important in the automotive industry, and engineering firms specializing in developing and testing ADAS systems are experiencing significant growth.
In February 2023, Phantom AI, an ADAS system firm, reported that a $36.5 million fundraising round had been concluded. Its PhantomDrive is a vehicle control system that predicts the motion of observed objects to provide a safe and natural vehicle movement. Sensor setup and map accessibility determine which functions are available. The technology is adaptable to any level of automation and is scalable.
Industry Dynamics
Growth Driver
Government regulations around emissions, safety, and data privacy are becoming more stringent, driving the need for more advanced engineering services. This includes areas such as compliance testing and emissions testing. Consumers increasingly demand more efficient, safe, and connected vehicles. This drives the need for engineering services in lightweight materials, fuel efficiency, and infotainment systems. The rapid pace of technological advancements in areas such as sensors, software, and communication networks is driving the need for more advanced engineering services, which is driving automotive engineering services market growth. For instance, in January 2023, Blackberry unveiled a cloud-connected AI software smart vehicle platform for fleet management.
Report Segmentation
The market is segmented based on vehicle type, location, application, service, propulsion, nature type, and region.
By Vehicle Type

By Location

By Application

By Service

By Propulsion

By Nature Type

By Region

Passenger Cars

Commercial cars

ADAS and safety

Electrical, electronics, and body controls

Chassis

Connectivity services

Interior, exterior, and body engineering

Powertrain and exhaust

Simulation

Battery development and management

Charger testing

Motor controls

Others

Concept/Research

Designing

Prototyping

System Integration

Testing

North America (U.S., Canada)

Europe (France, Germany, UK, Italy, Netherlands, Spain, Russia)

Asia Pacific (Japan, China, India, Malaysia, Indonesia. South Korea)

Latin America (Brazil, Mexico, Argentina)

Middle East & Africa (Saudi Arabia, UAE, Israel, South Africa
To Understand the Scope of this Report: Speak to Analyst
Electrical, Electronics and Body Controls segment dominated the market in 2022
In 2022, the electrical, electronics, and body control segment accounted for the largest market share and was expected to lead the market during the forecast period. A sophisticated architecture for the vehicle's electrical system is required due to the fast-rising demand for driving comfort and safety. The electrical, electronic, and body control system ensures that important electrical loads, such as lights, immobilizers, air conditioners, locking systems, and windshield wipers, are tested, controlled, and safe. As vehicles become more advanced and complex, the need for specialized engineering expertise in electrical, electronics, and body control systems is increasing, driving the market growth. Automakers are placing a greater emphasis on safety and comfort features in vehicles, driving the need for more advanced body control systems.
For instance, in November 2022, General Motors started a recall effort for more than 338,000 of its big SUVs to remedy a potential flaw in the onboard computer software that manages the daytime running light. According to GM, certain cars' body control module (BCM) software may fail to disable the DRLs while the headlights are on in certain circumstances, which can be fixed by GM dealers by updating the module software.
The connectivity segment is expected to grow at a substantial CAGR during the forecast period. The integration of connection services in automobiles has been simpler and more economical due to improvements in wireless communication technology. This has prompted the creation of new and creative solutions that might improve the driving experience. As the demand for connected and autonomous vehicles rises, there is a growing need for enhanced connectivity services that offer reliable and seamless communication between cars, infrastructure, and the cloud.
ICE segment is expected to grow at a highest CAGR during forecast period
The ICE segment is expected to grow at the highest CAGR during the forecast period. Internal combustion engines have been the primary propulsion technology for automobiles for over a century due to the established supply chain and manufacturing infrastructure, range and refueling infrastructure, and IC engines being more cost-effective. The ICE segment faces challenges as governments and consumers increasingly demand vehicles with lower emissions and better fuel efficiency. Automakers continue to improve ICE vehicles through innovations in engine design, materials, and manufacturing processes, driving market growth.
The EVs segment is expected to grow at a high CAGR during the forecast period. This segment covers a wide range of services, from battery design and engineering to the development of electric motors and drivetrains and the integration of electronics and software that control the vehicle's powertrain and charging systems. As a result of factors including government subsidies, environmental concerns, and the availability of increasingly cheap electric vehicles, the demand for electric vehicles has been rising quickly in recent years. The market for electric vehicles (EVs) is anticipated to expand over the next several years as more sophisticated EV technologies like solid-state batteries, wireless charging, and autonomous driving capabilities are introduced commercially.
For instance, in September 2022, General Motors Co. announced a USD 760 million investment at its Toledo, Ohio, propulsion operations to set up the plant to produce battery-based electric trucks. GM's first U.S. manufacturing plant for propulsion- or powertrain-related products will be Toledo Propulsion Systems, which will be upgraded for EV-related production.
Asia Pacific region accounted for the highest market share in 2022
Asia Pacific region held the highest market share in 2022. This can be attributed to the rising adoption of EVs in this region. The Asia Pacific region is home to some of the largest automotive markets in the world, including China, India, and Japan. As automakers look to increase productivity and save costs, engineering services relating to cutting-edge manufacturing techniques, such as 3D printing, robotics, and automation, are in high demand, driving the market in this region.
Asia Pacific region is also expected to grow at the fastest CAGR over the forecast period. Demand for engineering services is increasing due to governments in the Asia Pacific area enforcing stricter environmental rules addressing emissions reduction and fuel efficiency. This covers services for designing and optimizing engines and creating lightweight materials and parts. For instance, in August 2022, the Indian government started giving subsidies to further boost EV adoption. The Indian government's policies generally align with its goal of reaching EV market penetration of 70% for all commercial automobiles, 30% for private cars, 40% for buses, and 80% for two- and three-wheelers by 2030. This agrees with the zero net emission by 2070 ambition.
Competitive Insight
Some of the major players operating in the global automotive engineering services market include Capgemini, IAV Automotive Engineering, Bertrandt, L&T Technology Services, ALTRAN, Ricardo, Continental, EDAG Engineering, Semcon, Tech Mahindra, AKKA Technologies & HCL Technologies.
Recent Developments
In February 2023, General Motors & GlobalFoundries signed a long-term partnership to have a dedicated corridor specifically for GM's chip supply. This will produce distinctive chips to power complicated & technologically advanced automobiles.

In November 2022, the conclusion of a new Round C financing deal totaling more than USD 69 million was announced by Atech Automotive. It creates new energy automotive electronics, intelligent seats, keyless entry systems, body controllers, domain controllers, RF Bluetooth, and central core domain control. The company is presently developing a new generation of automotive electronic and electrical architecture platforms based on SOA software.
Automotive Engineering Services Market Report Scope
| | |
| --- | --- |
| Report Attributes | Details |
| Market size value in 2023 | USD 21.65 billion |
| Revenue forecast in 2032 | USD 35.21 billion |
| CAGR | 5.5% from 2023- 2032 |
| Base year | 2022 |
| Historical data | 2019- 2021 |
| Forecast period | 2023- 2032 |
| Quantitative units | Revenue in USD billion and CAGR from 2023 to 2032 |
| Segments covered | By Vehicle Type, By Location, By Application, By Service, By Propulsion, By Nature Type, By Region |
| Regional scope | North America, Europe, Asia Pacific, Latin America; Middle East & Africa |
| Key companies | Capgemini, IAV Automotive Engineering, Bertrandt AG, L&T Technology Services, ALTRAN, Ricardo, Continental AG, EDAG Engineering GmbH, Semcon, Tech Mahindra, AKKA Technologies and HCL Technologies |