The global automotive collision repair market size was valued at USD 174.48 billion in 2018 and is anticipated to grow at CAGR of 3.1 % during forecast period. Automotive collision repair is the rebuilding and repairing of a vehicle after it has been damaged in an accident. It considers the repair services and the materials required for the repairing process. The materials used in automotive repairing usually include paints, coatings, spare parts and other refinishing materials used to repair dents and scratches. The two main consumable products include engine motor oil and resin material. The spare parts used in automotive repairs include repair materials, crash parts, mechanical parts and tools.
An increasing need for road safety and consequent standards and guidelines for automobile safety is significant drivers to the market. Furthermore, natural calamities and spurt in road accidents leading to vehicle damage trigger growth. Another factor driving business sector development is the quick advancement of paints and coatings innovation which acclimatizes with the protective automobile materials and neatly done-up demands. However, the detrimental environmental effects arising out of using cheap synthetic coating and refinishing materials hampers market growth to a certain extent. The expansion of hybrid and electric vehicles also boosts the development of automotive collision market. The rise in driverless cars and a spurt in demand for electric vehicles increase the demand for automotive collision repair. With increasing sales and aging of vehicles globally, automotive collision repair market is on the growth path.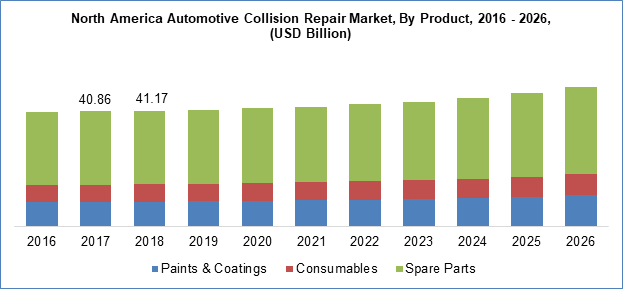 Know more about this report: request for sample pages
The growth in automotive collision repair market is a factor of global automobiles market. The growth in market can be attributed to the advancements in automotive repair technology. For instance, various manufacturers are adopting 3D printing technologies that retouch parts by economic fabrication of complex automotive components and prototypes.
Growing sales of electric and hybrid cars along with conventional cars has resulted in customized spare parts that have created an upswing in repair services on offer by OEM segment. OEMs have developed several outlets to distribute their branded parts to separate service departments and a gearing-up of demand for electric and hybrid vehicles will drive market for specific tools and spare parts used in such vehicles which will drive market growth in forthcoming years. Private equity investment in automotive collision repair companies and workshops will attract market growth.
Automotive Collision Repair Market Scope
By Product

By Vehicle Type

By End-Use

By Region

Paints and Coatings
Consumables
Spare Parts

Passenger Vehicles
Commercial Vehicles
Two-Wheelers

North America (U.S., Canada)
Europe (UK, Germany, France, Italy)
Asia Pacific (India, China, Japan)
Latin America (Mexico, Brazil)
MEA
Know more about this report: request for sample pages
Product Outlook
The global automotive collision repair market is segmented on the basis of product, vehicle type, end-use and geography. Based on product, the market is segmented into paints and coatings, consumables and spare parts. Spare parts accounted for highest share in market in 2018 owing to spate of road accidents on the road. The rapidly advancing paints and coatings technology which double up to the expectations of latest protective automobile material and aesthetic demands is the key reason for paints and coatings segment growth. Paints and Coatings are expected to bring about increased adoption in high volume markets over the forecast period owing to overwhelming environment concerns relating to use of harmful synthetic coatings and refinishing materials.
Vehicle Type Outlook
The vehicle types in the global automotive collision repair market include passenger vehicles, commercial vehicles and two-wheelers. Passenger vehicles segment dominated the global market in 2018 owing to showering demand of luxury vehicles and high adoption of electric vehicles. Automotive collision repair shops and companies in Asia Pacific charges were mighty higher than local automotive repair shops due to which reason local and unorganized automotive repair shops were preferred in the region. The automotive repair shops of Middle East, Africa and Latin America are anticipated to display significant growth in the coming years.
End-Use Outlook
The end-use segment is categorized into OEM, Aftermarket, and others. OEMs dominated the global market in 2018. Increased trust on OEM products coupled with warranty issued by manufacturers drives the growth of this segment. Similarly, the aftermarket segment is anticipated to grow at a considerable rate since the demand for low cost spare parts is increasing in developing regions and people are becoming aware of vehicle maintenance and repairs to increase the vehicle durability and longevity. There has been a trend in the market to go after the spare parts manufactured by other companies instead of the OEMs since the price is low and has a decent quality. This trend can be seen in the countries such as China and India where the automotive market is booming especially for the small cars purchased by the middle-income group of people.
Regional Outlook
Among regions, Europe displayed highest share for global market in 2017. The primary drivers in the region were copious demand for luxury automobiles, augmenting demand of driverless cars and stringent Government regulations regarding vehicular and road safety. Electric and hybrid car sales were looking ahead which acts as a reason for overall demand during forecast period.
The rising number of vehicle sales is leading to significant growth in Asia Pacific. An upswing in accidents due to lack of strict vehicle driving rules in the region is further adding to the growth of market. Asia Pacific is supposed to be a source of components for local organizations and multinationals who aim to supply low cost components to prominent vehicle vendors.
Competitive Landscape
The vendors are introducing new products to meet rising customer desires. In addition, the leaders are acquiring and collaborating with top companies in the market to enhance their offerings and expand customer base. The leading players in the market include Denso Corporation, Continental AG, 3M, Honeywell International, Inc., DuPont, BASF, Johnson Controls, Inc., ZF Friedrichshafen, Robert Bosch GmbH, Federal-Mogul LLC, Automotive Technology Products LLC, Caliber Collision and Henkel AG&Co., KGaA.