The global attention deficit hyperactivity disorder (ADHD) market was valued at USD 15,230.00 million in 2022 and is expected to grow at a CAGR of 7.3% during the forecast period.
The most prevalent neurodevelopmental disease, known as attention deficit hyperactivity disorder (ADHD), mostly affects youngsters. Initially identified in childhood, ADHD frequently persists throughout adulthood. The most typical signs of ADHD are excessive daydreaming, forgetfulness or losing things, difficulty resisting temptation, difficulties sharing, difficulty getting along with others, excessive activity, and difficulty paying attention. To treat ADHD, both stimulant and non-stimulant medications are used.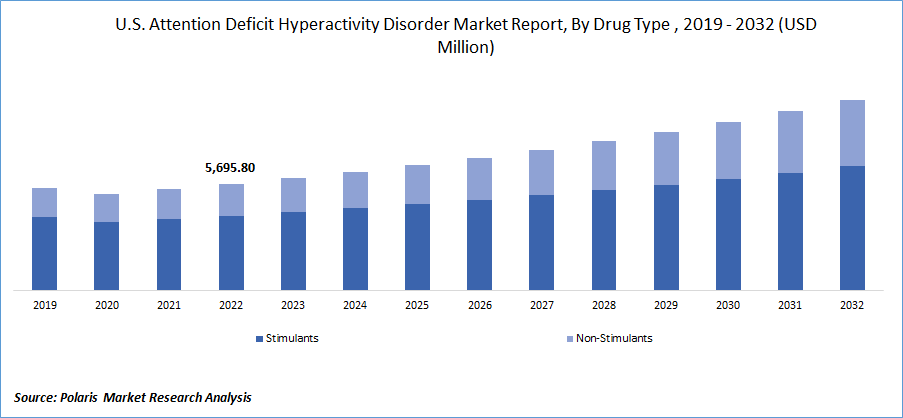 Know more about this report: Request for sample pages
The attention deficit hyperactivity disorder (ADHD) market expansion is projected to be supported by several measures implemented by governmental authorities addressing the early identification and treatment of ADHD. Australian government also included "Vyvanse" in its Pharmaceutical Benefit Scheme (PBS), in January 2021, for treatment of the adult ADHD sufferers. With this addition, Vyvanse is now available to patients at a discounted price, and more than 20,000 individuals have gotten an effective, similar medication for their illness. Without PBS assistance, the patients' annual treatment costs would have exceeded USD 1,200 per individual. After being added to PBS, they will be treated for USD 41.3 for each script. These activities should also fuel market expansion.
Additionally, the increased focus on research and development is leading to the creation of successful ADHD therapies, which is fostering market expansion. For instance, bigger research including 100 children with ADHD was sponsored by the Medical Research Council for GBP 1.3 million, according to the article titled "Published in the NeuroImage Clinical in May 2020." The investigation also led to new partnerships with Dresden University and the National Institute of Mental Health. The group has funding (approximately GBP 2 million from the National Institute for Health Research) to test additional brain-based treatment options for ADHD, such as non-invasive neurostimulation therapies such as transcranial direct current stimulation and stimuli of the trigeminal nerve, which regulates facial sensations. Throughout the forecast period, the market is anticipated to grow as a result of this advancement in treatment options for ADHD.
The rising product launches and collaborations by the major players for the treatment of ADHD disorders are bolstering the market growth over the forecast period. In March 2021, The once-daily medication AZSTARYS (formerly known as KP415), developed by KemPharm, Inc., received FDA approval for the treatment of attention deficit disorders disorder (ADHD) in individuals six years of age and older. Serdexmethylphenidate (SDX), a co-formulated prodrug of d-methylphenidate (d-MPH) from KemPharm, is the main ingredient in AZSTARYS.
Industry Dynamics
Growth Drivers
An increase in the prevalence of attention deficit hyperactive disorder is anticipated to fuel market expansion for treatments for ADHD. For example, a study published in the Journal of the American Medical Association (JAMA Network) in September 2022 found that between the years 2010 and 2019, 838,265 people received a new diagnosis of ADHD. While in Japan, 121,278 patients were diagnosed between the ages of 0 and 6 years.
Further, according to the Centers for Disease Control and Prevention (CDC), 6 million (9.8%) children between the ages of 3 and 17 have reportedly received an ADHD diagnosis. This estimate is based on data from 2016 to 2019. This figure encompasses 3-5 years with 265,000 (2%) diagnoses, 6-11 years with 2,4,000,000 (10%), and age group 12 to 17 with 3.3 million (13%). The market for attention deficit hyperactivity disorder may see growth as a result of increased demand for diagnosis and treatment as a result of increased knowledge of ADHD among patients, doctors, and other healthcare professionals. October is designated as ADHD Awareness Month by the Attention Deficit Hyperactivity Disorder Coaches Organization (ACO) with the goals of increasing awareness, generating financing for R&D, and educating people about problems. By promoting early diagnosis, this campaign may increase product penetration.
Report Segmentation
The market is primarily segmented based on drug type, distribution channel, demographics, and region.
By Drug Type

By Distribution Channel

By Demographics

By Region

Stimulants

Amphetamine
Methylphenidate
Lisdexamfetamine
Dexmethylphenidate

Non-stimulants

Atomoxetine
Guanfacine
Clonidine
Others

Retail Pharmacy
Hospital Pharmacy

Children (2 to 17 years of age)
Adults

North America (U.S., Canada)
Europe (France, Germany, UK, Italy, Netherlands, Spain, Russia)
Asia Pacific (Japan, China, India, Malaysia, Indonesia. South Korea)
Latin America (Brazil, Mexico, Argentina)
Middle East & Africa (Saudi Arabia, UAE, Israel, South Africa)
Know more about this report: Request for sample pages
The children segment is expected to witness the fastest growth
The increased incidence of the condition is likely to cause the children segment to expand at a rapid rate over the forecast period. Over 800,000 Australians are affected by ADHD, including 533,300 adults and 281,200 children aged 0 to 19 years, according to the ADHD Australia Report 2021. About 2 out of every 3 children with ADHD also have one or more other disorders, such as anxiety, depression, mental, emotional, or behavioral disorders. Thus, it is projected that a rise in the number of instances of ADHD in youngsters would fuel segment expansion.
The stimulants segment industry accounted for the highest market share in 2022
The stimulants segment dominated the ADHD market in 2021. The growth in this segment can be attributed to product effectiveness in treating the signs and symptoms of attention deficit hyperactivity disorder, clinical trials are still being conducted, and the government supports the use of stimulants in the treatment of mental health disorders. Dexmethylphenidate, lisdexamfetamine, methylphenidate, and amphetamine are examples of stimulant medications.
Additionally, it is projected that throughout the projection period, there will be an increase in clinical trials looking at the efficiency of stimulant medication in treating ADHD. For instance, according to U.S. National Library of Medicine updates from July 2021, Ironshore Pharmaceuticals & Development, Inc. is conducted a phase III trial pertaining to HLD200 (Methylphenidate) in Children With ADHD." Therefore, it is projected that the rise in medication development will enhance access to ADHD treatments, which will support the segment's growth. Therefore, throughout the projection period, the aforementioned factors are anticipated to fuel the segment's expansion.
Retail Pharmacy is expected to hold the major revenue share
The retail pharmacy segment is expected to dominated the ADHD market over the forecast period. The growth in this segment can be attributed to high rate ot ADHD patient in outpatient settings. High attention toward patient care efforts, with companies like Greenway Medical Technologies offering clients personal Electronic Health Records (EHRs) to keep track of their medical histories and get basic treatment. Other factors driving market expansion include rising healthcare costs, more awareness of the condition, and an increase in the number of prescriptions for ADHD medications.
The demand in North America is expected to witness significant growth
Over the projection period, North America will continue to dominate the ADHD market. This is because more products are being launched, more prescriptions for drugs are issued yearly, and more businesses are working together to expand market penetration and product development. In addition, market players are anticipated to play a significant role in accelerating market expansion throughout the ensuing years by approving and commercializing new medications. For instance, the Food and Drug Administration approved Azstarys (KemPharma) in July 2021 as a central nervous system stimulant for managing ADHD. This one was one of the first medications that included both dexmethylphenidate and serdexmethylphenidate. These approvals are accelerating the market segment's growth.
Furthermore, throughout the projected period, the market is expected to be driven by an increase in the incidence of ADHD in the nation. Attention deficit disorder was the major diagnosis in 13.6 million visits to medical offices. The industry is also anticipated to benefit from increased prescription rates in the United States and rising spending on ADHD treatment.
Additionally, it is anticipated that the approval and marketing of new medications would be crucial in fostering market expansion in the ensuing years. For instance, Qelbree (KELL'-bree) was given FDA approval in April 2021 to treat ADHD in children between the ages of 6 and 17. Therefore, throughout the predicted term, the aforementioned elements are anticipated to fuel the market's rise.
Competitive Insight
Some of the major players operating in the global market include Adlon Therapeutics L.P., Amneal Pharmaceuticals LLC., Aytu Biopharma, Inc., ABVC BioPharma, Inc., Cingulate Inc., Eli Lilly and Company, Johnson & Johnson Services, Inc., Novartis AG, Noven Pharmaceuticals, Inc, Otsuka Pharmaceutical Co., Ltd, Purdue Pharma L.P., Pfizer, Inc., Lupin, Supernus Pharmaceuticals, Inc., Ironshore Pharmaceuticals & Development, Inc., Takeda Pharmaceutical Company Limited, and Tris Pharma, Inc.
Recent Developments
In September 2022, CTx-2103, the company's asset for the treatment of anxiety-related illnesses, was released by Cingulate Inc. There is no proof that CTx-2103, a non-benzodiazepine drug with the active pharmacological component buspirone hydrochloride, causes dependence or poses a danger of doing so. Buspirone is recommended to be taken multiple times a day for the management of anxiety, however, due to its brief half-life, this can be difficult for patients and may result in less-than-ideal treatment outcomes.
In February 2021, Noven Pharmaceutical, requested permission to sell its dextroamphetamine transdermal solution for the treatment of ADHD in patients aged six and older by submitting a NDA to the USFDA.
Attention Deficit Hyperactivity Disorder Market Report Scope
| | |
| --- | --- |
| Report Attributes | Details |
| Market size value in 2023 | USD 16,235.49 million |
| Revenue forecast in 2032 | USD 30,568.94 million |
| CAGR | 7.3% from 2023 - 2032 |
| Base year | 2022 |
| Historical data | 2019 – 2021 |
| Forecast period | 2023 - 2032 |
| Quantitative units | Revenue in USD million and CAGR from 2023 to 2032 |
| Segments Covered | By Drug Type, By Distribution Channel, By Demographics, By Region |
| Regional scope | North America, Europe, Asia Pacific, Latin America; Middle East & Africa |
| Key Companies | Adlon Therapeutics L.P., Amneal Pharmaceuticals LLC., Aytu Biopharma, Inc., ABVC BioPharma, Inc., Cingulate Inc., Eli Lilly and Company, Johnson & Johnson Services, Inc., Novartis AG, Noven Pharmaceuticals, Inc, Otsuka Pharmaceutical Co., Ltd, Purdue Pharma L.P., Pfizer, Inc., Lupin, Supernus Pharmaceuticals, Inc., Ironshore Pharmaceuticals & Development, Inc., Takeda Pharmaceutical Company Limited, and Tris Pharma, Inc. |