The aircraft sensors market was valued at USD 4.32 billion in 2021 and is expected to grow at a CAGR of 8.8% during the forecast period. Increasing demand for new aircraft worldwide and growing demand for UAV sensors are factors responsible for the market's growth. Additionally, rising investment of aircraft OEMs in connected aircraft is anticipated to boost the market's growth.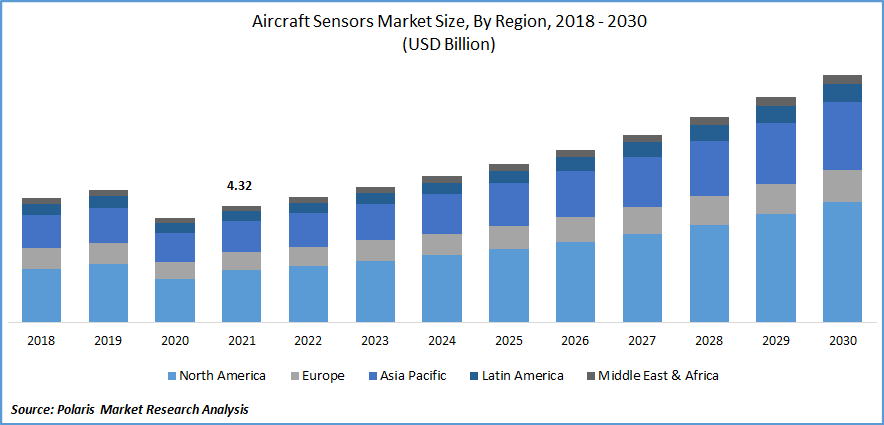 Know more about this report: Request for sample pages
Aircraft sensors are devices that detect environmental events and changes and convert them into signals that are easy to interpret. A slight misalignment of the plane can lead to catastrophe. Sensors built into the aircraft detect such irregular deviations and notify pilots, which has inaugurated the demand for aircraft sensors in the aviation industry.
Rising demand for technologically advanced aircraft to replace aging fleets and the high adoption of wireless sensors for military and commercial purposes are expected to propel the aircraft sensors market in the forecast year. Inflation in defense finance and the emergence of new technologies such as IoT, AI, and big data analytics are also expected to boost the market.
Moreover, increasing production rates of essential commercial aircraft programs, new market players' entrance, rising aircraft fleet size, increasing electronic components in the next-generation aircraft, and high focus on passenger safety and fuel efficiency are some factors witnessed in the market's growth.
The COVID-19 pandemic has had a negative impact on the market as it has caused delays in the production of aircraft and all aircraft components, causing a recession in the aircraft sensors market. Declining production and deliveries of major aircraft manufacturers such as Boeing and Airbus SAS through April 2020 significantly impacted the overall market growth. The entire aircraft sensor supply chain was hampering the production of sensor units. The market is expected to recover in the next few years.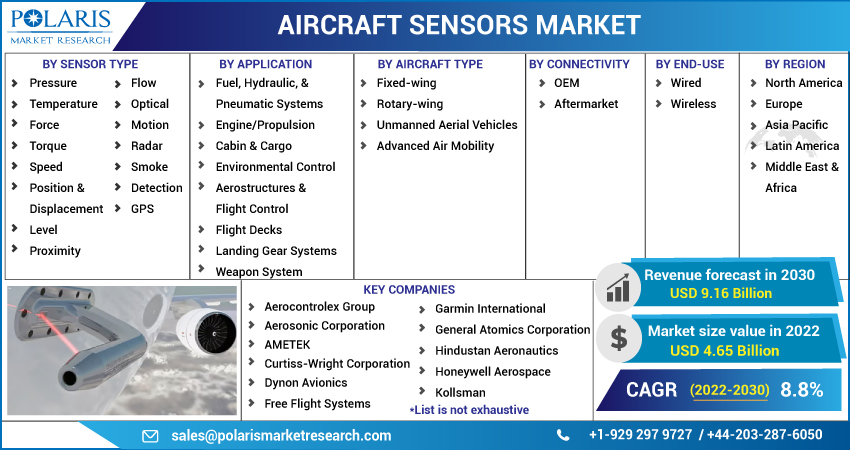 Know more about this report: Request for sample pages
Industry Dynamics
Growth Drivers
Micro-Electro-Mechanical Systems (MEMS) are small devices in which actuators, sensors, and processors are integrated to form an intelligent system. Using this MEMS in aerospace applications improves performance and extends life with high-end, cost-effective features. It eliminates traditional flight control surfaces, reduces drag, and potentially enhances compressor, turbine, and overall aerodynamic performance. It offers significant advantages in size, cost, and weight compared to traditional systems.
Advances in MEMS technology have made it possible to withstand harsh environments such as high temperatures and vibrations. Increasing demand for MEMS technology in aviation has driven the market's growth.
Unmanned Aerial Vehicles (UAVs) use a wide range of sensors to improve the operations of the vehicle or to collect data. Besides conventional sensors such as flight control, temperature & pressure, flow & level, and other UAVs use advanced technologies such as LIDAR sensors for navigation and imaging purposes.
The rising adoption of UAVs in the military for surveillance, intelligence, and reconnaissance operations worldwide is expected to fuel the market's growth. The growing demand for UAVs for life-threatening missions and modern welfare techniques is also expected to propel the market's growth.
Moreover, the growing adoption of UAVs for civil and commercial operations such as agricultural activities, security, real estate, engineering, and others is expected to augment the market's growth.
Report Segmentation
The market is primarily segmented based on sensor type, application, aircraft type, end-use, connectivity, and region.
By Sensor Type

By Application

By Aircraft Type

By End-Use

By Connectivity

By Region

Pressure
Temperature
Force
Torque
Speed
Position & Displacement
Level
Proximity
Flow
Optical
Motion
Radar
Smoke Detection
GPS
Others

Fuel, Hydraulic, & Pneumatic Systems
Engine/Propulsion
Cabin & Cargo Environmental Control
Aerostructures & Flight Control
Flight Decks
Landing Gear Systems
Weapon System
Others

Fixed-wing
Rotary-wing
Unmanned Aerial Vehicles
Advanced Air Mobility

North America (U.S., Canada)
Europe (France, Germany, UK, Italy, Netherlands, Spain, Russia)
Asia Pacific (Japan, China, India, Malaysia, Indonesia, South Korea)
Latin America (Brazil, Mexico, Argentina)
Middle East & Africa (Saudi Arabia, UAE, Israel, South Africa)
Know more about this report: Request for sample pages
Proximity sensor is expected to have significant share in 2021
Depending on sensor type, proximity sensors are expected to have a significant share during the forecast period as they detect changes in capacitance between the sensor and an object.
A proximity sensor is a position sensor commonly used to detect the presence of an object without physical contact. They are the most popular and cost-effective solutions for non-contact object detection. Proximity sensors emit electromagnetic radiation and detect changes in the return signal field. That is, it converts the movement and presence of objects into electrical signals.
Proximity sensors can be incorporated into various aircraft systems, such as thrust reverser actuation systems, flight controls, aircraft doors, cargo loading systems, escape slide locks, and landing gear propelling its demand in the aircraft sector.
Fuel, hydraulic & pneumatic is expected to have the largest market share
The aircraft sensors market has several applications in which the fuel, hydraulic & pneumatic is expected to have the largest market share over the forecast period. Fuel, hydraulic and pneumatic systems are the bloodline of the aircraft.
Fluid systems control all essential functions of the aircraft, including flight control, engine operation, and landing gear retraction and deployment. So, this system requires a world-class sensor solution, driving the demand for aircraft sensors.
Fixed-wing is expected to hold the significant revenue share
Based on the aircraft type, the market has been segmented into fixed-wing, rotary-wing, unmanned aerial vehicles, and advanced air mobility. The fixed-wing type is expected to hold a significant share in 2021 due to its rising demand and widespread use in air travel.
Fixed-wing aircraft include propeller-driven or jet engine powered and have wings that do not move. These are mainly used for longer travel distances than rotary-wing aircraft cover because they can go further before needing to refuel, which drives the segment's growth.
Additionally, the army boasts an array of fixed-wing aircraft, helicopters, and UAVs in its fleet. Each performs a variety of missions, including assault, search and destroy, transport and supply, and recon. The army also utilizes Unmanned Aerial Vehicles (UAVs) to perform strikes and reconnaissance without risking the workforce.
The OEM segment accounted for the largest growth rate
Depending upon end users, the market is segmented into OEM and aftermarket. OEM accounts for the most significant aircraft sensors market share due to the increasing demand for aircraft types worldwide and the rising air traffic.
Additionally, this segment plays a crucial role in commercial aircraft, military aircraft, and business jet manufacturers.
Wireless connectivity is expected to grow fastest over the forecast
Depending upon connectivity, the market is segmented into wired and wireless connectivity. Wireless connectivity is expected to grow fastest over the forecast as it finds various applications for both safety-critical and non-safety-critical distributed systems.
Some potential benefits of using wireless connectivity for aircraft systems include weight reduction, ease of maintenance, and increased monitoring capability. WSN-based engine health monitoring and aircraft structural health monitoring enable the development of safety-critical systems such as WSN-based distributed engine control and fly-by wireless aircraft flight control systems.
North America is projected for largest market share
The North American region is the largest manufacturer of aircraft sensors. Major companies such as Honeywell, General Electric, and TE Connectivity are all headquartered in the United States. The North American region also designs and manufactures many different aircraft platforms. These factors contribute to the most considerable growth in the region.
The Asia-Pacific region is expected to grow fastest over the forecast period as countries such as China, India, and Japan expand their domestic production of aircraft. Air traffic is also increasing in these countries, contributing to the increasing size of the fleet in the region. The increased fleet size will also contribute to aftermarket services in the region. These factors are expected to propel the market growth in these regions.
Competitive Insight
Some of the major players operating in the global market includes Aerocontrolex Group, Aerosonic Corporation, AMETEK, Curtiss-Wright Corporation, Dynon Avionics, Esterline Technologies Corporation, Free Flight Systems, Garmin International, General Atomics Corporation, Hindustan Aeronautics, Honeywell Aerospace, Kollsman, Meggitt, Memscap, Pacific Avionics & Instruments, Revue Thommen, Rockwell Collins, Safran Electronic & Defense, Schneider Electric, and TE Connectivity.
Recent Developments
In July 2022, TT Electronics collaborated with Honeywell Aerospace to develop next-generation inertial navigation units for aerospace and military applications for the purpose of navigation & flight control operations.
Aircraft Sensors Market Report Scope
| | |
| --- | --- |
| Report Attributes | Details |
| Market size value in 2022 | USD 4.65 billion |
| Revenue forecast in 2030 | USD 9.16 billion |
| CAGR | 8.8% from 2022 - 2030 |
| Base year | 2021 |
| Historical data | 2018 – 2020 |
| Forecast period | 2022 – 2030 |
| Quantitative units | Revenue in USD billion and CAGR from 2022 to 2030 |
| Segments Covered | By Sensor Type, By Application, By Aircraft Type, By End-Use, By Connectivity, By Region |
| Regional scope | North America, Europe, Asia Pacific, Latin America; Middle East & Africa |
| Key Companies | Aerocontrolex Group, Aerosonic Corporation, AMETEK, Curtiss-Wright Corporation, Dynon Avionics, Esterline Technologies Corporation, Free Flight Systems, Garmin International, General Atomics Corporation, Hindustan Aeronautics, Honeywell Aerospace, Kollsman, Meggitt, Memscap, Pacific Avionics & Instruments, Revue Thommen, Rockwell Collins, Safran Electronic & Defense, Schneider Electric, TE Connectivity. |