The global agriculture analytics market was valued at USD 698.8 million in 2019 and is expected to exhibit a CAGR of 16.1% over the forecast period. Agriculture analytics refers to the adoption of techniques in the agricultural field such as Big Data, IoT and other analytical instruments. The reception of advancements for economical farming frameworks is a difficult and dynamic issue for farmers, augmentation of administrations, agriculture business and strategy creators. The horticultural area needs to utilize a wide scope of advancing innovations and ranch rehearses crosswise over a wide range of cultivating frameworks and structures to meet an assortment of changing and heterogeneous requests from buyers and people in general for grain, fiber and different goods and services through agriculture, regularly with unsure results in wording of their consequences for sustainability.
The increasing focus on agribusiness profitability is driving the adoption of agricultural analytics for efficient assessment and the development of the global agricultural analytics market is driven by critical farm-related information for better decision-making. This makes it difficult to identify the perfect products for productivity improvement. Therefore, the implementation of agricultural analytics to analyze this information is increasing, which stimulates the development of the worldwide market for agricultural analytics. In addition, the increasing need for livestock management, which increases farmers burden and can lead to mismanagement, fosters the development of the global agriculture analytics market. To eliminate the hazards associated with this mismanagement and increasing need for animal tracking, the development of the global market is also promoted.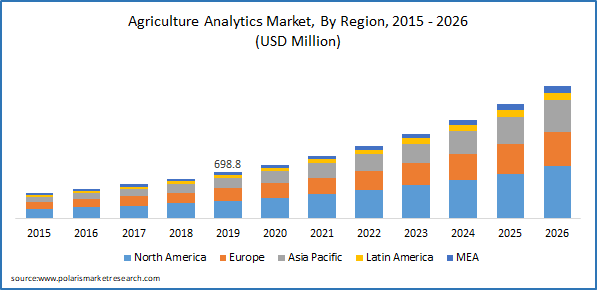 Know more about this report: request for sample pages
In addition, increasing implementation of agricultural analytics across big farms is boosting the overall industry owing to its affordability and profitability enhancement abilities. High-level business activities are performed across big farms, generating big amounts of information and helping farm analytics service providers to manage this data. The market is therefore experiencing development and is likely to stay a main driving factor in the development of agricultural analytics market.
Digital farming includes mainly using connected equipment and equipment as well as other digital techniques to enhance output. From precision farming, animal tracking, greenhouse farming, linked devices and software contribute to all essential farming apps. Networked farm sensors track in storage the quantity of harvested products. This information gives farmers a precise concept of their inventory. Drones produce field maps and photographs that provide essential crop condition data. Soil sensors produce reports on the soil's nutrient content. Farm robots help with crop seeding and harvesting. Weather and other associated data is provided by satellite and mobile radio antennas. The digital farm market is also driven by active involvement by governments in digitizing farms through investment.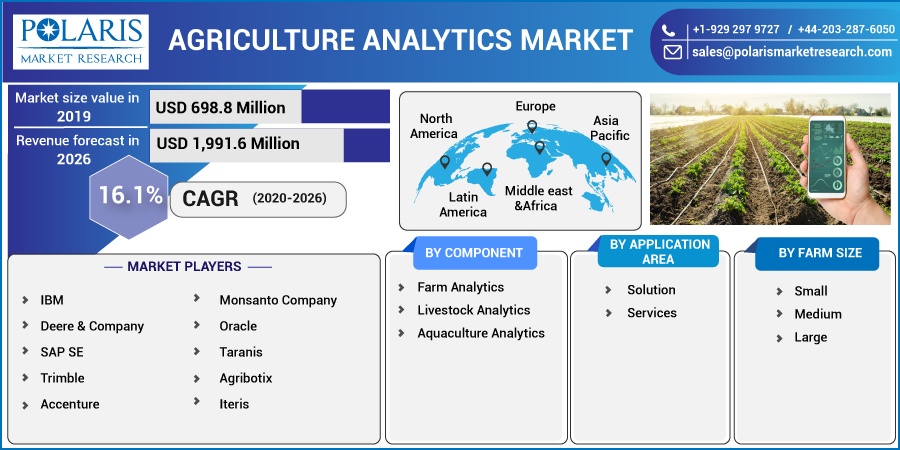 Know more about this report: request for sample pages
Agriculture Analytics Market Report Scope
The market is primarily segmented on the basis of application area, component, farm size, and geographic region.
By Application Area

By Component

By Farm Size

By Region

Farm Analytics
Livestock Analytics
Aquaculture Analytics

North America (U.S., Canada)
Europe (UK, Germany, France, Italy)
Asia Pacific (China, India, Japan, Australia)
Latin America (Brazil, Mexico)
MEA (Saudi Arabia, South)
Know more about this report: request for sample pages
Application Area Outlook
The livestock analytics application segment is expected to project the highest CAGR during the forecast period. Varied daily tasks performed by livestock farming generate large volumes of critical animal data. The application section of livestock analytics involves feeding management, heat stress management, dairy harvesting, breeding management, tracking and management of behaviors, and others (calf management, genetic management, and cattle sorting). Ranchers have consistently looked to new advancements as an approach to lessen costs. Furthermore, higher wages, more prominent learning, improved channels of correspondence are driving customers to request minimal effort nourishment of higher caliber progressively delivered through natural techniques in numerous nations, with more yield, consistency and all year accessibility.
Component Outlook
On the basis of component type, solution segment is held the highest market share. The agrarian sector needs to utilize a wide scope of developing innovations and farm practices over a wide range of farming frameworks and structures to meet an assortment of diverse and heterogeneous requests from customers and general society for different goods and services by agri-business, regularly with questionable results in terms of their impacts on manageability. Crop yields depend on various variables such as weather parameters, soil condition, application of fertilizer, and range of seeds. Identifying the critical variables from big information sets that can affect their farm productivity becomes very difficult for farmers. Agriculture analytics solution enables a broad range of information to be correlated in order to gain useful understanding to increase productivity.
Regional Outlook
It is anticipated that North America will hold the biggest market size from 2018 to 2026 and dominate the global agricultural analytics industry. The presence of enormous farms and advanced modern farming equipment/practices contributes significantly to the development of the market for agricultural analytics. Asia Pacific region is anticipated to invite investment in digital farming methods and cloud-based solutions being introduced and accepted after initial training with high potential for growth. Failure to standardize information in different areas, however, could influence the implementation of agricultural analytics solutions across the region as a uniform framework.
Competitive Landscape
IBM, Deere & Company, SAP SE, Trimble, Accenture, Monsanto Company, Oracle, Taranis, Agribotix and Iteris are some of the players operating in the global agriculture analytics market. There is a competitive supplier landscape in this market. These businesses are also attempting to enter into strategic alliances, company expansions, mergers and acquisitions, and advances in product / service. Market players can further enhance their current software, hardware, and services to address current issues. Predictive analytics is anticipated to propel the industry growth.