The global aerospace 3D printing market was valued at USD 527.7 million in 2020 and is expected to grow at a CAGR of 24.1% during the forecast period. The aerospace industry secures the highest rate of adoption in the 3D printing market with continued advancements in technology adoption. Increasing demand for faster production of finished parts to reduce the lead time or cycle time is one of the prime drivers for 3D printing in the aerospace industry. Additionally, producing lightweight parts while maintaining strength is another key factor driving the demand for 3D printing in the global aerospace 3D printing market.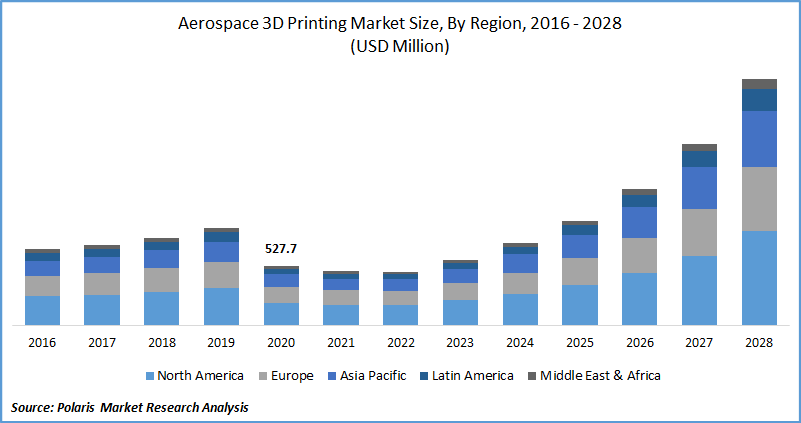 Know more about this report: request for sample pages
The year 2020 has been extremely challenging for the aerospace industry due to the outbreak of the COVID-19 pandemic. As per ICAO's Aug 2021 estimates, the world's air passenger traffic declined by over 60% in the year 2020 as compared to 2019, which equates overall reduction of about 2,699 million passengers. The industry is further anticipated to decline between 41% to 51% in 2021 as compared to the 2019 level (pre-COVID level). Despite a challenging environment for the industry, the long-term outlook of the industry looks resilient with a gradual recovery in air traffic wherein domestic airlines depict the fastest recovery with a lag of just two years, whereas international air traffic to take 3 to 4 more years to recover the decline with prolonged international travel restrictions.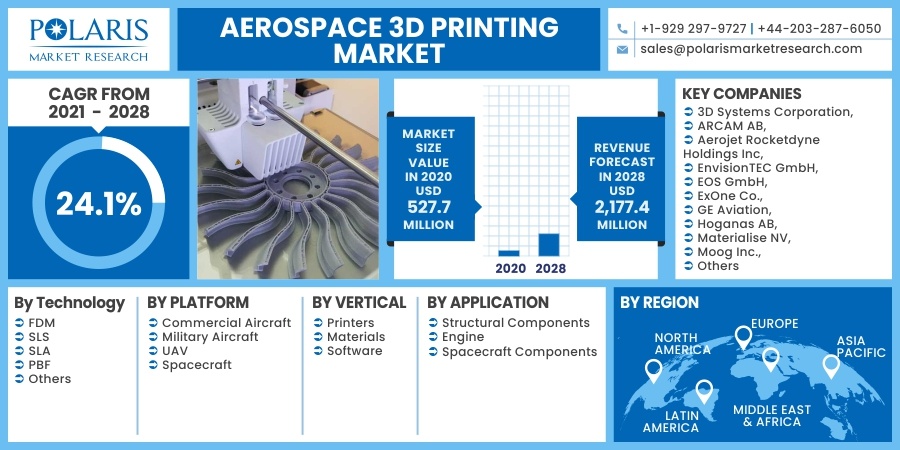 Know more about this report: request for sample pages
Industry Dynamics
Growth Drivers
Some of the major growth drivers of 3D printing in the aerospace industry are legislative norms for reducing carbon emissions, a growing need for the development of complex structured aerospace parts, huge order backlogs translating into a growing need for part cycle time reduction, and growing demand for lighter satellites that reduce the significant cost of sending them to space. 3D printing has also been gaining traction in tooling and rapid prototyping, thereby saving costs of time-consuming traditional tooling and production.
High flexibility in part fabrication and finishing, reduction in the number of parts in the assembly, and reduction in a long time of raw material procurements are gradually making 3D printing as the mainstay technology in the aerospace industry. Cost reductions without compromising performance further exaggerate the growth of aerospace 3D printing technology in the global market. Organic growth in aircraft production and deliveries and increasing space launch vehicles as well as small satellites market to fuel the overall aerospace 3D printing industry's growth in the foreseen future.
Report Segmentation
The market is segmented in the most comprehensive way based on technology, platform, vertical, application, and region.
By Technology

By Platform

By Vertical

By Application

By Region

Commercial Aircraft
Military Aircraft
UAV
Spacecraft

Printers
Materials
Software

Structural Components
Engine
Spacecraft Components

North America (U.S, Canada)
Europe (Austria, France, Germany, Italy, Netherlands, Spain, UK)
Asia Pacific (China, India, Indonesia, Japan, Malaysia, Australia)
Latin America (Brazil, Mexico, and Argentina)
Middle East & Africa (Israel, UAE, Saudi Arabia, and South Africa)
Know more about this report: request for sample pages
Insight by Technology
Selective Laser Sintering (SLS) is likely to depict the highest CAGR during the forecast period in the global market. Design freedom, ability to produce complex parts, shorter cycle time, and excellent part finish are key driving factors of the selective laser sintering technology segment. Additionally, parts printed with selective laser sintering offer weight reduction and high strength and are extremely effective for many applications.
Fused deposition modeling (FDM) also offers healthy growth opportunities in the market for aerospace 3D printing. It is a highly preferred manufacturing technology with thermoplastic materials such as PEI resins. Recyclability, durability, high part accuracy, and lightweight are key segment drivers.
Insight by Platform
Commercial aircraft will remain the largest segment of the global market during the foreseen future. New and modern commercial aircraft platforms such as Boeing's B777x and A350XWB have increasingly deployed three-dimensional printed parts in various application areas. Airbus has a whopping 1,000+ 3D printed aerospace parts in its next-generation commercial aircraft platform A350XWB.
There exists a strong opportunity for three-dimensional printing from the spacecraft segment as well. NASA has been actively working on three-dimensional printing technology for advancement in space exploration. It deploys about 7,000 pounds of spare parts every year in the International Space Station (ISS) and is actively working with aerospace 3D printing technology to address weight reduction and reduce costs.
Insight by Application
Among application types, the engine holds huge dominance in the global market for aerospace 3D printing driven by key, serial production applications such as fuel nozzle and sensor housing. GE Aviation has incorporated 3D printed fuel nozzles in its GE9x engine and LEAP jet engine. GE Aviation's Additive Technology Center (ATC) in Cincinnati prints 600 a week of single-piece fuel nozzle into one single component from 20 different components, significantly reducing part count and weight.
Spacecraft components are likely to depict robust market growth in the near term with strong developments in three-dimensional printing technology in the aerospace application segment. In Nov 2020, NASA demonstrated two three-dimensional printed rocket engine parts - a copper alloy combustion chamber and nozzle made of high-strength alloy which could withstand extreme temperature and combustion environments. This indicates that future lunar landers might have 3D-printed parts in the engine.
Geographic Overview
Geographically, North America is the pioneer in the market for aerospace three-dimensional printing and is likely to remain the dominant region in the global market. GE Aviation, NASA, Boeing, and Raytheon Technologies are some of the major US-based aerospace industry companies which are heavily investing in the 3D printing technology driving the region's market. Upcoming Boeing's aircraft platform B777x is likely to incorporate series of three-dimensional printed parts, thereby indicating strong growth potential of the market in the near term.
Asia Pacific market is at the nascent stage of adopting aerospace three-dimensional printing technology for serial production applications. There have been significant investments by start-ups and institutional investors in the region, spending a lot of funds on 3D printers and software solutions. China, India, Japan, and South Korea are key countries in the region offering substantial growth in the market for aerospace three-dimensional printing.
Competitive Insight
Advancement in manufacturing, designing, and processing technologies, investments in R&D, development of new applications with three-dimensional printing, and merger & acquisitions are some of the key strategic moves adopted by the industry stakeholders to compete in the market for aerospace three-dimensional production. Industry players are trying to certify their three-dimensional printed parts into serial production for selling mass volume products with long-term agreements.
Some of the key market players competing in the global aerospace 3D printing market are 3D Systems Corporation, ARCAM AB, Aerojet Rocketdyne Holdings Inc, EnvisionTEC GmbH, EOS GmbH, ExOne Co., GE Aviation, Hoganas AB, Materialise NV, Moog Inc., MTU AERO ENGINE, Norsk Titanium, Oerlikon Group, Renishaw plc, Stratasys Ltd., The Trumpf Group, Ultimaker BV.
Aerospace 3D Printing Market Report Scope
| | |
| --- | --- |
| Report Attributes | Details |
| Market size value in 2020 | USD 527.7 million |
| Revenue forecast in 2028 | USD 2,177.4 million |
| CAGR | 24.1% from 2021 - 2028 |
| Base year | 2020 |
| Historical data | 2016 - 2019 |
| Forecast period | 2021 - 2028 |
| Quantitative units | Revenue in USD million/billion and CAGR from 2021 to 2028 |
| Segments covered | By Technology, By Platform, By Vertical, By Application, By Region. |
| Regional scope | North America, Europe, Asia Pacific, Latin America, Middle East & Africa |
| Key Companies | 3D Systems Corporation, ARCAM AB, Aerojet Rocketdyne Holdings Inc, EnvisionTEC GmbH, EOS GmbH, ExOne Co., GE Aviation, Hoganas AB, Materialise NV, Moog Inc., MTU AERO ENGINE, Norsk Titanium, Oerlikon Group, Renishaw plc, Stratasys Ltd., The Trumpf Group, Ultimaker BV |