The global xylitol market was valued at USD 532.98 million in 2022 and is expected to grow at a CAGR of 5.5% during the forecast period. The rising demand for xylitol in food and nutraceutical applications is a significant factor projected to propel the market over the forecast period.

Know more about this report: Request for sample pages
Crystalline, low-calorie xylitol is a natural sweetener included in meals made from fibrous plants and hardwood trees. Only this sugar compares favorably to sucrose in terms of sweetness intensity. It may be made from various plant sources, including polysaccharides, by chemical or enzymatic hydrolysis. It is primarily made using an industrial-scale chemical technique based on catalytic xylose dehydrogenation. Due to the employment of a toxic catalyst and high-pressure hydrogen gas, the process is expensive, energy-intensive, and potentially hazardous to the environment.
Many fruits, vegetables, and plants contain xylitol, a naturally occurring sugar alcohol. It is taken from bio garbage, including maize cobs and birch bark. It is a sugar polyol with a carbon structure employed as a low-calorie sweetener in chewing gum, sweets, and other sugar-based goods.
Due to the rising demand for low-calorie meals and ingredients, it is predicted that product demand in the U.S. will increase throughout the forecast period. Further fueling product demand in the U.S. market is the growing knowledge of natural goods essential for managing general health. The United States is one of the top xylitol-producing nations. To increase their market positions in the U.S. market, the manufacturers have been focusing on various possible application industries, such as nutraceuticals, cosmetics & personal care.
Several microorganisms, including yeast, bacteria, and fungus, are employed in the enzymatic process, aiding in a sustainable ecosystem. It is utilized as a food ingredient in confectionery, bakery, beverages, and dairy goods, as well as in the nutraceutical and pharmaceutical sectors, since it has a low glycemic index. Corn cobs and birch barks are the two most often utilized raw materials for the industrial synthesis of xylose. Because it is less expensive to produce xylose from corn cobs, the cost of xylitol obtained from corn cobs is less costly than that of birch trees.
As COVID-19 instances increase, the government has been obliged to impose lockdowns, which have impacted the transportation sector. Xylitol is frequently employed in various products to create pure goods for applications like food, confectionery, and chewing gums. It is challenging to find the raw materials for these culinary items because of strict transportation laws and a broken supply chain for different goods. Additionally, the food business may need to be improved by blocked transportation routes, which would be extremely detrimental to the sector's expansion.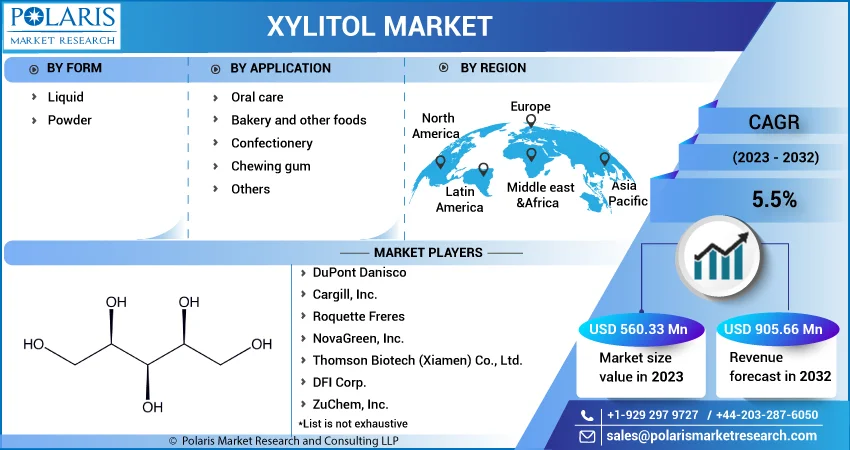 Know more about this report: Request for sample pages
Industry Dynamics
Growth Drivers
Xylitol has a low glycaemic index, meaning it has minimal impact on insulin and blood sugar levels. As a result, xylitol is a basic ingredient in various goods, including toothpaste, sweets, chewing gum, and meals suitable for people with diabetes. The U.S. is one of the leading markets for sugar-free candy, contributing to the expansion of the xylitol business.
The rising frequency of numerous ailments among consumers, including diabetes, obesity, cardiovascular problems, and high blood pressure, is another reason for boosting the market's expansion for xylitol. Xylitol works best to protect children's teeth and ears against bacterial infections. Also, as xylitol-based products reduce dental cavities, they provide several advantages for maintaining good oral health.
Chewing gums contain xylitol as a natural sweetening agent. It provides several oral advantages, including avoiding dry mouth and tooth decay and improving oral hygiene. Also, customers who are overweight and have diabetes tend to favor confectionery products with natural sweeteners. As a result, the expansion of the xylitol market is projected to be driven by rising demand for xylitol throughout the confectionery product spectrum.
Report Segmentation
The market is primarily segmented based on form, application, and region.
By Form

By Application

By Region

Oral care

Bakery and other foods

Confectionery

Chewing gum

Others

North America (U.S., Canada)

Europe (France, Germany, UK, Italy, Netherlands, Spain, Russia)

Asia Pacific (Japan, China, India, Malaysia, Indonesia, South Korea)

Latin America (Brazil, Mexico, Argentina)

Middle East & Africa (Saudi Arabia, UAE, Israel, South Africa)
Know more about this report: Request for sample pages
The powder segment led the market share in 2022
The powder segment led the market in terms of revenue. The primary factors driving the product's high demand in powder form are its efficacy in various applications and its simplicity in handling, storage, and availability.
Due to its longevity, the powder form is primarily employed in producing anhydrous nutritional supplements and chewing gum. Because there is less or no water in the finished goods, their shelf life is increased. On the other hand, due to the low prices of liquid product form, the liquid form category will see the quickest Growth.
The oral care segment witnessed the fastest growth rate in 2022
Oral care is anticipated to increase at the most rapid growth rate. Dental caries can be less common by limiting the growth of harmful bacteria, increasing salivary flow and pH, and reducing plaque levels and tooth erosion. The oral care segment is expected to grow significantly over the projected period because of this factor.
When compared to ordinary sugar, xylitol has 40% fewer calories. A teaspoon of sugar comprises 16 calories, compared to 9.6 calories in a teaspoon of xylitol. Due to its pleasantly cooling effect, it serves as a sugar alternative in the production of chewing gum.
Asia Pacific accounted for the largest revenue share in 2022
Asia Pacific drove the largest revenue share. China is one of the region's top producers of xylitol, while India and Thailand are among the ultimate consumers. It is one of the many versatile natural sweeteners commonly used in chewing gum, nutraceuticals, and meals for people with diabetes. China is the largest exporter in the world. Europe, the US, India, and other countries in South Asia are among China's major export destinations.
Europe is predicted to experience the fastest CAGR. One of the leading manufacturers in the regional European market is Finland. The surrounding European nations get the majority of the xylitol produced in Finland. The European market is projected to rise over the period due to the rising demand for low-calorie meals from the region's health-conscious customers.
Competitive Insight
Some of the major players operating in the global xylitol market include DuPont Danisco, Cargill, Inc., Roquette Freres, NovaGreen, Inc., Thomson Biotech (Xiamen) Co., Ltd., DFI Corp., ZuChem, Inc., Jining Hengda Green Engineering Co., Ltd., Shandong Futaste Co., Ltd., Zhejiang Huakang Pharmaceutical Co., Ltd., Shandong Biobridge Technology Co., Ltd., Foodchem International Corp., A & Z Food Additives Co., Ltd., Shandong Longlive Bio-Technology Co., Ltd., Mitsubishi Shoji Foodtech Co., Ltd., Godavari Biorefineries Ltd., Herboveda India, Shandong Lujian Biological Technology Co. Ltd.
Recent Developments
In October 2021, Lotte Confectionery collaborated with BTS to launch a special edition of Xylitol chewing gum. The Xylitol chewing gum will be in two flavors: Purple Mix (blueberries) and Apple Mint (grapefruit). The company has witnessed an increase in Xylitol chewing gum sales after associating with BTS as a brand ambassador.

In February 2021, International Flavors & Fragrances Inc completed the merger with DuPont, a leader in the biosciences and nutrition business, to create a global solution and ingredients in serving consumer-oriented beverage & food, health & wellness, and home & personal care categories.
Xylitol Market Report Scope
| | |
| --- | --- |
| Report Attributes | Details |
| Market size value in 2023 | USD 560.33 million |
| Revenue forecast in 2032 | USD 905.66 million |
| CAGR | 5.5% from 2023 – 2032 |
| Base year | 2022 |
| Historical data | 2019 – 2021 |
| Forecast period | 2023 – 2032 |
| Quantitative units | Revenue in USD million and CAGR from 2023 to 2032 |
| Segments Covered | By Form, By Application, By Region |
| Regional scope | North America, Europe, Asia Pacific, Latin America; Middle East & Africa |
| Key Companies | DuPont Danisco, Cargill, Inc., Roquette Freres, NovaGreen, Inc., Thomson Biotech (Xiamen) Co., Ltd., DFI Corp., ZuChem, Inc., Jining Hengda Green Engineering Co., Ltd., Shandong Futaste Co., Ltd., Zhejiang Huakang Pharmaceutical Co., Ltd., Shandong Biobridge Technology Co., Ltd., Foodchem International Corp., A & Z Food Additives Co., Ltd., Shandong Longlive Bio-Technology Co., Ltd., Mitsubishi Shoji Foodtech Co., Ltd., Godavari Biorefineries Ltd., Herboveda India, Shandong Lujian Biological Technology Co. Ltd. |