The global vegan supplements market was valued at USD 9.27 billion in 2021 and is expected to grow at a CAGR of 10.35% during the forecast period.
This market is mostly driven by the increasing popularity of veganism. Compared to animal-based products, plant-based foods are thought to be safer and healthier. The sector for plant-based protein supplements has expanded dramatically as a result of growing animal welfare concerns. It is anticipated that rising consumer interest in healthier products and food safety will drive market expansion. The market will continue to increase as a result of the main manufacturers' investments in research into novel protein sources.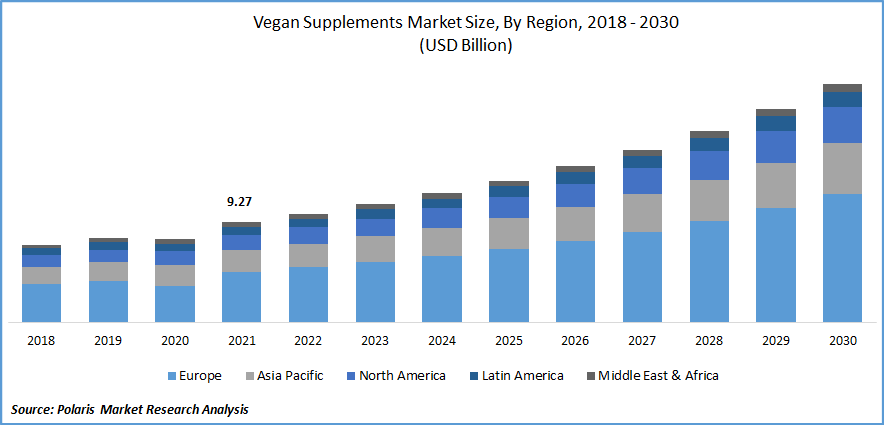 Know more about this report: Request for sample pages
Vegan supplements are extra vitamins and minerals that people take when they need to keep up a healthy, balanced vegetarian or vegan diet or when they are nutrient deficient in order to supplement their diet. Since vegetarians and vegans don't eat any poultry, red meat, shellfish, or crabs, these supplements are created from substances that are derived from plants. Some of the most well-liked vegan supplements are iron, vitamin D, and omega-3 fatty acids.
There are about 79 million vegans around the globe. According to the vegan society 2021 reports, currently, over 63,000 products in the market from 2,500 companies have a presence globally, including 18,000 food & drink items as well as 25,000 cosmetics and toiletry products. The vegan society registered 16,439 products with the vegan trademark in 2021 alone, a remarkable number. The last five years have seen more than 82% of product registrations.
Furthermore, the market for vegan supplements is positively impacted by the growth of the health and fitness sector, a shift in the demand for meat substitutes, growing consumer knowledge of the advantages of a diet high in proteins, an increase in the number of vegans, and increased demand from the food and beverage sector.
The COVID-19 epidemic has terrified people all across the world. Depending on the business, the repercussions of the coronavirus outbreak have a variety of applications. Due to the coronavirus, the growth switch has been turned off in every industry. Many nations have been forced into lockdown following the global COVID-19 outbreak. This has increased the demand for vegan supplements and contributed to the rise of the vegan supplement industry. People are becoming aware of the health advantages of vegan dietary supplements today. Numerous supplement producers were additionally forced to raise production as a result of the COVID-19 situation in order to keep up with consumer demand. The global COVID-19 problem in 2020 has increased demand for vegan supplements, which has benefited the manufacturing and sales of the expanding vegan supplement industry.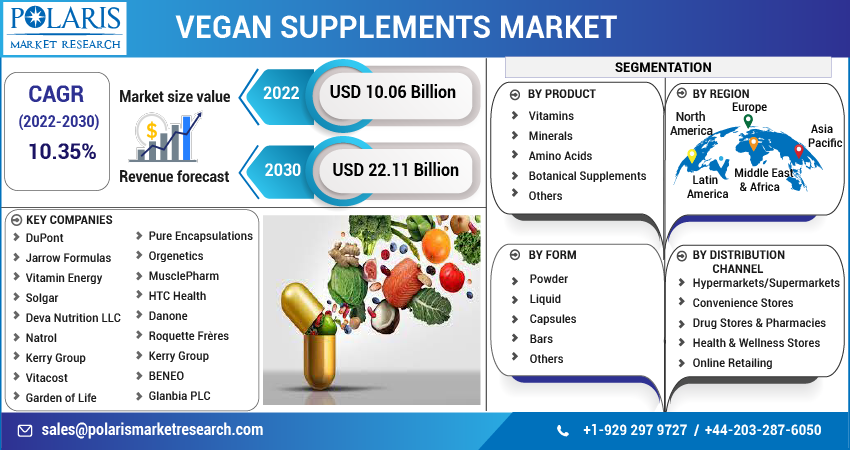 For Specific Research Requirements, Request for a Customized Report
Industry Dynamics
Growth Drivers
The present trend toward preventative healthcare practices, the multivitamin shortfall that is often observed as a result of inadequate intake, and the desire for plant-based supplements as a result of being vegan are all driving factors behind the need for vegan vitamin supplements. Due to a shift in consumer perception, whereby they increasingly regard items made from plants as being more wholesome and secure than those made from animals, the market for plant-based protein supplements is growing.
The regular usage of vitamins appears to increase as the population of senior people grows, and women frequently take more supplements than men. Vegan vitamins represent a rapidly growing market niche, driven by rising discretionary expenditure and a focus on quality-of-life improvement among consumers. Additionally, consumers' tastes for plant-based or herbal supplements are shifting as a result of the growing vegan trend in many places.
Report Segmentation
The market is primarily segmented based on product, form, distribution channel, and region.
By Product

By Form

By Distribution Channel

By Region

Vitamins
Minerals
Amino Acids
Botanical Supplements
Others

Powder
Liquid
Capsules
Bars
Others

Hypermarkets/Supermarkets
Convenience Stores
Drug Stores & Pharmacies
Health & Wellness Stores
Online Retailing
Others

North America (U.S., Canada)
Europe (France, Germany, UK, Italy, Netherlands, Spain, Russia)
Asia Pacific (Japan, China, India, Malaysia, Indonesia, South Korea)
Latin America (Brazil, Mexico, Argentina)
Middle East & Africa (Saudi Arabia, UAE, Israel, South Africa)
Know more about this report: Request for sample pages
Vitamins are the industry's largest market segment in 2021
Vitamins are the largest section of the market in 2021. Vegan vitamins and supplements should be used by those who switch to a vegan diet. Vegan vitamins and supplements provide significant advantages over synthetic or animal-based supplements, which may be a motivator for the majority of the population. Vegan vitamins and supplements are also in greater demand from the food and beverage industry.
According to the World Health Organization, approximately 2 billion people worldwide are vitamin and mineral deficient. Furthermore, night blindness is one of the primary signs of a vitamin A deficiency. Children who do not receive enough vitamin A blind between 250 000 and 500 000 children annually.
Customers now prefer food products that have been fortified with vitamins that provide additional health benefits as a result of the rising health and wellness consciousness, which is likely to cause them to turn away from medical treatments in favor of preventive care goods.
The relevance of the nutritional benefits of multivitamin supplements has been made clear to consumers through a variety of awareness initiatives promoting healthy eating that have been launched by governments, non-governmental organizations, and businesses around the world. This is expected to fuel market growth.
Capsule supplements segment will account for a higher share of the market.
Capsule supplements are expected to account high market share, making them the most popular application. The convenience of administering dosages in pill form explains why supplements are so popular. The simplicity of production and cost advantages for consumers are contributing to the rapid expansion of capsule products. Sports have become more popular due to major events, marathons, gym-goers, and sporting events, and rising interest in fitness and body image has driven businesses to reposition themselves as suppliers of products for a healthy lifestyle.
It is anticipated that consumers' interest in health awareness will surpass that of professional sportsmen. As a result, sports nutrition is getting more shelf space in supermarkets. This enables manufacturers of sports supplements to sell sports nutrition products in soft gel capsule form, an oral dosage type, to a sizable and varied consumer base throughout the world. For instance, in September 2021, Aenova released a chewable Vega Gels variation made from veggies. The new capsules on the basis of the vegan "Aenova VegaGels" and having omega-3 DHA fatty acids from the microalgae.
Online retail is expected to hold the significant revenue share
In 2021, the online retailer segment had the largest market share. Due to rising consumer demand and a focus on core capabilities, manufacturers are placing more emphasis on taking quicker routes to reach customers. Online sales of vegan supplements are increasing as a result of convenient product access, straightforward online transactions, and a wider range of brands to pick from. Online sales of plant-based protein supplements are anticipated to rise even more during the projection period due to low consumer loyalty and the industry's high degree of fragmentation.
Retail establishments, such as hypermarkets, supermarkets, and pharmacies, sell a range of dietary supplements, including supplements with vegan proteins. One of the elements influencing the sales of health and wellness items is improvement in the retail sector.
The demand in Europe is expected to witness significant growth
Europe was the most important regional market for vegan supplements market. Increased focus on preventative healthcare in the region is driving the European market, led by the United Kingdom. According to the Guardian, a record 500,000 people joined the 2021 Veganuary pledge to eat entirely plant-based food in January, with 125,000 residing in the UK. That number was two times the number of people who joined up for Veganuary in 2019 and was an increase of 100,000 from January 2020. The campaign aims to reach 2 million supporters by the end of January 2022.
However, the flexitarian consumer is responsible for the enormous growth in the plant-based sector. The introduction of vegan multivitamins in the nation is anticipated to fuel the market's growth over the forecast period as multivitamin supplements are becoming more and more popular among all adult consumers.
Competitive Insight
Some of the major players operating in the global market include DuPont, Jarrow Formulas, Vitamin Energy, Solgar, Deva Nutrition, Natrol, Kerry Group, Vitacost, Orgenetics, MusclePharm, HTC Health, Danone, Roquette Freres, Kerry Group, BENEO, Glanbia, Amway, Sakara Life, and NUZEST.
Recent Developments
Beyond Meat announced its collaboration with PepsiCo, a food and beverage company, in January 2021. This partnership aims to provide plant-based protein-based snacks and drinks.
Vegan Supplements Market Report Scope
| | |
| --- | --- |
| Report Attributes | Details |
| Market size value in 2022 | USD 10.06 billion |
| Revenue forecast in 2030 | USD 22.11 billion |
| CAGR | 10.35% from 2022 - 2030 |
| Base year | 2021 |
| Historical data | 2018 - 2020 |
| Forecast period | 2022 - 2030 |
| Quantitative units | Revenue in USD billion and CAGR from 2022 to 2030 |
| Segments Covered | By Product, By Form, By Distribution Channel, By Region |
| Regional scope | North America, Europe, Asia Pacific, Latin America; Middle East & Africa |
| Key Companies | DuPont, Jarrow Formulas, Vitamin Energy, Solgar, Deva Nutrition LLC, Natrol, Kerry Group, Vitacost, Garden of Life, Pure Encapsulations, Orgenetics, MusclePharm, HTC Health, Danone, Roquette Frères, Kerry Group, BENEO, Glanbia PLC, Amway, Sakara Life, and NUZEST |