The global structural steel market was estimated to be USD 87 billion in 2017 and is forecasted to increase at a CAGR of 5.6 % from 2018 to 2026. Structural steel is a grade of steel which can be molded into variety of shapes. It is huge and a technologically complex market that high forward and backward linkages concerning the income generation and material flow. Moreover, it is among the most important products of the modern world and of strategic significance to any industrial nation.
Structural steel has found applications from consumer products, industrial machinery to, construction. It global market is primarily driven by rapidly growing construction and industrial sectors in different parts of the world. These products are produced in numerous shapes such as T-shaped, angle (L-shape), I-beam, Z-shape, and hollow structural section (HSS) shape.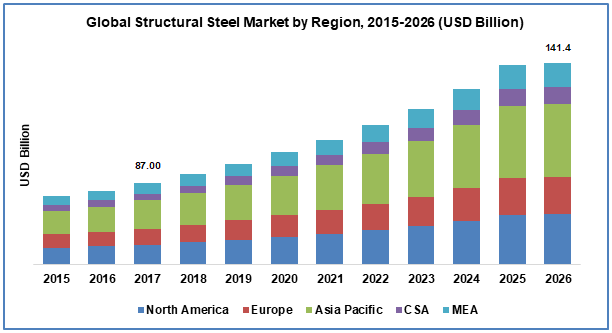 Know more about this report: request for sample pages
Also, structural steel can be reused and recycled in tandem with the continuous improvement in construction sector and thus is considered to be a major contributor to green construction. In addition to this, new and modern steel products are stronger and lighter than before and are helping other industries to reduce environmental footprint. Technological advancements and material development have significantly led the global industry growth. New and innovative steel grades have continually been developed for past eight years. The global steel industry invested approximately 13% of the total revenue in process improvement and capital investment projects in 2016. The industry is also subjected to high price volatility due to fluctuations in commodity prices of non-coking coal and high-grade iron, which are among the critical inputs of steel production.
Global structural steel demand is largely driven by infrastructure & construction, engineering & fabrication, automotive, other transport, and packaging & others. Structural steel demand is mainly dependent on the general economic conditions of a country and the overall industrial growth. One of the biggest challenges faced by the structural steel is the emission of carbon dioxide. In 2017, approximately 1.9 tons of carbon dioxide were emitted with every tons of steel produced. Thus, breakthrough technologies are under extensive development to address to the biggest challenge in the industry.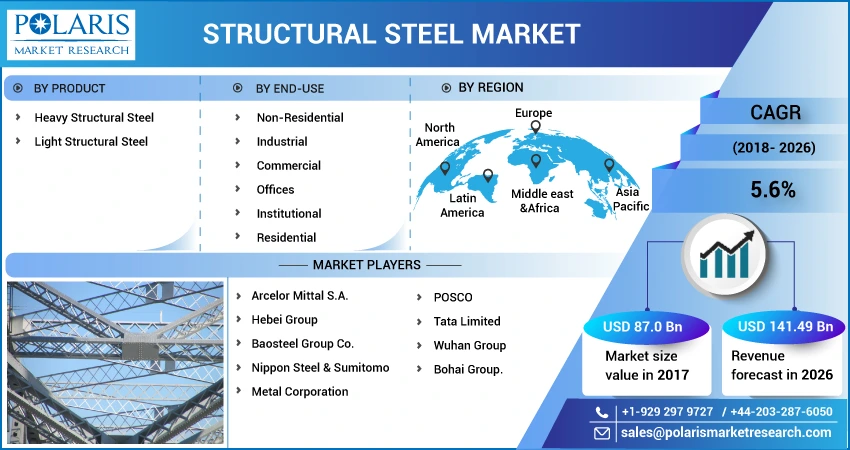 Know more about this report: request for sample pages
Segment Analysis
Structural steel on the basis of products is segmented into heavy and light structural steel. Heavy structural steel comes with excellent physical & chemical properties of good seismic resistance, ease of fabrication, excellent ductility, high strength, and high speed of erection. Increase in the utilization of heavy structural steel in healthcare facilities, data centers, airports, manufacturing facilities, and big box retail stores is further anticipated to strengthen structural steel demand. Based on the application segment, non-residential sector is likely to be the largest application segment. This is due to massive demand of structural steel as high-quality construction material in institutional buildings, industrial, commercial, and offices.
Structural Steel Market Report Scope
By Product

By End-Use

By Region

Report Attributes

Heavy Structural Steel
Light Structural Steel

Non-Residential
Industrial
Commercial
Offices
Institutional
Others
Residential

North America (U.S., Canada)
Europe (Germany, UK, France, Poland, Spain, Italy, Belgium)
Asia Pacific (China, India, Japan, Malaysia, Indonesia, Australia)
Latin America (Mexico, Brazil, Argentina)
Middle East & Africa (Saudi Arabia, UAE, Nigeria, South Africa)

Historic year:2015, 2016
Base year: 2017
Forecast Years: 2018 to 2026
Revenue (USD Million)
Know more about this report: request for sample pages
Regional Analysis
Asia Pacific is the largest regional industry. China is expected to be the largest contributor for the growth of this regional market on account of its large population and rapid development of the industrial sector. Moreover, supportive government programs such as "Make In India" in the developing countries such as India, has further strengthened the growth of the industry in the region.
North America is also a lucrative regional market for structural steel with the U.S. accounting for three third of the total consumption in the region. However, gradual tightening of the monetary policies is expected to slow down activities in end-use sectors such as automotive. On the contrary, major steel consumer in Europe are likely to enjoy monetary support from European Central Bank.
Competitive Analysis
The global structural steel market if highly competitive and moderately fragmented. Mergers & acquisitions and joint ventures are some of the key strategies undertaken by the major market players in the industry. Some of the key players include Arcelor Mittal S.A., Hebei Group, Baosteel Group Co., Nippon Steel & Sumitomo Metal Corporation, POSCO, Tata Limited, Wuhan Group, and Bohai Group.