The global specialty food ingredients market was valued at USD 96.09 Billion in 2022 and is expected to grow at a CAGR of 5.1% in the forecast period. The primary factor influencing the market growth is the increasing demand for convenience and processed foods among consumers, increasing manufacturers' substantial use of these ingredients. Raising awareness about health & wellness and demand for natural & clean products are other factors expected to drive the market in the forecast period.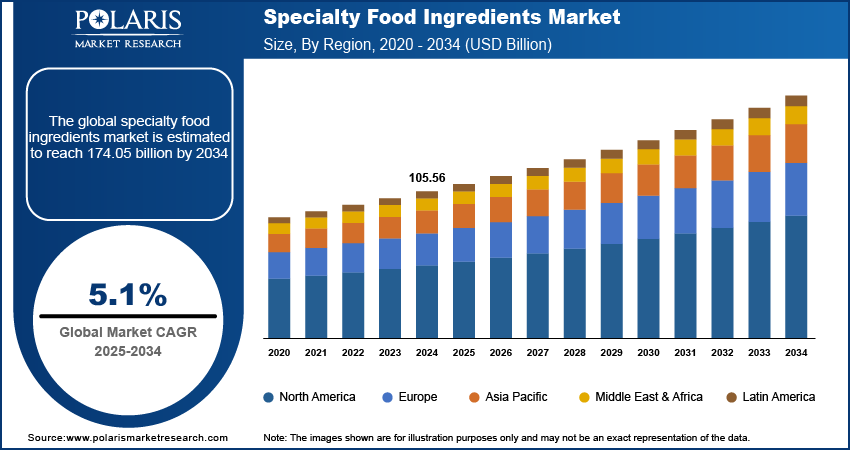 To Understand More About this Research: Request a Free Sample Report
The ingredients are used in food and beverage products to enhance their sensory, nutritional, or functional properties. These ingredients are often used in small quantities and are highly specialized, making them more expensive than conventional ingredients. These ingredients are used in various end-use applications, including bakery products, snacks, beverages, confectionery, dairy products, meat, and poultry.
Specialty flours, natural sweeteners, and natural colors are often used in bakery products such as bread, cakes, and cookies to improve their taste, texture, and appearance. Natural sweeteners and natural colors are often used in confectionery products such as candy, chocolate, and gum to enhance flavor and appearance. The usage is driven by consumer demand for healthier, more natural, and higher-quality food products.
For instance, an emerging economy like India has witnessed significant growth in processed foods demand, such as India imported worth of $ 33.62 billion in processed foods and related products, while exports from India totaled $51.38 billion in 2021. The increasing demand for processed foods has boosted the region's need for specialty ingredients.
Stringent regulations in food manufacturing procedures are the key factor restricting the Specialty Food Ingredients Market growth. They are subject to stricter regulations and requirements than traditional ingredients, which can increase costs and limit their use. Food manufacturing regulations are put in place to ensure the safety and quality of food products, and they apply equally to all types of food ingredients. Compliance with these regulations can be particularly challenging for smaller or newer companies that may need more resources to navigate the regulatory landscape effectively. Moreover, complying with regulations can increase its cost of production, making them more expensive for consumers and limiting their adoption in the market.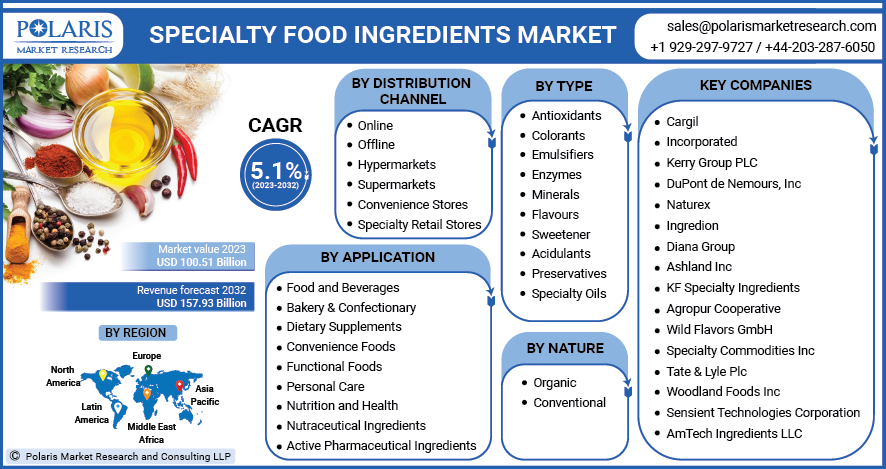 For Specific Research Requirements, Request for a Customized Report
Industry Dynamics
Growth Drivers
The increasing demand for convenience and processed foods is a key driving factor in the market. Consumers today lead busy lifestyles and seek food products that are quick and easy to prepare and consume. As a result, the demand for processed and convenience foods such as frozen meals, snacks, and ready-to-eat products is increasing.
For example, the ingredients such as natural sweeteners, natural preservatives, and plant-based proteins can be used to produce healthy snacks and ready-to-eat meals, catering to the growing demand for healthier food options. Similarly, specialty oils and natural food colorings can enhance the taste and appearance of processed foods, making them more attractive to consumers.
The growing demand for natural and label-friendly food colorants is another major factor in the market. Consumers are increasingly concerned about the safety and healthfulness of their food and are looking for natural and healthy alternatives to synthetic food colorants. The ingredients are derived from natural sources such as fruits, vegetables, and spices, adding color to various food products. They are also free from synthetic chemicals and are considered safe and healthy for consumption. Using natural and label-friendly food colorants is particularly important in producing organic and clean-label food products, which are gaining popularity among health-conscious consumers.
Report Segmentation
The market is primarily segmented based on nature, type, application, distribution channel, and region
By Nature

By Type

By Application

By Distribution Channel

By Region

Antioxidants

Colorants

Emulsifiers

Enzymes

Minerals

Flavours

Sweetener

Acidulants

Preservatives

Specialty Oils

Bakery & Confectionary

Dietary Supplements

Convenience Foods

Functional Foods

Personal Care

Nutrition and Health

Nutraceutical Ingredients

Active Pharmaceutical Ingredients

Hypermarkets

Supermarkets

Convenience Stores

Specialty Retail Stores

North America (U.S, Canada, Mexico)

Asia-pacific (China, Japan, India, Australia, Rest of Asia- pacific)

Europe (Germany, UK, France, Spain, Italy, Rest of Europe)

LAMEA (Latin America, Middle East & Africa)
To Understand the Scope of this Report: Speak to Analyst
The Organic segment is expected to account for the fastest growth rate in the forecast period.
The demand for organically produced ingredients will grow as consumers become more health-conscious and environmentally aware. In addition, food manufacturers are increasingly incorporating organic ingredients into their products to meet the growing demand for natural and clean-label food products.
As the demand for organically produced ingredients grows, food manufacturers will likely invest more in sourcing these ingredients from sustainable and organic sources. It increases availability and lower costs for organically produced ingredients, making them more accessible to consumers.
The enzyme segment is anticipated to dominate the market in the forecast period.
The major factors responsible for making the segment dominate in the market include its associated softening and digestive properties. They are used in various food products, including bread, dairy, meat, and beverages. The demand for enzymes in the food industry is growing, driven by the increasing demand for processed foods and the need for more efficient and sustainable food processing methods. Enzymes are considered a natural and safe alternative to synthetic additives, making them a popular choice among food manufacturers and consumers.
The bakery & confectionery segment is anticipated to witness a significant CAGR in the forecast period.
These ingredients are used in various applications within the bakery and confectionery industry, including flavorings, colorings, emulsifiers, and texturizers. In the bakery industry, they are used to improve baked goods' texture, flavor, and shelf life. While in the confectionery industry, specialty food ingredients are used to create a variety of textures and flavors in products such as candy, chocolate, and gum. Colorings and flavors are used to create unique and appealing products, while emulsifiers and stabilizers are used to create the desired texture and consistency.
The demand for the bakery sector has been increasing rapidly due to the changing food pattern, urbanization, and rising demand for specialty food ingredients.
North America region is projected to account for a major market share in the forecast period.
The demand for these ingredients in North America is driven by the increasing demand for natural and clean-label ingredients and the growing trend toward healthy and sustainable food products.
The United States is North America's largest specialty food ingredient market, with a well-developed food and beverage industry and high demand for innovative and high-quality products. Canada is also an important market for specialty food ingredients, with a growing demand for natural and organic food products.
The increasing rates of lifestyle diseases such as diabetes and obesity in the region have warned consumers to focus more on healthier lifestyles, increasing the demand for food products with various specialty and functional ingredients.
Competitive Insight
Some of the prominent key players operating in the marketspace includes Cargil, Incorporated., Kerry Group PLC, DuPont de Nemours, Inc., Naturex, Ingredion, Diana Group., Ashland Inc., KF Specialty Ingredients, Agropur Cooperative, Wild Flavors GmbH, Specialty Commodities Inc., Tate & Lyle Plc., Woodland Foods Inc., Sensient Technologies Corporation, AmTech Ingredients LLC
Recent Developments
October 2021: DSM has acquired First Choice Ingredients, a dairy-based savory flavorings supplier, for $ 453 million.

September 2021: Divi's Nutraceuticals has released CaroNat, a naturally sourced ingredient, for providing dark yellow to orange coloration to various food and beverages.
Specialty Food Ingredients Market Report Scope
| | |
| --- | --- |
| Report Attributes | Details |
| Market size value in 2023 | USD 100.51 Billion |
| Revenue forecast in 2032 | USD 157.93 Billion |
| CAGR | 5.1% from 2023 - 2032 |
| Base year | 2022 |
| Historical data | 2019 - 2022 |
| Forecast period | 2023 - 2032 |
| Quantitative units | Revenue in USD Billion and CAGR from 2023 to 2032 |
| Segments covered | By Nature, By Type, By Application, By Distribution Channel, By Region |
| Regional scope | North America, Europe, Asia Pacific, Latin America, Middle East & Africa |
| Key companies | Cargil, Incorporated., Kerry Group PLC, DuPont de Nemours, Inc., Naturex, Ingredion, Diana Group., Ashland Inc., KF Specialty Ingredients, Agropur Cooperative, Wild Flavors GmbH, Specialty Commodities Inc., Tate & Lyle Plc., Woodland Foods Inc., Sensient Technologies Corporation, AmTech Ingredients LLC |