The global public key infrastructure (PKI) market was valued at USD 3032.9 million in 2022 and is expected to grow at a CAGR of 20.6% during the forecast period.The public key infrastructure (PKI) market is experiencing a boost due to the business and corporate sector witnessing significant innovation, which contributes to the overall growth of PKI. Additionally, there has been a rise in malware and file-based attacks, creating a greater need for robust security solutions like PKI.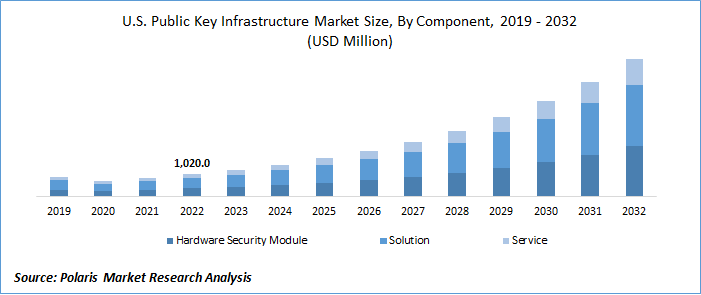 To Understand More About this Research: Request a Free Sample Report
PKI is a framework that provides a secure and efficient way to manage digital certificates, encryption, and authentication processes. Its importance has surged due to the increasing need for robust data security and privacy measures in today's digital landscape. The growing innovation in the business and corporate sectors. Organizations are adopting advanced technologies and digital transformation initiatives requiring secure communication, authentication, and encryption mechanisms. PKI offers a reliable solution by enabling certain digital identities and encrypted communication channels, thus protecting sensitive data from unauthorized access and ensuring the integrity of transactions.
Furthermore, the adoption of IoT and cloud technologies is rising, further fueling the demand for PKI. These trends increase concerns regarding protecting critical data, especially with the growing volume of business data. Government regulations and compliance requirements related to data security also drive the expansion of the PKI market.
The COVID-19 pandemic has resulted in a surge of remote work and digital interactions, expanding the attack surface for cyber threats. This has heightened the importance of secure communication and data protection, driving the demand for robust cybersecurity solutions, including public key infrastructure (PKI) market. PKI technologies, offering encryption, digital signatures, and certificate-based authentication, have become essential for secure remote access, email communication, and digital identity management. The increased adoption of cloud services, digital transformation, and online transactions has further emphasized the significance of PKI in ensuring secure and trustworthy digital environments.
Industry Dynamics
Growth Drivers
The Public Key Infrastructure (PKI) market is experiencing significant growth driven by the increasing need for secure communication channels in the digital era has fueled the demand for PKI. For example, in the finance sector, banks implement PKI to secure online transactions and protect customer data. Similarly, e-commerce platforms adopt PKI to ensure secure communication and protect sensitive customer information during online purchases.
The rising cybersecurity concerns have led to the widespread adoption of PKI as a fundamental security measure. Many organizations, such as healthcare providers, are leveraging PKI to secure electronic health records and ensure the privacy of patient information. Additionally, government agencies are implementing PKI to protect sensitive data and secure digital communication within their networks.
The increasing digitization initiatives across various industries have contributed to the growth of the PKI market. For instance, in the automotive sector, PKI is utilized to secure communication and data exchange within connected vehicles, ensuring the integrity of critical systems. Moreover, governments worldwide are implementing PKI to enable secure digital identity solutions, allowing citizens to access government services securely and protect their personal information.
Report Segmentation
The market is primarily segmented based on component, deployment type, end-use, and region.
By Component

By Deployment Type

By End-Use

By Region

Public Key

Private Key

Certificate Authority

Certificate Store

Certificate Revocation List

Hardware Security Module

BFSI

IT & Telecommunication

Government & Defence

Retail & E-commerce

Healthcare

Manufacturing

Others

North America (U.S., Canada)

Europe (France, Germany, UK, Italy, Netherlands, Spain, Russia)

Asia Pacific (Japan, China, India, Malaysia, Indonesia, South Korea)

Latin America (Brazil, Mexico, Argentina)

Middle East & Africa (Saudi Arabia, UAE, Israel, South Africa)
To Understand the Scope of this Report: Speak to Analyst
Cloud segment is expected to exhibit with high CAGR over the forecast period
This segment growth can be attributed to the widespread adoption of cloud-based public key infrastructure (PKI), which enhances data security and facilitates secure information sharing through digital identities. The cloud-based approach offers numerous advantages by relieving organizations of the financial, resource, and time burdens of setting up in-house infrastructure. As a result, large enterprises and SMEs have readily embraced cloud-based PKI solutions, contributing to significant growth in this segment.
Furthermore, on-premises PKI dominates the revenue share in 2022. This is primarily due to its ability to provide hassle-free, efficient services with scalability and high availability. By leveraging cloud infrastructure, service providers can efficiently manage the continuous maintenance of PKI systems, enabling seamless scalability according to enterprise needs. The increasing emphasis on scalability among businesses is expected to drive the growth rate of this segment throughout the forecast period.
Government & defense segment is projected to hold largest market share during forecast period
The government and defense segment is projected to experience significant growth in the overall market. The government sector faces a growing volume of data, and government organizations are increasingly focused on securely managing customer data. This emphasis on data security and privacy is expected to be a key driver for market growth in the government and defense vertical.
North America dominated the global market in 2022
North America is accounted for the largest market revenue shares and experiencing significant growth driven by increasing digital transformation initiatives, stringent regulations and compliance requirements, and the rising need for strong cybersecurity measures. Banking, healthcare, government, and e-commerce industries rely on PKI for securing data, enabling secure communication, and verifying digital identities. The region's emphasis on data protection, the presence of major players, and the growing prevalence of cyber threats further contribute to the expansion of the PKI market in North America. As organizations prioritize data security and encryption, the demand for PKI solutions will continue growing in the region.
The Asia-Pacific region is anticipated to grow fastest during the forecast period, fueled by extensive digital transformation initiatives in government and enterprise sectors. The retail industry is witnessing rapid evolution with the surge of e-commerce and digital payment systems, necessitating robust security measures like PKI to protect sensitive customer data and ensure secure transactions. Similarly, the banking sector in the region is undergoing significant digitalization efforts, with PKI playing a crucial role in securing financial transactions, safeguarding customer information, and complying with regulations. The demand for meta-management tools is rising as organizations seek streamlined PKI operations, including certificate lifecycle management and key administration. With a focus on data protection and secure transactions, the Asia-Pacific region offers substantial growth opportunities for the PKI market.
Competitive Insight
Some of the major players operating in the global market include Airbus S.A.S., Amazon Web Service, Ascertia, Comodo Group, DigiCert, Docusign, Enigma, Entrust Datacard, Google, HID Global, IBM, Lexmark international, Microsoft, Nexus Group, Signix, Thales, Verisign.
Recent Developments
In June 2022, DigiCert, Inc. acquired DNS Made Easy. This strategic move enhances DigiCert's capabilities in delivering comprehensive and reliable DNS solutions to its customers.

In May 2021, Verisign introduced a new PKI platform known as Verisign Managed PKI for SSL, aimed at providing businesses with an affordable and streamlined solution for securing online transactions and communications. This platform offers enhanced security measures while minimizing organizational costs and operational complexities.
Public Key Infrastructure (PKI) Market Report Scope
| | |
| --- | --- |
| Report Attributes | Details |
| Market size value in 2023 | USD 3648.0 million |
| Revenue forecast in 2032 | USD 19657.5 million |
| CAGR | 20.6% from 2023 – 2032 |
| Base year | 2022 |
| Historical data | 2019 – 2021 |
| Forecast period | 2023 – 2032 |
| Quantitative units | Revenue in USD million and CAGR from 2023 to 2032 |
| Segments Covered | By Component, By Deployment Type, By End-Use, By Region |
| Regional scope | North America, Europe, Asia Pacific, Latin America; Middle East & Africa |
| Key Companies | Airbus S.A.S., Amazon Web Service, Ascertia, Comodo Group, DigiCert, Docusign, Enigma, Entrust Datacard, Google, HID Global, IBM, Lexmark international, Microsoft, Nexus Group, Signix, Thales, Verisign. |