The piezoelectric devices market was valued at USD 29.23 billion in 2021 and is expected to grow at a CAGR of 5.7% during the forecast period. The primary factors responsible for the piezoelectric devices market's growth are the high adoption of piezoelectric products in the aerospace industry and the elevated use of piezoelectric energy harvesters.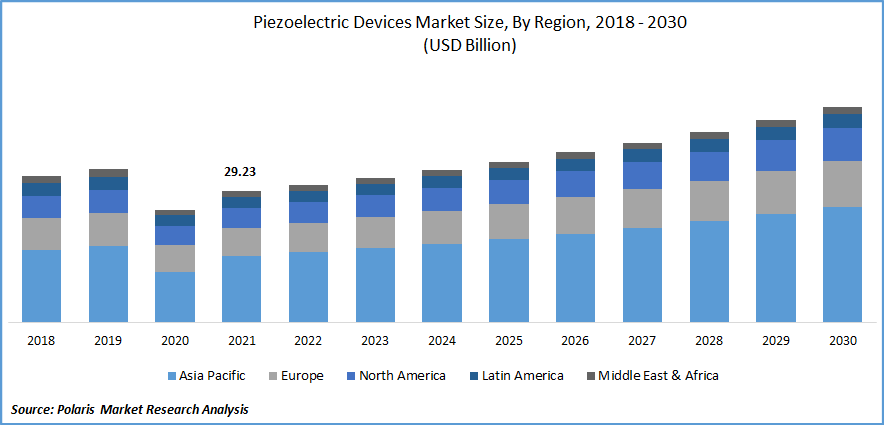 Know more about this report: Request for sample pages
The growing demand for piezoelectric materials for micro-robotics and course-changing bullets in the aerospace industry has boosted the market's growth. Furthermore, the ever-increasing applications of these devices, such as piezoelectric motors, sensors in the medical sector, piezoelectric buzzers, microphones, actuators in consumer electronics, and others, are supposed to influence the market's growth.
Moreover, its other applications in daily life for igniters, generators, and microelectronic mechanical systems are supposed to boost the market's growth. Also, changing lifestyles and trends for flexible and stretchable devices such as heart rate monitors and fitness trackers are among the piezoelectric devices market growth factors, as these daily used devices are made using piezoelectric materials.
The Covid-19 pandemic has negatively impacted the piezoelectric market due to the severe economic downturn and supply chain crises. The pandemic had a significant impact on industrial sectors, particularly electronics. Social distancing during the pandemic has hampered the production and sales of electronic gadgets. Moreover, even during the pandemic, countries like the U.S. installed photovoltaic solar systems quickly, which helped the piezoelectric polymers sector rebound in the years ahead.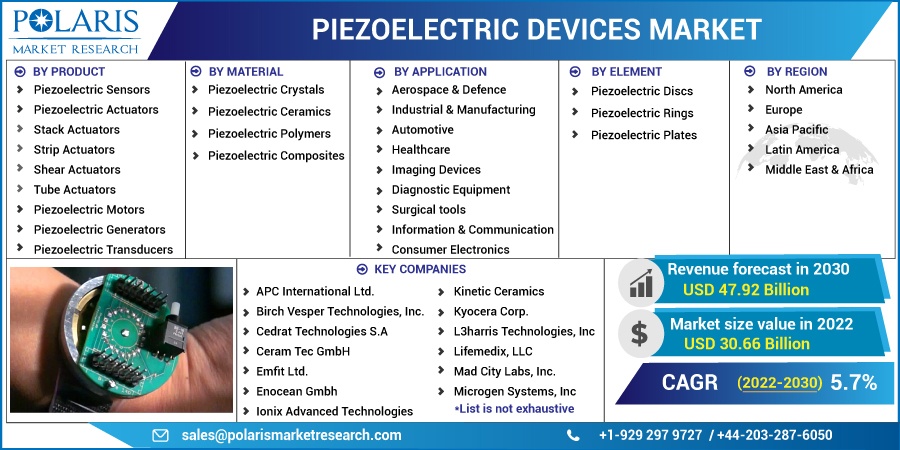 Know more about this report: Request for sample pages
Industry Dynamics
Growth Drivers
The growing utilization of piezoelectric energy harvesters is the primary factor propelling the market's growth. Energy harvesting obtains mechanical, thermal, optical, wind, and electrical energy from the environment. This energy can be stored on batteries or ultra-capacitors and is simple to convey. Piezoelectric generators provide a dependable solution by converting environmental vibration energy into useful electrical energy.
Additionally, piezoelectric transducers are also used in energy harvesters. These transducers are intended to be put underneath the road's surface. When cars drive over the roadways, they capture mechanical energy and turn it into electrical energy. This electrical energy lights the streetlights, road signs, and traffic signals, making it less expensive to transmit power over vast distances using wires.
The leading companies are investing more spending in R&D, which is aiding the piezoelectric devices market to expand. Major players are funding the development of piezoelectric devices for new and better applications. For instance, In November 2020, STMicroelectronics implemented Piezoelectric (Piezo) MEMS technology in its 8-inch wafer production facility in Ang Mo Kio, Singapore, to build actuators or sensors out of bulk piezo material.
Report Segmentation
The market is primarily segmented based on product, material, application, element, and region.
By Product

By Material

By Application

By Element

By Region

Piezoelectric Sensors
Piezoelectric Actuators

Stack Actuators
Strip Actuators
Shear Actuators
Tube Actuators

Piezoelectric Motors
Piezoelectric Generators
Piezoelectric Transducers
Others

Piezoelectric Crystals
Piezoelectric Ceramics
Piezoelectric Polymers
Piezoelectric Composites

Aerospace & Defence
Industrial & Manufacturing
Automotive
Healthcare

Imaging Devices
Diagnostic Equipment
Surgical tools

Information & Communication
Consumer Electronics
Others

Piezoelectric Discs
Piezoelectric Rings
Piezoelectric Plates

North America (U.S., Canada)
Europe (France, Germany, UK, Italy, Netherlands, Spain, Russia)
Asia Pacific (Japan, China, India, Malaysia, Indonesia, South Korea)
Latin America (Brazil, Mexico, Argentina)
Middle East & Africa (Saudi Arabia, UAE, Israel, South Africa)
Know more about this report: Request for sample pages
Piezoelectric generators are expected to account for the largest market share
Piezoelectric generators are anticipated to acquire the largest market revenue during the forecast period due to technological advancements like vibration energy harvesting, nano-scaling, and miniaturization, such as nanogenerators. Additionally, these generators are implemented in gyms and workplaces to conserve energy.
The mechanical energy in the environment can be captured by piezoelectric generators and transformed into electrical energy. In order to address the power needs of portable consumer electronics like smartwatches, smartphones, laptops, and notebooks, piezoelectric nanogenerators are widely used. They also have applications in wearables, including wristbands, clothing, shoes, wrist activity trackers, and fashion accessories. These growing applications of it are responsible for the segment's growth.
Piezoelectric polymers to grow at the highest CAGR during the forecast period
Piezoelectric polymers are projected to grow at the highest CAGR during the forecast timeline. The most popular polymers are polyvinylidene fluoride (PVDF) and pure thermoplastic fluoropolymers due to their low cost, highly non-reactive characteristics, pressure super-sensitivity, and compliance with laws such as the hazardous substance restriction for materials required under the Reduction of Hazardous Substances (RoHS) directive. A specialized plastic called PVDF is used in applications, including the chemical, electronics, aerospace, and defense industries.
Furthermore, PVDF's piezoelectric capabilities are helpful in the creation of tactile sensor arrays. These PVDF active sensors analyze vibrations, evaluate structural health, and produce electricity. Piezoelectric polymers are utilized in the healthcare industry to create sensitive artificial skin. In the sports industry, they are employed in display panels that are placed on tennis courts and sports courts. These applications in various sectors are responsible for the segment's growth.
Aerospace & defense acquired a significant market share in 2021
Aerospace & defense accounted for the largest market revenue in 2021. In the aerospace sector, piezoelectric actuators dampen vibrations in mechanical systems when they are actively undesirable. Vibration dampening can lower noise, fuel usage, and energy waste. The technology can be used in other contexts, such as planes, wind turbines, motors, machine tools, and lab tables. Recently, the lowering of noise levels in helicopter constructions has gained significance (especially optical).
Aerospace and automotive applications, including wind turbines, engines, automobiles, airplanes, helicopters, and machine tools, can benefit from using mechanical vibration reduction technologies. The most challenging positioning application in the aerospace and defense industry uses lightweight piezoelectric motors. Furthermore, the increasing use of different piezoelectric devices by aerospace and defense firms fuels the development of the market.
Piezoelectric discs accounted the largest market revenue in 2021
Piezoelectric discs acquired the largest market share in 2021 due to their small, thin, lightweight construction and ability to consume less power. These discs are widely used as sensors, actuators, and transducers in numerous industries for endless applications.
Piezoceramic discs are used in an application that needs to produce sound from a small electronic circuit efficiently. Aside from technological and industrial applications, these lightweight and low-profile electro-acoustic transducers are now extensively used by electronics hobbyists and makers, even in their microcontroller-based projects.
Additionally, piezo discs can produce a high frequency and transient response while working in harsh temperatures and conditions, which is responsible for the segment's growth.
Asia Pacific dominated the regional market
Asia Pacific dominated the piezoelectric devices regional market due to the rising government initiatives to develop the manufacturing sector in developing countries, rising awareness of the adoption of energy harvesting systems to protect natural resources and reduce excess energy consumption, and increasing foreign investments in the industrial and manufacturing sectors in an emerging economy such as China and Japan.
Governments of these countries, such as India, China, and South Korea, are providing tax rebates and incentives to electronics manufacturers to set up new plants in the region. Moreover, the great use of piezoelectric material & elements in consumer electronics from China and Japan further accelerates the market in Asia Pacific.
Additionally, the growing population, along with the prevalence of major manufacturers, are factors that have contributed to the growth of the market in this region.
Competitive Insight
Some of the major players operating in the global market include APC International Ltd., Birch Vesper Technologies, Inc., Cedrat Technologies S.A, Ceram Tec GmbH, Emfit Ltd., Enocean Gmbh, Ionix Advanced Technologies, Kinetic Ceramics, Kyocera Corp., L3harris Technologies, Inc, Lifemedix, LLC, Mad City Labs, Inc., Microgen Systems, Inc, Morgen Advanced Materials Plc, Nanomotion Solutions, Oxsensis Ltd., Physik Instrumente (Pi) Gmbh & Co. Kg., Piezo Systems Jena Gmbh, Piezocryst Advanced Sensorics Gmbh, and Piezomechanik Dr. Lutz Pickelmann Gmbh.
Recent Developments
In June 2022, CTS Corporation completed its acquisition of Ferroperm Piezoceramics from Meggitt PLC to leverage the technical expertise of both teams to enhance the product offering and accelerate growth.
In March 2021, Ceram Tec GmbH developed high-power ultrasonic surgery transducers for medical applications, which offer benefits over traditional techniques, including higher precision, increased safety, faster healing, and more comfort for patients.
Piezoelectric Devices Market Report Scope
| | |
| --- | --- |
| Report Attributes | Details |
| Market size value in 2022 | USD 30.66 billion |
| Revenue forecast in 2030 | USD 47.92 billion |
| CAGR | 5.7% from 2022 - 2030 |
| Base year | 2021 |
| Historical data | 2018 - 2020 |
| Forecast period | 2022 - 2030 |
| Quantitative units | Revenue in USD billion and CAGR from 2022 to 2030 |
| Segments Covered | By Product, By Material, By Application, By Element, By Region |
| Regional scope | North America, Europe, Asia Pacific, Latin America; Middle East & Africa |
| Key companies | APC International Ltd., Birch Vesper Technologies, Inc., Cedrat Technologies S.A, Ceram Tec GmbH, Emfit Ltd., Enocean Gmbh, Ionix Advanced Technologies, Kinetic Ceramics, Kyocera Corp., L3harris Technologies, Inc, Lifemedix, LLC, Mad City Labs, Inc., Microgen Systems, Inc, Morgen Advanced Materials Plc, Nanomotion Motion Solutions, Oxsensis Ltd., Physik Instrumente (Pi) Gmbh & Co. Kg., Piezo Systems Jena Gmbh, Piezocryst Advanced Sensorics Gmbh, and Piezomechanik Dr. Lutz Pickelmann Gmbh. |