The global Obsessive-Compulsive disorder drug market was valued at USD 576.57 million in 2022 and is expected to grow at a CAGR of 9.4% during the forecast period.
obsessive-compulsive disorder (OCD) is an anxiety condition defined by illogical and uncontrolled thoughts and concerns that lead to repetitive behaviors. obsessive-compulsive disorder is a mental illness that causes a person to become fixated on a single idea or fear. Treatment, therapies, and innovative treatments, as well as breakthroughs in anti-anxiety, antipsychotic, and antidepressant medicines, are projected to present a variety of potential prospects in the OCD pharmaceuticals market. However, the patent expiration of patented pharmaceuticals and the launch of generic versions of branded drugs are projected to limit market growth throughout the projection period.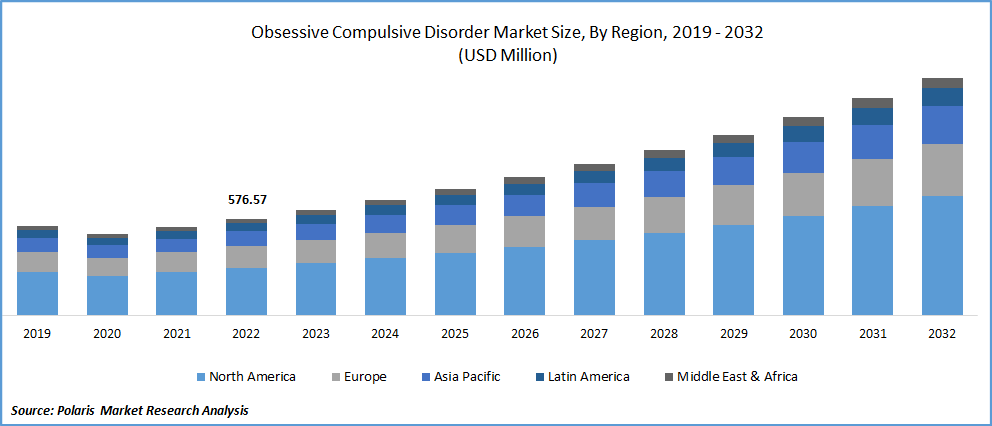 Know more about this report: Request for sample pages
One of the primary factors driving development in the market for OCD drugs is the rising incidence of the disorder. OCD is increasingly widespread in high-income nations due to a dramatic shift in people's lives. Exposure to movie technology, for example, causes people to experience imaginary images, obsessive thoughts, and desires. OCD is the fourth most common mental disorder in high-income countries. It is mainly visible throughout infancy, adolescence, or early adulthood. The disorder's high prevalence is expected to boost the obsessive compulsion disorder market throughout the forecast period.
Exposure to movie technology, for example, causes people to experience imaginary images, obsessive thoughts, and desires. OCD is the fourth most common mental disorder in high-income countries. It is mainly visible throughout infancy, adolescence, or early adulthood. The disorder's high prevalence is expected to boost the market throughout the forecast period.
A variety of medicines used to treat OCD act by modifying the levels of neurotransmitters in the brain. Selective serotonin reuptake inhibitors (SSRIs) are the most often used pharmaceuticals to treat OCD, however antipsychotic medications, lithium, and tricyclic antidepressants can also be used in combination with SSRIs. SSRIs are the most often prescribed form of OCD medication, and they function by raising serotonin levels in the brain. This can help to reduce OCD symptoms such as obsessive thoughts and compulsive activities. SSRIs are available in a range of forms, including pills and capsules, so consult with your doctor to choose which is best for you. Antipsychotic drugs such as risperidone and olanzapine can also assist.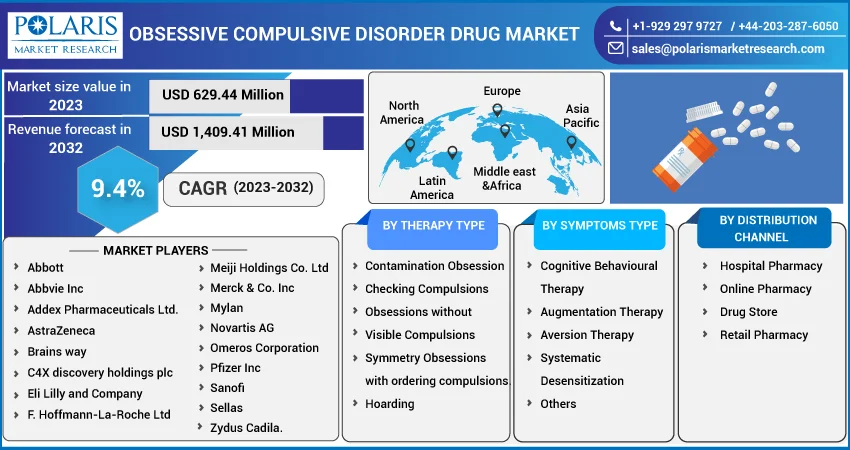 Know more about this report: Request for sample pages
Industry Dynamics
Growth Drivers
One of the key elements driving the industry's global expansion is the discovery of new medications to treat Obsessive compulsion disorder. As consumer awareness grows, so does the need for medications with improved bioavailability, safety, and dose parameters, prompting manufacturers to prioritize R&D of new OCD treatments. As a result, the introduction of these products is likely to boost the growth of the Obsessive compulsion disorder medications market throughout the forecast period. Furthermore, the increased acceptance of off-label medications in conjunction with authorized therapy is boosting the business.
The SSRI class of drugs will dramatically expand its market share in the treatment of Obsessive compulsion disorder. The segment's growth is being supported by the availability of a wide range of SSRIs on the market, including escitalopram, citalopram, sertraline, paroxetine, fluvoxamine, and fluoxetine.
Report Segmentation
The market is primarily segmented based on therapy type, symptoms type, distribution channel, and region.
By Therapy Type

By Symptoms Type

By Distribution Channel

By Region

Contamination Obsession

Checking Compulsions

Obsessions without Visible Compulsions

Symmetry Obsessions with ordering compulsions.

Hoarding

Cognitive Behavioural Therapy

Augmentation Therapy

Aversion Therapy

Systematic Desensitization

Others

Hospital Pharmacy

Online Pharmacy

Drug Store

Retail Pharmacy

North America (U.S., Canada)

Europe (France, Germany, UK, Italy, Netherlands, Spain, Russia)

Asia Pacific (Japan, China, India, Malaysia, Indonesia, South Korea)

Latin America (Brazil, Mexico, Argentina)

Middle East & Africa (Saudi Arabia, UAE, Israel, South Africa)
Know more about this report: Request for sample pages
Contamination Obsession segment accounted for the highest market share
Contamination is a subtype of OCD in which a person is preoccupied with catching an illness. Such thoughts produce severe worry and anguish, which they attempt to alleviate through obsessive behavior such as excessive washing or avoiding busy places. These anxieties may be justified, such as viral or bacterial infection, obvious filth, or poisonous chemicals. Fears of contamination, on the other hand, might come from magical thinking, such as ideas that names, mental pictures, or specific locations can infect someone.
Checking compulsions and rituals that are performed repeatedly to lessen the dread of or probability of something unpleasant happening to the individual or others is an example of OCD checking. Checking for OCD compulsions can appear different for each person. Some checking routines include constantly double-checking that doors and windows are secured (even leaving work to verify), making sure appliances are turned off to decrease the risk of a fire, and repeatedly watching for accidents or stopping to see if they struck someone when driving to work.
The cognitive behavioral therapy segment held the significant market revenue share
CBT is founded on the idea that your actions, bodily sensations, thoughts, and feelings, are all linked, and that negative ideas and feelings may trap you in a downward spiral. For individuals with treatment-resistant depression, pharmacological augmentation is a suggested therapy. A variety of guidelines offer advice on therapy selection, prescription, monitoring, and cessation. This is significant considering the increased risk of adverse effects and worse long-term results associated with polypharmacy & treatment-resistant depression.
Aversion therapy is a sort of behavior modification therapy that can help with obsessive illnesses. Aversion treatment is recommended by certain therapists for controlling obsessive habits such as nail biting, skin picking, hair pulling, and other activities. Behavior modification may be as easy as snapping a rubber band around the wrist or as drastic as being shocked with electricity.
Systematic desensitization, which combines gradual exposure and relaxation, is used to cure severe aversions. It is an evidence-based behavioral intervention aimed at assisting clients in overcoming common anxieties or phobias. Fears that are common include claustrophobia (fear of enclosed places), arachnophobia (fear of spiders), and, in the case of OCD, a fear of contamination. Those suffering from phobias and OCD may be aware that their concerns are unjustified, yet they feel powerless to control them.
The hospital pharmacy segment is holding largest revenue share
Drugs for Obsessive compulsion disorder are widely used in hospitals. There are several applications, some of which are as follows: Reducing patients' anxiety levels before to surgery can assist them to experience less pain throughout their treatment and when they wake up from anesthesia. For severe seizures or panic attacks - People suffering from OCD that causes them to have seizures often want immediate treatment so that they do not hurt themselves or anyone around them.
Community pharmacists are on the front lines, able to influence patient medication adherence by providing initial and follow-up pharmaceutical counseling on a dose, side effects, drug interactions, and patient reactions to therapy. Clinics utilize OCD medications to treat various kinds of Obsessive compulsion disorders. Common applications include treating physiological compulsions, monitoring compulsions, and preventing hair-pulling. The initial and most usual use of these medications is in clinics, where they can be utilized as a part of treatment programs by doctors who are experienced in dealing with such disorders.
North America dominates the industry over the forecast period
In 2022, North America was the most important regional market, followed by Europe, and Asia-Pacific. One of the primary reasons contributing to North America's leading position in the obsessive compulsion disorder market is the region's well-established health coverage and a high degree of disease awareness. The market in Asia-Pacific is predicted to develop in the coming years due to an increase in the prevalence of persons with OCD and increased awareness of the condition. The most promising markets in the Asia-Pacific area include Japan, China, India, Australia, and New Zealand.
Competitive Insight
Some of the major players operating in the global obsessive compulsion disorder market include Abbott, Abbvie Inc, Addex Pharmaceuticals Ltd., AstraZeneca, Brainsway, C4X discovery holdings plc, Eli Lilly and Company, F. Hoffmann-La-Roche Ltd, Meiji holdings Co. Ltd, Merck & Co. Inc, Mylan, Novartis AG, Omeros Corporation, Pfizer Inc, Sanofi, Sellas, Zydus Cadila.
Recent Development
In April 2021, H. Lundbeck A/S and Otsuka Pharmaceutical Co. Ltd. (Otsuka) will advertise their decision to continue retaining cases in phase III clinical study of brexpiprazole in the treatment of agitation in cases with Alzheimer's madness. The study's durability allows Lundbeck and Otsuka to probe the efficacity of brexpiprazole in addressing the significant medical demand in cases suffering from agitation in Alzheimer's type madness. The successful conclusion of the trial will affect in the launch of a new product, affecting the company's deals and profit.

In June 2021, Teva Pharmaceuticals introduced formerly-diurnal SOOLANTRA cream, to treat seditious lesions of rosacea.
Obsessive Compulsive Disorder Drug Market Report Scope
| | |
| --- | --- |
| Report Attributes | Details |
| Market size value in 2023 | USD 629.44 million |
| Revenue forecast in 2032 | USD 1,409.41 million |
| CAGR | 9.4% from 2023 - 2032 |
| Base year | 2022 |
| Historical data | 2019 – 2021 |
| Forecast period | 2023 - 2032 |
| Quantitative units | Revenue in USD million and CAGR from 2023 to 2032 |
| Segments Covered | By Therapy Type, By Symptoms Type, By Distribution Channel, By Region |
| Regional scope | North America, Europe, Asia Pacific, Latin America; Middle East & Africa |
| Key Companies | Abbott, Abbvie Inc, Addex Pharmaceuticals Ltd., AstraZeneca, Brains way, C4X discovery holdings plc, Eli Lilly and Company, F. Hoffmann-La-Roche Ltd, Meiji Holdings Co. Ltd, Merck & Co. Inc, Mylan, Novartis AG, Omeros Corporation, Pfizer Inc, Sanofi, Sellas, Zydus Cadila. |