The nickel-cadmium battery market was valued at USD 1,369.4 million in 2021 and is expected to grow at a CAGR of 2.1% during the forecast period. The growing demand for nickel-cadmium batteries is due to their advantages and benefits, such as long life, high discharge rate, and low price. Increased utilization of nickel-cadmium batteries in numerous verticals, such as consumer electronics, automotive & transportation, aerospace & defense, and others, is supposed to propel the market's growth.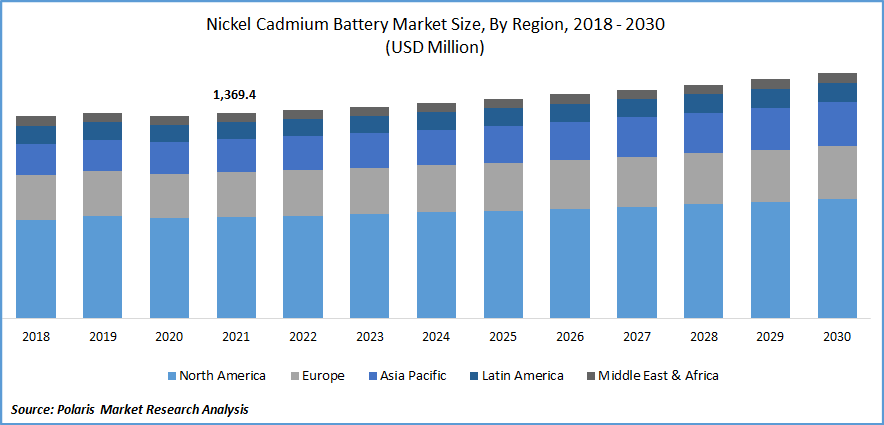 Know more about this report: Request for sample pages
Nickel-cadmium batteries are available in various sizes and capacities, from huge ventilated cells utilized for backup power and motive power to small sealed types exchangeable with carbon-zinc dry batteries.
Furthermore, as nickel-cadmium offers reliable solutions, it is used to improve the equipment's quality and safety, decrease the total cost of ownership (TCO), and keep the environment safe. These batteries are widely used in various everyday items, including emergency lighting, flashlights, power tools, electronic devices, and photography equipment.
Additionally, the nickel-cadmium battery's distinct electrochemistry enables consistent toleration of any discharge depth. The demand for these batteries is increasing daily in many phones, camcorders, and cordless power tools, including cordless drills, portable appliances, and audio equipment, as it charges very quickly in less than 15 minutes.
Commercial and private sectors both comprise the aviation industry. The future is expected to see enormous growth in both the defense and freight transportation sectors. Due to increased tourism during the pandemic and trends like staycations, commercial aviation is growing. Due to the growing demand for emergency supplies, the expansion of e-commerce, and just-in-time deliveries, cargo supply chain operations are also growing globally.
Furthermore, increased aircraft production will arise from the expansion of the aviation industry. In many aircraft, nickel-cadmium batteries are utilized for variety of functions, including emergency lights, engine starting, intercoms, and vital backup power for flight control and signaling systems. As a result, the demand for nickel-cadmium batteries in the aviation sector is anticipated to present manufacturers with profitable prospects in the future.
Covid-19 has negatively hampered the nickel-cadmium battery market as the pandemic's effect on the world economy and overall industry activities have halted. Due to stringent lockdowns, overall industries were closed, which led to a shortage of raw materials and disruption in the supply chain. The production and sales cycle of these batteries was slowed, which declined the demand of it during the pandemic.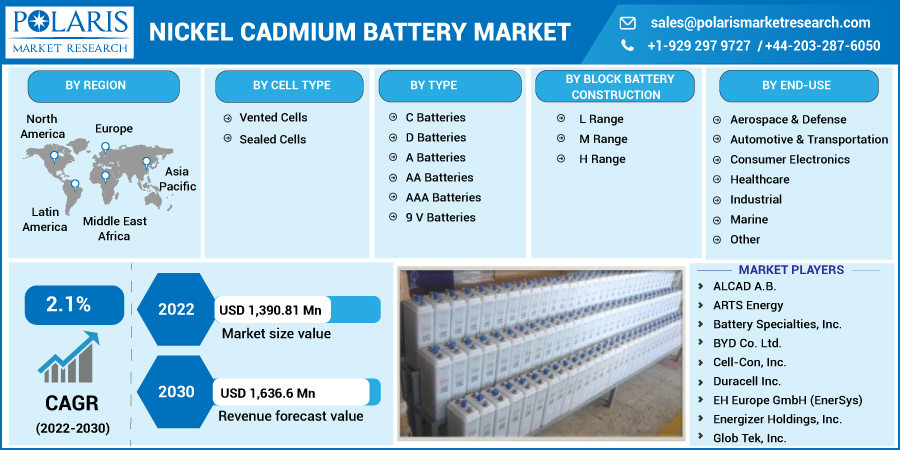 Know more about this report: Request for sample pages
Industry Dynamics
Growth Drivers
In the railway industry, nickel-cadmium batteries are frequently used to power various systems such as emergency braking systems, backup power systems, coach illumination, emergency lighting, heating, and air conditioning systems, and other applications of these batteries in underground metros and trains. The batteries store backup power for signaling and warning lights in low-visibility areas and can be used to start locomotive engines.
Furthermore, batteries used in rail applications must withstand high temperatures, undergo repeated charge-discharge cycles, and be tolerant of overcharging and over-discharging. Because of all these requirements, nickel-cadmium batteries are preferred in the railway industry, driving its demand in the rail sector.
Moreover, the number of renewable and solar energy projects for storing solar energy has increased, increasing the demand for nickel-cadmium batteries. These batteries are used for solar energy storage owing to their long service life, no backup loss, reliability & safety, low maintenance cost, and modularity. Also, these batteries can attain a high depth of discharge, such as deep cycling, allowing them to remain discharged for a long without damage. These characteristics of it are influencing the market's growth.
Report Segmentation
The market is primarily segmented based on cell type, type, block battery construction, end-use, and region.
By Cell Type

By Type

By Block Battery Construction

By End-Use

By Region

Vented Cells
Sealed Cells

C Batteries
D Batteries
A Batteries
AA Batteries
AAA Batteries
9 V Batteries

Aerospace & Defense
Automotive & Transportation
Consumer Electronics
Healthcare
Industrial
Marine
Other

North America (U.S., Canada)
Europe (France, Germany, UK, Italy, Netherlands, Spain, Russia)
Asia Pacific (Japan, China, India, Malaysia, Indonesia, South Korea)
Latin America (Brazil, Mexico, Argentina)
Middle East & Africa (Saudi Arabia, UAE, Israel, South Africa)
Know more about this report: Request for sample pages
Sealed-type cells are expected to account for the largest market share in 2021
Sealed-type cells are anticipated to acquire the most significant market share in 2021 due to less maintenance on regular basis and can withstand different climates better than other batteries. Sealed rechargeable batteries also charge faster than all other batteries.
These batteries have higher power density that can store more energy per unit of weight compared to other batteries. These properties of these sealed cells are supposed to accelerate the segment's growth
C-type batteries accounted for a significant market share in 2021
C-type batteries acquired the most considerable market share in 2021 and are supposed to grow the highest over the forecast period. The C batteries are the standard size of dry cell batteries, which are used in toys, flashlights, and musical instruments.
The capacity and voltage of a C-size battery depend upon its chemistry and discharge conditions of it. Due to its small size, it is easy to handle and fits easily in any celled toy or instrument. Its growing application in daily usable material is supposed to stimulate the segment's growth.
L range segment acquired the largest market share
L-range block batteries acquired the largest market revenue in 2021 and are supposed to grow the fastest over the forecast period. Nickel-cadmium batteries in the L range are frequently created for applications where power is required for longer. These batteries have a lengthy discharge period, which results in low currents and a steady energy supply for a longer time. The battery is typically used in bulk storage applications and has thick plates.
Furthermore, the L-range batteries' capacities vary from company to company and typically range from 8 Ah to 1,680 Ah. Emergency lights, railroad signaling, DC instrumentation, photovoltaic systems, fire alarms, telecom, switchgear protection, and cathodic protection are a few of the uses for L-range batteries. For long-lasting performance, Saft Groupe SAS offers the KPL series of batteries, which deliver energy over a lengthy discharge period.
Industrial segment is supposed to hold significant market revenue
The industrial end-use segment is expected to hold the most considerable market share in 2021 as numerous industries like oil and gas, alternative energy, power, mining, chemical, and manufacturing frequently employ nickel-cadmium batteries. Batteries used in these industries must be able to support essential loads, start backup generators, manage shut-down procedures, and protect computer data while maintaining safe and uninterrupted operations.
Process industries require batteries that deliver great performance in challenging conditions and in all temperature extremes. The industrial batteries that are utilized do not require any maintenance and have a long service life. Nickel-cadmium batteries are preferred in industrial applications because they offer dependable backup power and are well-suited to function in challenging circumstances.
Asia-Pacific dominated the regional market
Asia-Pacific dominated the nickel-cadmium battery regional market due to developing countries where the industrial sectors are booming. Numerous industries use nickel-cadmium batteries, including oil and gas, alternative energy, power, mining, and manufacturing.
The demand for nickel-cadmium batteries in this region is expected to be driven by rapid growth in the manufacturing and power sectors. Batteries, consumer electronics, cars, and electrical components, among other products, are all produced extensively in China. The nickel-cadmium batteries market offers players opportunities due to growing industrial manufacturing activities and rising consumer electronics demand.
Moreover, the nation's robust medical device and pharmaceutical manufacturing industries create a considerable potential market for nickel-cadmium batteries. Since they offer a higher energy density, nickel-cadmium batteries are frequently used in medical equipment. The battery can also be quickly charged for recharging, which deals with medical applications.
Competitive Insight
Some of the major players operating in the global market include ALCAD A.B., ARTS Energy, Battery Specialties, Inc., BYD Co. Ltd., Cell-Con, Inc., Duracell Inc., EH Europe GmbH (EnerSys), Energizer Holdings, Inc., Glob Tek, Inc., GP Batteries International Ltd., GS Yuasa International Ltd., Interberg Batteries Ltd., Panasonic Corp., Power-Sonic Corp., Saft Groupe SAS, Sanyo Corp of America, Sichuan Changhong Battery Co., Ltd., Toshiba Corp., Uniross Batteries Corp., and VARTA AG.
Recent developments
In April 2022, EnerSys collaborated with Orogenic ApS, to manage all Motive Power product distribution and sales in Denmark, Iceland.
In September 2020, Saft Groupe SAS introduced a range of nickel batteries that are compact and maintenance-free. These batteries offer a long-operational life of over 20 years 3 times better than VRLA batteries.
Nickel Cadmium Battery Market Report Scope
| | |
| --- | --- |
| Report Attributes | Details |
| Market size value in 2022 | USD 1,390.81 million |
| Revenue forecast in 2030 | USD 1,636.6 million |
| CAGR | 2.1% from 2022 - 2030 |
| Base year | 2021 |
| Historical data | 2018 - 2020 |
| Forecast period | 2022 - 2030 |
| Quantitative units | Revenue in USD million and CAGR from 2022 to 2030 |
| Segments covered | By Cell Type, By Type, By Block Battery Construction, By End-Use, By Region |
| Regional scope | North America, Europe, Asia Pacific, Latin America; Middle East & Africa |
| Key companies | ALCAD A.B., ARTS Energy, Battery Specialties, Inc., BYD Co. Ltd., Cell-Con, Inc., Duracell Inc., EH Europe GmbH (EnerSys), Energizer Holdings, Inc., Glob Tek, Inc., GP Batteries International Ltd., GS Yuasa International Ltd., Interberg Batteries Ltd., Panasonic Corp., Power-Sonic Corp., Saft Groupe SAS, Sanyo Corp of America, Sichuan Changhong Battery Co., Ltd., Toshiba Corp., Uniross Batteries Corp., and VARTA AG. |