The global metal-air battery market was valued at USD 442 million in 2021 and is expected to grow at a CAGR of 14.3% during the forecast period. The growing demand for metal-air batteries is expected to be driven by the increasing adoption of electronic devices, electric vehicles, and technological advancements such as laser and 3D printing for developing these batteries.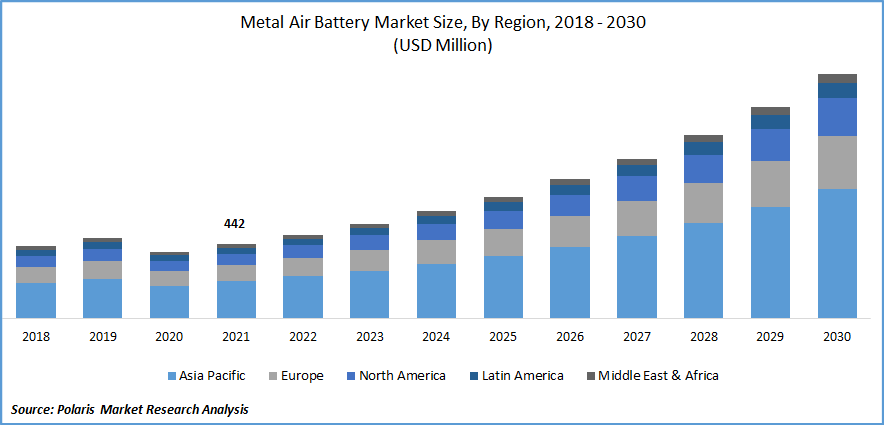 Know more about this report: Request for sample pages
Metal-air batteries are replacing conventional alkaline batteries owing to their high energy density, light, and cheap nature. These batteries have a huge application across automotive, power, aerospace, and electronic industries, driving the market over the forecast period. Moreover, the increasing demand for renewable energy sources with the rising greenhouse gases emission is driving the metal-air battery for energy storage.
The COVID-19 pandemic hurt the growth of the metal-air battery market. The novel coronavirus has severely impacted various sectors' manufacturing and production units. In addition, Asia Pacific, the largest transporter of raw material for battery components, could not transport the goods owing to the global shutdown, ultimately hampering the market growth.
With the rising adoption of metal-air batteries across various verticals, the commercialization of different metal batteries is also critical; since only zinc-based batteries are only commercialized, the manufacturer is seeking an alternative battery for their end product which is hampering the market growth. Moreover, the lack of appropriate standards for developing these batteries is also restraining the market.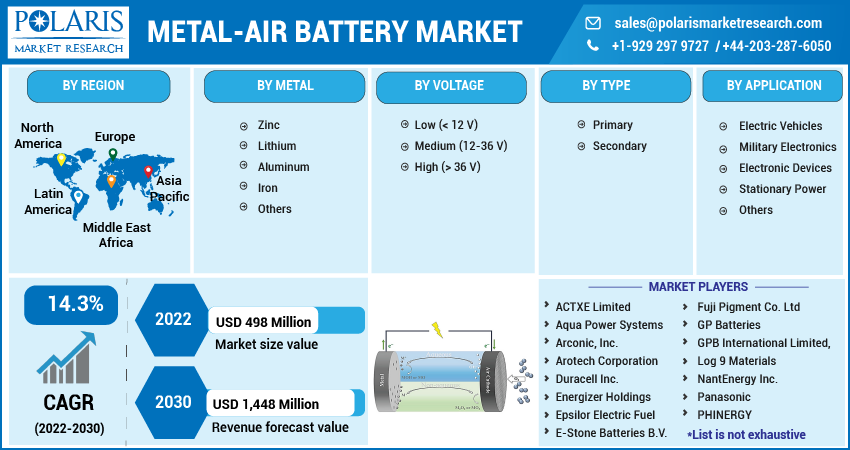 For Specific Research Requirements, Request for a Customized Report
Industry Dynamics
Growth Drivers
The global metal-air battery is likely to be driven by rising aerospace and defense industry demand. The increasing need for cost-effective, high-durability and capacity batteries in aircraft and drones is essential to propelling market growth. Technological advancement to develop zinc-air and lithium-air batteries, which have better energy storage capacity, is also expected to drive market growth.
Moreover, manufacturers and automakers are focusing on designing small and energy-specific batteries which fulfill the requirement for military and commercial applications; such factors are considered to propel the market growth.
The increasing adoption of consumer electronics such as hearing aids, pacemaker, and remote-controlled toys are also expected to boost the market growth. The growing investment in this industry to develop new and innovative product lines in the consumer market is increasing the scope of metal-air batteries. Moreover, this sector's demand for small, compact, low-voltage power batteries is ultimately expanding the market.
Report Segmentation
The market is primarily segmented based on metal, voltage, type, application, and region.
By Metal

By Voltage

By Type

By Application

By Region

Zinc
Lithium
Aluminum
Iron
Others

Low (< 12 V)
Medium (12-36 V)
High (> 36 V)

Electric Vehicles
Military Electronics
Electronic Devices
Stationary Power
Others

North America (U.S., Canada)
Europe (France, Germany, UK, Italy, Netherlands, Spain, Russia)
Asia Pacific (Japan, China, India, Malaysia, Indonesia, South Korea)
Latin America (Brazil, Mexico, Argentina)
Middle East & Africa (Saudi Arabia, UAE, Israel, South Africa)
Know more about this report: Request for sample pages
Zinc metal segment accounted for the largest share in 2021
Zinc-air battery segment accounted for the highest revenue share in 2021 owing to its theoretical energy density and low-cost production, which makes them sustainable. Additionally, these batteries consist of environmental-friendly material, which has great potential for recyclability and is safe to use. Furthermore, zinc batteries contain water as an electrolyte, making them incombustible and safer for end-use industries.
Moreover, these batteries have high storage capacity, which reduces overall operational costs during installation. It has a wide application in hearing aids, medical devices, watches, and personal computers; these are considerable factors propelling the market growth.
Low voltage (< 12 V) is expected to spearhead the market growth
The demand for low-voltage power is driven by changing lifestyles, rising disposable income, and increasing consumer expenditure on electronic devices. The increasing expenses on smartwatches, smartphones, and pacemaker, which requires minimum voltage for operation, is projected to propel market growth. In addition, the rising demand for miniature electronic devices and solar power systems due to their compact size and low cost is expected to drive market growth.
Moreover, the wide application of low-voltage batteries in cardiac monitoring, lightning systems, and communication devices is also expected to influence revenue growth significantly.
Secondary type is expected to witness faster growth
The demand for secondary battery types is expected to see a significant surge over the forecast period owing to their cost-effectiveness over the primary ones. Additionally, this type of battery has low voltage and capacity, higher discharge rates, and a rechargeable cycle, which make them efficient for high-drain applications, which is expected to boost the market growth.
Furthermore, they are eco-friendly and portable, making them easy to handle and avoid waste of power compared to alkaline cells. Moreover, it has a wide application as a storage device for automotive, aerospace, and standby power resources which drives the segment growth.
Electric vehicles segment is expected to account for the largest share in 2030
The electric vehicle segment is expected to dominate the market over the forecast period owing to rising urbanization and consumer awareness about battery-related products and devices. The declining prices of many batteries and the depletion of fossil fuels have also resulted in a drastic shift toward electric vehicles.
Lithium-based or aluminum-based batteries have grabbed the attention of many manufacturers and providers as they have a longer shelf life, superior safety, low cost, and environmental-friendliness, which is expected to drive the market over the forecast period. Many automakers collaborate with key players to shift from the conventional battery to upgraded battery sources. For instance, Tesla has partnered with BYD company to use lithium iron phosphate-based batteries in all its standard range of EVs to improve the battery chemistry and performance of the overall vehicle; such factors are expected to impel the market growth.
Asia Pacific is expected to grow significantly over the forecast period
Asia Pacific is the largest region for metal-air batteries. It is expected to witness faster growth over the forecast period owing to the rising urban population and growing expenditure for electronic devices. Additionally, increasing adoption of electric vehicles across emerging nations such as China, Japan, and South Korea. China is the largest manufacturer of electric vehicles, supporting segment growth.
Furthermore, increasing government initiatives to promote zero-emission with fossil fuel depletion and emphasizing using electric vehicles is also expected to drive market growth. Many key players are collaborating to develop high-performance metal batteries. For instance, Phinergy partnered with Yunnan Aluminium Co. Ltd to produce and develop highly advanced metal-air batteries; such factors are projected to boost the regional market growth.
Competitive Insight
Some of the major players operating in the global market include ACTXE Limited, Aqua Power Systems, Arconic, Inc., Arotech Corporation, Duracell Inc., Energizer Holdings, Epsilor Electric Fuel, E-Stone Batteries B.V., Fuji Pigment Co. Ltd, GP Batteries, GPB International Limited, Guangdong Tiangju Electronics Technology Co., Ltd, Log 9 Materials, NantEnergy Inc., Panasonic, PHINERGY, Poly Plus, Renata S.A., Thunderzee, ZAF Energy Systems Inc., Zenipower Battery Co. Ltd, and, Zinc8 Energy Solutions Inc.
Recent Developments
In July 2022: Phinergy signed a memorandum of understanding with Aditya Birla Group, Hindalco, to develop the production of aluminum plates for aluminum-air batteries in India, which are ideal for electric vehicles.
In April 2021: zinc8 energy solutions agreed with the zinc-air energy storage system (ZESS) to validate zinc-air-duration energy storage technology. This collaboration validates low-cost, sustainable, and long-duration technology storage that provides megawatt-scale power solutions.
Metal-air Battery Market Report Scope
| | |
| --- | --- |
| Report Attributes | Details |
| Market size value in 2022 | USD 498 million |
| Revenue forecast in 2030 | USD 1,448 million |
| CAGR | 14.3% from 2022 - 2030 |
| Base year | 2021 |
| Historical data | 2018 - 2020 |
| Forecast period | 2022 - 2030 |
| Quantitative units | Revenue in USD million and CAGR from 2022 to 2030 |
| Segments Covered | By Metal, By Voltage, By Type, By Application, By Region |
| Regional scope | North America, Europe, Asia Pacific, Latin America; Middle East & Africa |
| Key Companies | ACTXE Limited, Aqua Power Systems, Arconic, Inc., Arotech Corporation, Duracell Inc., Energizer Holdings, Epsilor Electric Fuel, E-Stone Batteries B.V., Fuji Pigment Co. Ltd, GP Batteries, GPB International Limited, Guangdong Tiangju Electronics Technology Co., Ltd, Log 9 Materials, NantEnergy Inc., Panasonic, PHINERGY, Poly Plus, Renata S.A., Thunderzee, ZAF Energy Systems Inc., ZeniPower Battery Co. Ltd, and, Zinc8 Energy Solutions Inc. |