The global machine risk assessment market was valued at USD 5.50 billion in 2022 and is expected to grow at a CAGR of 5.91% in the forecast period. Several factors, including the increasing focus on workplace safety, the adoption of automation in manufacturing and logistics industries, technological advancements, regulatory compliance, and a growing emphasis on sustainability, have driven the market.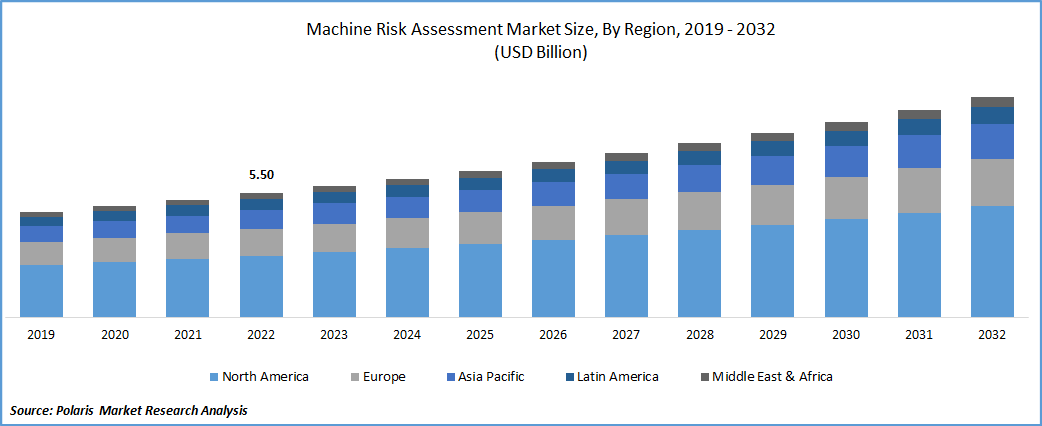 Know more about this report: Request for sample pages
The machine risk assessment market is integral to ensuring workplace safety in industries that use heavy machinery and equipment. The process of machine risk assessment involves identifying the potential hazards that could arise from the use of machinery, assessing the likelihood of these hazards occurring, and evaluating the severity of their impact. The systems help to ensure that appropriate measures are taken to mitigate these risks, reducing the potential for accidents and injuries in the workplace. The assessments are essential when designing new machines or modifying existing ones.
New-age technologies such as machine learning (ML), Artificial Intelligence (AI), and others enable accurate and effective risk assessments, increasing the usage rate in the last few years. Machine learning algorithms analyze data from sensors and other sources to identify potential hazards and risks associated with industrial machinery. Real-time monitoring technologies and sensors allow for constant assessment of machine risks and quick identification of potential issues. Cloud computing technology is being used to store and analyze large amounts of data from sensors and other sources. The technology can improve the accuracy and efficiency of risk assessments and allow for more effective risk mitigation strategies. Virtual and augmented reality technologies are also being used to simulate different scenarios and test the safety of industrial machinery.
The covid-19 pandemic moderately impacted the Machine Risk Assessment Market, with both short-term disruption and long-term trends. In the short term, the market was hampered due to slowing down or suspended operations due to lockdowns, travel restrictions, and supply chain disruptions. It has led to delays in implementing new risk assessment technologies and processes. In contrast, the pandemic has highlighted the importance of worker safety in industrial settings and has led to increased scrutiny of risk assessment practices. Companies are pressured to ensure that their workers are protected from COVID-19 and other workplace hazards, leading to increased investment in risk assessment technologies and processes. Further, the remote operations in the pandemic have led to increased use of remote risk assessment technologies, such as virtual and augmented reality tools, that allow engineers and operators to perform risk assessments from remote locations.
In the long run, companies continue to invest in new technologies and processes to ensure worker safety in the post-pandemic world. It is likely to lead to increased adoption of remote risk assessment technologies and investment in automation and artificial intelligence tools.
The market's growth can be attributed to many factors, including a lack of skilled professionals, high implementation costs, limited understanding, and regulatory hurdles. Implementing risk assessment technologies and processes can be expensive, especially for small and medium-sized businesses needing more resources to invest in these technologies. The high implementation costs could limit the adoption of risk assessment technologies and processes, especially in emerging economies.
Moreover, the market relies heavily on skilled professionals, such as engineers and safety experts, who can identify and assess risks associated with industrial machinery. However, there is a need for more experienced professionals in this field, which could limit the market's growth.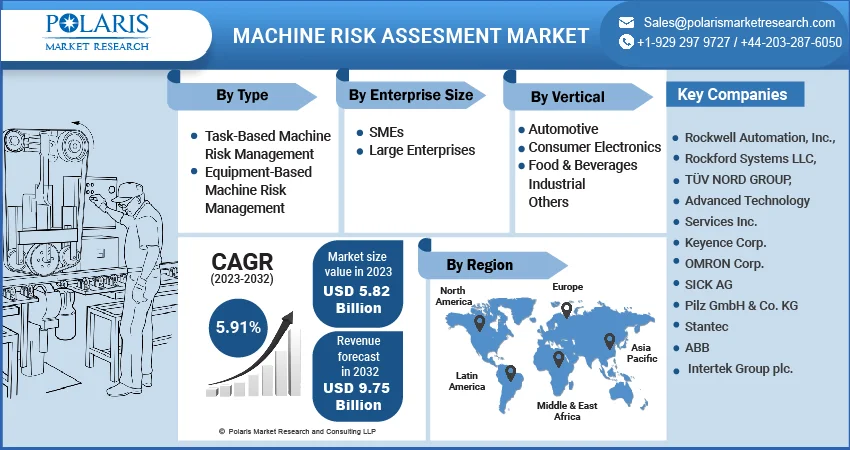 https://www.polarismarketresearch.com/assets/images/media/Machine assesment market.webp
Industry Dynamics
Growth Drivers
The key factor driving the market can be attributed to the increasing focus on safety standards in the workplace. In many industries, there has been a rising number of accidents and injuries associated with using industrial machinery. It led to increased scrutiny from regulatory bodies and a growing awareness of the importance of workplace safety. Regulatory compliance is another important factor driving the Machine Risk Assessment Market. Many countries have regulations governing the use of industrial machinery, which require companies to conduct regular risk assessments. It is particularly true in industries such as construction and manufacturing, where the risks associated with machinery can be particularly high.
Another key driver of the Machine Risk Assessment Market is the increasing adoption of automation in industries such as manufacturing and logistics. As machines and robots perform more and more tasks, it becomes increasingly important to assess the risks associated with these technologies and implement appropriate measures to mitigate them. It has led to increased demand for machine risk assessment services as companies seek to ensure the safety of their workers and comply with regulations governing the use of industrial machinery. Advancements in technology are also playing a significant role in driving the Machine Risk Assessment Market. Machine learning and artificial intelligence are used to analyze data and identify potential risks associated with industrial machinery.
Report Segmentation
The market is primarily segmented based on structure, material, application, and region
By Type

By Enterprise Size

By Vertical

By Region

Task-Based Machine Risk Management

Equipment-Based Machine Risk Management

Automotive

Consumer Electronics

Food & Beverages

Industrial

Others

North America (U.S, Canada, Mexico)

Asia-pacific (China, Japan, India, Australia, Rest of Asia- pacific)

Europe (Germany, UK, France, Spain, Italy, Rest of Europe)

LAMEA (Latin America, Middle East & Africa)
Know more about this report: Request for sample pages
The equipment-based machine risk management segment is projected to dominate the market in 2022
The assessment is a systematic process of evaluating the hazards associated with operating a specific machine. It aims to detect the potential risks may arise during equipment use and takes steps to eradicate the danger of injuries to workers who uses or repair the equipment. Organizations can reduce the probability of equipment-related accidents by identifying potential risks, developing risk management plans, and ensuring workers' safety.
While the task-based approach is anticipated to witness a significant growth rate in the forecast period due to the rising need for workers' safety while working on specific tasks. The assessment system involves methods to analyze the risk, identify the probable hazards, assess the associated risks, and provide a strategy to eliminate the danger.
The large enterprises segment accounted for a major share in 2022
The increasing risk of using large and complex machineries poses a higher risk to workers and equipment. The higher risk has compelled various tools and solutions to conduct various risk assessments for identifying potential hazards and implementing multiple measures to lower the rate of accidents in the workplace.
The SME segment is accounted to witness considerable growth in the coming years, owing to the increasing adoption rate of automation and machinery in production. The greater automations in the workplace have increased the risk hazards and boosted the machine risk assessment systems.
The industrial segment dominated the market in 2022
Greater reliance on machineries and automated systems for production has increased the likelihood of potential hazards in the workplace, increasing the demand for machine risk assessment. The method further improves productivity, reduces workplace downtime, and can detect malfunctions before it occurs.
The construction industry is one of the largest end-users of Machine Risk Assessment services, as the risks associated with heavy machinery can be particularly high in this industry. The automotive industry is also a significant end-user, relying heavily on automation and machinery to produce goods.
The North American region is leading the market regarding revenue share for the forecasted period.
The growth is driven by several factors, including the increasing adoption of automation and robotics in manufacturing, automotive, and healthcare industries and the rising demand for workplace safety and compliance. Machine Risk Assessment identifies potential hazards and assesses the risks associated with using machines and equipment in the workplace. This process helps organizations ensure their employees' safety, comply with regulatory requirements, and prevent accidents and injuries.
Asia Pacific is expected to be the fastest-growing region in the Machine Risk Assessment Market due in part to the rapid industrialization and adoption of automation in countries such as China and India.
Competitive Insight
Some of the prominent key players operating in the marketspace includes Rockwell Automation, Inc., Rockford Systems LLC, TÜV NORD GROUP, Advanced Technology Services, Inc., Keyence Corp., OMRON Corp., SICK AG, Pilz GmbH & Co. KG, Stantec, ABB, Intertek Group plc.
Recent Developments
February 2023: Rockford Systems, LLC, has introduced a turnkey control system, which secures on-the-job safety for operators and helps reduce the risk of nerve, tendon, and cardiovascular disorders.

February 2023: OMRON Corporation has announced its plans to release the K7DD-PQ series of motor condition monitoring devices, which automates monitoring abnormalities on the production site.
Machine Risk Assessment Market Report Scope
| | |
| --- | --- |
| Report Attributes | Details |
| Market size value in 2023 | USD 5.82 billion |
| Revenue forecast in 2032 | USD 9.75 billion |
| CAGR | 5.91 % from 2023 - 2032 |
| Base year | 2022 |
| Historical data | 2018 - 2021 |
| Forecast period | 2023 - 2032 |
| Quantitative units | Revenue in USD billion and CAGR from 2023 to 2032 |
| Segments covered | By Type, By Enterprise Size, By Vertical, By Region |
| Regional scope | North America, Europe, Asia Pacific, Latin America, Middle East & Africa |
| Key companies | Rockwell Automation, Inc., Rockford Systems LLC, TÜV NORD GROUP, Advanced Technology Services, Inc., Keyence Corp., OMRON Corp., SICK AG, Pilz GmbH & Co. KG, Stantec, ABB, Intertek Group plc. |