The global laser diode market was valued at USD 5.27 billion in 2021 and is expected to grow at a CAGR of 13.0% during the forecast period. The growing demand for the laser diode is expected to be driven by its lightweight, small volume, low power consumption, and growing demand across telecommunication, medical and industrial sectors.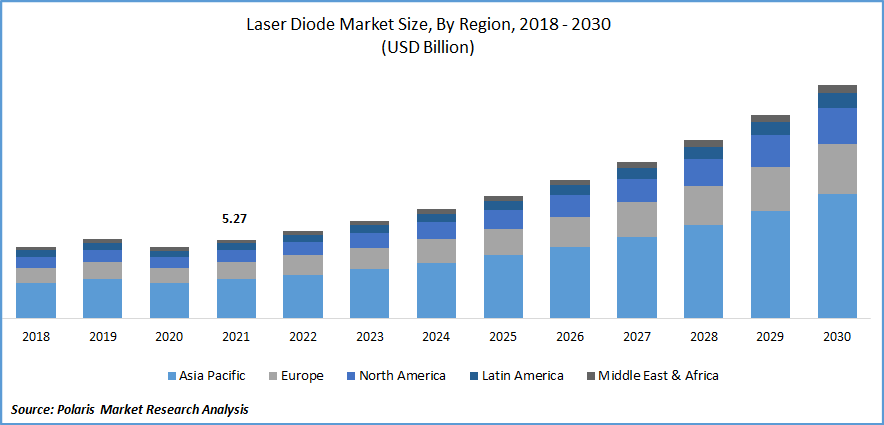 Know more about this report: Request for sample pages
Laser diodes are replacing conventional semiconductors owing to their compact nature and inexpensiveness. Additionally, they radiate narrow light, has a wide wavelength, and are well-directed, which meet the requirement of many end-use industries. Furthermore, these lasers operate on small-volt batteries and consume less power than gas and solid-state lasers, which require up to kilo-volts, increasing demand across various verticals.
The COVID-19 pandemic had a negative impact on the growth of the market. The movement of raw materials across countries was halted, which disrupted the supply chain. Many manufacturing units were standstill owing to the government's stringent rules resulting in a delay in the production of components required for laser diode preparation. Moreover, many movie theatres were closed, requiring laser projectors equipped with laser diodes due to the global shutdown, which severely impacted the market growth.
The replacement from conventional light-emitting diodes to advanced laser diodes requires a vast investment cost initially, which is hampering the market growth. Moreover, small manufacturers look for semiconductors that maintain the same performance and do the same task without damaging the end product; thus, the threat of substitutes is a major restraining factor impacting the market growth.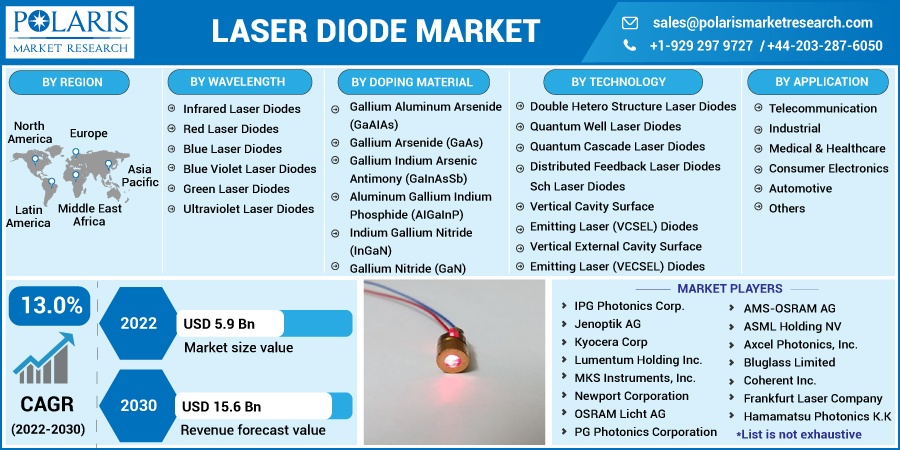 Know more about this report: Request for sample pages
Industry Dynamics
Growth Drivers
The rising manufacturing of electric vehicles likely drives the global laser diode. In addition, the changing lifestyle and increasing disposable income of the middle-income population have created the demand for heavy expenditure for autonomous vehicles, ultimately influencing market growth.
Moreover, manufacturers focus on the less energy-intensive headlight, which is not provided by traditional LED lights. The less power consumption of laser diodes when integrated with automobile headlights reduces the automaker's overhead expense, driving the market growth.
The laser diode utilized in any industrial or commercial project must be under government compliance regulations and not harm the environment. Thus, various technological advancement techniques such as ink stamping, punching, and inkjet printing are introduced, providing high-quality marks and measurements and being environmentally friendly. Furthermore, this diode reduces the manufacturing process and facilitates the recycling of the products, increasing the demand across various industries.
Report Segmentation
The market is primarily segmented based on wavelength, doping material, technology, application, and region.
By Wavelength

By Doping Material

By Technology

By Application

By Region

Infrared Laser Diodes
Red Laser Diodes
Blue Laser Diodes
Blue Violet Laser Diodes
Green Laser Diodes
Ultraviolet Laser Diodes

Gallium Aluminum Arsenide (GaAIAs)
Gallium Arsenide (GaAs)
Gallium Indium Arsenic Antimony (GaInAsSb)
Aluminum Gallium Indium Phosphide (AIGaInP)
Indium Gallium Nitride (InGaN)
Gallium Nitride (GaN)
others

Double Hetero Structure Laser Diodes
Quantum Well Laser Diodes
Quantum Cascade Laser Diodes
Distributed Feedback Laser Diodes
Sch Laser Diodes
Vertical Cavity Surface Emitting Laser (VCSEL) Diodes
Vertical External Cavity Surface Emitting Laser (VECSEL) Diodes

Telecommunication
Industrial
Medical & Healthcare
Consumer Electronics
Automotive
Others

North America (U.S., Canada)
Europe (France, Germany, UK, Italy, Netherlands, Spain, Russia)
Asia Pacific (Japan, China, India, Malaysia, Indonesia, South Korea)
Latin America (Brazil, Mexico, Argentina)
Middle East & Africa (Saudi Arabia, UAE, Israel, South Africa)
Know more about this report: Request for sample pages
Blue laser segment accounted for the largest share in 2021
Blue laser diode accounted for the highest revenue share in 2021 as it is useful for engraving, cutting, and marking various metals, wood, and plastic materials. This type of diode finds increasing applications in automotive headlights, projection, and telecom and is expected to drive the market during the forecast period.
Furthermore, the growing demands for internet bandwidth, rising components of internet traffic, and opt electronic technologies also support the segment growth. Moreover, the increasing application in the industrial sector, such as digitized video images and inspection, has increased the sale of the blue semiconductor diode.
Gallium arsenide (GaAs) is expected to spearhead the market growth
The demand for gallium arsenide is expected to spearhead market growth owing to its high thermal stability, wide temperature range, and high efficiency. Additionally, the growing demand from the power industry for electricity generation is rising due to its high electron mobility and performance at low light in solar cells, which is expected to propel the segment growth over the forecast period.
Furthermore, the rising application of GaAs in the medical, automotive, aerospace & defense sector is due to their resistance to moisture, radiation, and ultraviolet light, supporting the revenue growth of the market.
Quantum well laser diodes is expected to witness faster growth
The demand for the quantum well laser diode is expected to see a significant surge over the forecast period as it offers a narrow wavelength and better bandgap. Additionally, the growing demand for this technology is increasing owing to its low threshold density, temperature feature, and high modulation, which is expected to drive the market over the forecast period.
The technological advancement has led to the development of MOCVD technology which adjusts wavelength sides which is helpful in the application of optical fiber communication and optical information processing which is expected to propel the segment growth.
Automotive segment is expected to account for the largest share in 2030
The automotive industry is expected to dominate the market over the forecast period owing to the increasing adoption of electric vehicles, such as hybrid vehicles and plug-in hybrid vehicles, across developed and developing nations. Also, laser diodes are required for LIDAR and radar systems owing to the emerging trend of self-driving automated cars influencing the market growth.
The rising demand for laser diodes in the automobile sector is due to their cost-effectiveness. Furthermore, the growing demand for autonomous vehicles to check the vehicle-to-vehicle distance through sensors and cameras to create 3D maps of the surroundings and GPS configurations is expected to propel the segment growth.
Asia Pacific is expected to dominate and witness the fastest growth over the forecast period
Asia Pacific is the largest region for laser diode and is expected to witness faster growth over the forecast period owing to the rising expansion of the telecommunication and industrial sector and increasing projects across China, India, and South Korea. The growing consumer expenditure for automobiles and consumer electronics also supports market growth.
Competitive Insight
Some of the major players operating in the global market include AMS-OSRAM AG, ASML Holding NV, Axcel Photonics, Inc., Bluglass Limited, Coherent Inc., Frankfurt Laser Company, Hamamatsu Photonics K.K, II-VI Incorporated, Infineon Technologies AG, IPG Photonics Corp., Jenoptik AG, Kyocera Corp, Lumentum Holding Inc., MKS Instruments, Inc., Newport Corporation, OSRAM Licht AG, PG Photonics Corporation, Power Technology, Inc., Rofin-Sinar Technologies Inc., ROHM Co. Ltd, Sharp Corporation, Sumitomo Electric Industries, Ltd, Thorlabs, Inc., Trumpf Gmbh + Co. KG, and Ushio, Inc.
Recent Developments
In July 2022, MKS Instruments, Inc launched a spectra-physics talon 532-70 laser, which delivers 70W of green power with 700 kHz repetition rates. This laser offers high-throughput processing of photovoltaics and electronics materials.
In April 2022, Lumentum Holdings Inc. introduced the FemtoBlade laser system, the increases flexibility and offers high power at high repetition rates, enabling quick processing and greater throughput for micromachining applications.
Laser Diode Market Report Scope
| | |
| --- | --- |
| Report Attributes | Details |
| Market size value in 2022 | USD 5.9 billion |
| Revenue forecast in 2030 | USD 15.6 billion |
| CAGR | 13.0% from 2022 - 2030 |
| Base year | 2021 |
| Historical data | 2018 - 2020 |
| Forecast period | 2022 - 2030 |
| Quantitative units | Revenue in USD billion and CAGR from 2022 to 2030 |
| Segments Covered | By Wavelength, By Doping Material, By Technology, By Application, By Region |
| Regional scope | North America, Europe, Asia Pacific, Latin America; Middle East & Africa |
| Key Companies | AMS-OSRAM AG, ASML Holding NV, Axcel Photonics, Inc., Bluglass Limited, Coherent Inc., Frankfurt Laser Company, Hamamatsu Photonics K.K, II-VI Incorporated, Infineon Technologies AG, IPG Photonics Corp., Jenoptik AG, Kyocera Corp, Lumentum Holding Inc., MKS Instruments, Inc., Newport Corporation, OSRAM Licht AG, PG Photonics Corporation, Power Technology, Inc., Rofin-Sinar Technologies Inc., ROHM Co. Ltd, Sharp Corporation, Sumitomo Electric Industries, Ltd, Thorlabs, Inc., Trumpf Gmbh + Co. KG, and Ushio, Inc. |