The global ketone supplements market was valued at USD 4,247.42 million in 2022 and is expected to grow at a CAGR of 6.3% during the forecast period. For millions of years, the only way humans utilized ketones for fuel was to restrict carbs to levels low enough and long enough to cause the liver to produce them. This is undoubtedly difficult for many individuals to accomplish in a society where carbs are still considered good and fats are considered harmful. Consuming ketones as a dietary supplement is a newer option. Although research into how these work in the body and what advantages they might provide is still in its early stages, several such products are currently on the market. A keto-adapted adult can produce 150 or more grams of ketones per day after adjusting to a complete fast and 50-100 grams on a daily well-formulated ketogenic diet.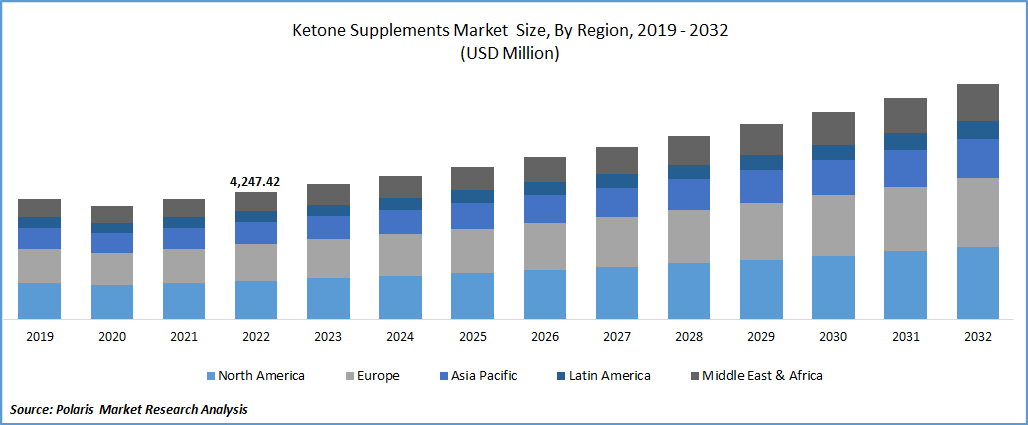 Know more about this report: Request for sample pages
The growing health-conscious population and consumer preference for workouts are driving the demand for nutritional supplements such as ketone supplements. Other factors projected to boost the growth of the worldwide ketone supplements market include regular product improvements, such as the introduction of new tastes and a thriving organized retail sector. Inventive marketing strategies utilizing social media and celebrity endorsements have shown to be innovative marketing technique that boosts market growth. Furthermore, the Gen Z and millennial generations are predisposed to goods with weight reduction and gut health claims, which is increasing the desire for ketone supplements.
The increase in obesity cases in the developed region has contributed to the rise in popularity of ketone supplements and other weight-loss meals and beverages. Because of these reasons, the market is expected to increase. Restaurants and cafés in the area also serve ketone-based food and beverages because of increasing consumer demand, which is expected to stimulate market development.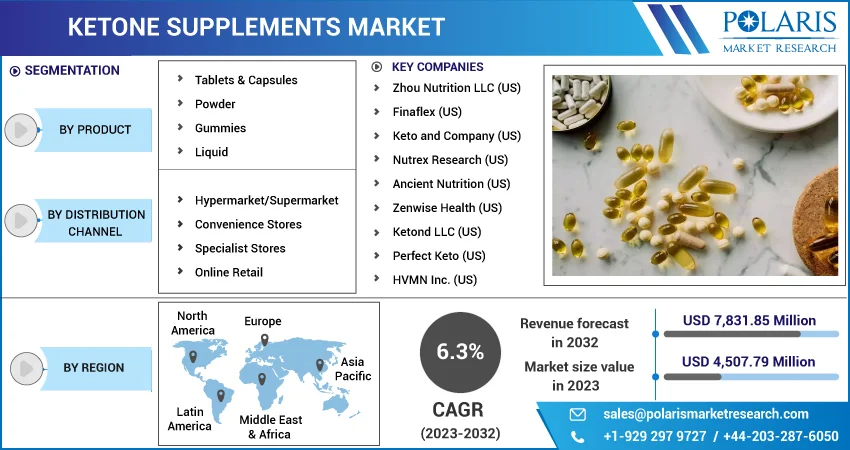 Know more about this report: Request for sample pages
Industry Dynamics
Growth Drivers
Ketone supplements induce ketosis in the human body, causing fat cells to be turned into energy. Regular supplement consumption decreases fat and weight quickly, reducing the risk of obesity. It also aids in the purification of the bloodstream, which is beneficial to general health. Ketone supplements are commonly used to speed up the body's metabolic processes and aid food digestion. Aside from that, ketone supplements improve athletic performance. As a result, the product's varied health advantages fuel market expansion.
The COVID-19 epidemic has largely impacted many manufacturing and supply businesses worldwide. Such causes heightened the attention and demand for supplements to combat global health threats. The introduction of ketone supplements into the diet, in different forms such as powders and shakes, is accountable for the market's appeal. As a result, the rising demand for ketone supplementation contributes to the global expansion of the ketone market.
Report Segmentation
The market is primarily segmented based on Product Type, Distribution Channel, and region.
By Product Type

By Distribution Channel

By Region

Tablets & Capsules

Powder

Gummies

Liquid

Hypermarket/Supermarket

Convenience Stores

Specialist Stores

Online Retail

Others

North America (U.S., Canada)

Europe (France, Germany, UK, Italy, Netherlands, Spain, Russia)

Asia Pacific (Japan, China, India, Malaysia, Indonesia. South Korea)

Latin America (Brazil, Mexico, Argentina)

Middle East & Africa (Saudi Arabia, UAE, Israel, South Africa)
Know more about this report: Request for sample pages
Liquid segment dominated the market in 2022
The growing health-conscious population and propensity to exercise are the primary factors driving the global ketone market. The liquid category is predicted to have the highest demand for all product kinds, owing to an increase in demand for ketone-rich products such as ketone shakes and beverages. The taste variations and innovative formulas of ketone drinks are critical aspects in garnering consumers' attention across the industry.
Pills are also projected to show significant growth, this is due to the widespread availability of ketone supplements in capsule and tablet form. These are available in both hard-shelled and soft-gel varieties. Furthermore, they are simple to take and have a rapid breakdown release time. Furthermore, the contents of the capsule may be placed into smoothies or beverages for consumption, making them a popular choice among customers. Furthermore, the health advantages of these products, such as body cleaning, blood sugar balancing, and improved digestion, are projected to expand the use of ketone capsules and tablets in the future years. Furthermore, good evaluations for ketone supplement tablets are expected to improve their popularity among obese people.
Hypermarket/Supermarket contributed to major revenue share in 2022
In 2022, hypermarkets/supermarkets contributed to the biggest revenue share. This offline distribution route is either brick-and-mortar or direct-to-consumer. Due to their larger frequency, supermarkets/hypermarkets contribute heavily to dietary supplement sales in Europe and North America.
Dietary supplement sales via online channels of distribution are predicted to expand the most in the future years. Increased internet users, ease of access to a variety of brands, this same quick lifestyle of the masses, 24/7 accessibility of products, the simplicity of shopping, and a wide range of products offered are all factors driving dietary supplement sales through online channels of distribution in the country. Dietary supplement sales via online channels of distribution are predicted to expand the most in the future years.
North America dominated the regional market in 2022
Because of the region's significant presence of major participants and their new breakthroughs, North America is expected to account for the largest share of the worldwide market. The United States is a developed country that is widely recognized as being at a diverse consumer portfolio. Another key factor driving growth in the United States is the entry of new businesses into the confectionery business.
The rising incidence of obesity, as well as the increasing number of product releases in the United States, will drive the need for ketone supplements in the market. A high dietary fat intake, a shortened supper time, and regular drinking and smoking consumption have all been identified as high-risk variables related to the increased incidence of obesity. Large-scale research and development initiatives in the field of ketone research, where higher ketone levels are being linked to improved performance in athletes and military people, are also projected to fuel consumption for ketone supplements in the nation.
Ketone demand in Europe has increased in recent years due to increased manufacture of personalized personal care products and greater consumer awareness of their health advantages. In addition, the area has evolved as one of the top economies for private care and beauty products. As a result of increased demand and a shift towards sustainable raw materials, businesses throughout the region are substituting natural substances for synthetic chemicals. Concerns about the detrimental effects of the chemicals and synthetic components in personal care products may give further prospects for market expansion.
Competitive Insight
Some of the major players operating in the global market include Pruvit Ventures, Sapien Body, Ketoneaid, Zhou Nutrition, Finaflex, Keto and Company, Nutrex Research, Ancient Nutrition, Zenwise Health, Ketond LLC, Perfect Keto, HVMN, BPI Sports, and Ketologic.
Recent Developments
In 2022, In its keto product line, Evolve Supplements has introduced keto drops. The new drops solution has antioxidants and other compounds that aid in the weight loss process.

In 2021, Glanbia Nutritional introduced "KetoSure MCT", a coconut based product with MCT-C8 & whey protein. It is devoid of additives and other carriers, making it a clean label product.
Ketone Supplements Market Report Scope
| | |
| --- | --- |
| Report Attributes | Details |
| Market size value in 2023 | USD 4,507.79 million |
| Revenue forecast in 2032 | USD 7,831.85 million |
| CAGR | 6.3% from 2023 - 2032 |
| Base year | 2022 |
| Historical data | 2019 – 2021 |
| Forecast period | 2023 - 2032 |
| Quantitative units | Revenue in USD million and CAGR from 2023 to 2032 |
| Segments covered | By Product Type, Distribution Channel, By Region |
| Regional scope | North America, Europe, Asia Pacific, Latin America; Middle East & Africa |
| Key companies | Zhou Nutrition LLC (US), Finaflex (US), Keto and Company (US), Nutrex Research (US), Ancient Nutrition (US), Zenwise Health (US), Ketond LLC (US), Perfect Keto (US), HVMN Inc. (US), |