The global high temperature insulation market was valued at USD 6.38 billion in 2021 and is expected to grow at a CAGR of 5.8% during the forecast period. The business for high-temperature insulating materials will grow as a result of a shift away from ceramic fiber furnaces and toward kilns and asbestos.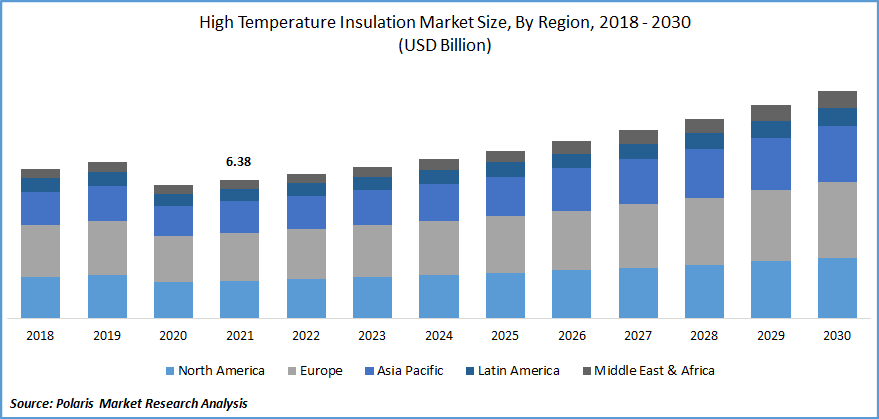 Know more about this report: Request for sample pages
Global demand for high-temperature temperature insulators such as calcium silicate, crystalline fiber, glass wool, ceramics fibers, and the insulating project is rising as a result of increasing issues about energy efficiency and greenhouse gas emissions in various nations.
Managing heat transfer requires insulation. High-temperature insulation shields individuals who are near the heat source from injury while reducing the amount of energy needed to boost temperatures. Two high-temperature insulators that are frequently utilized in commercial processes are ceramic fiber and calcium silicate.
Thermal conductivity is necessary for high-temperature insulators, which slows down heat transfer. To efficiently release energy as thermal radiation, they also require surface emissivity. Insulation materials with a high operating temperature range. These materials offer improved functionality, dependability, and security in a variety of industries, such as powder metallurgy, iron & steel, petrochemicals, ceramics, and cement.
One of the most affordable and secure ways to save energy is through insulation. Industrial machinery, such as continuously operating brick wall furnaces, can have their average temperature changed and their heat storage capacity increased by adding outside insulation.
Acoustic insulation in large-scale factories to minimize machine noise and protection against mechanical damage to piping and other components are additional benefits of insulation. Insulation can safeguard machinery and help achieve extremely high or low temperatures while lowering the risk of mishaps.
Vehicles or enormous, top-notch pipes are used to transport materials from chemical plants and the oil and gas industry. High-performance chemicals and combustible liquids are transported in tanks and containers that are insulated with perlite to preserve their original properties. The insulation protects against high temperatures, shielding exposed components and materials and minimizing heat transfer.
Further, both the supply and demand of high-temperature insulating materials have been impacted by COVID-19. For a set period, the majority of nations were in total lockdown, with many factories operating with extremely low staffing levels or even closing temporarily. Low activity levels resulted in numerous project schedule changes or delays.
As a result of all these disruptions, end consumers began delaying less important purchases and withdrawing from the consumption process by reducing their need for insulating materials. Additionally, a lot of raw material and insulating material producers extended the closure of all of their operations at their manufacturing sites until they received new instructions from the government authorities.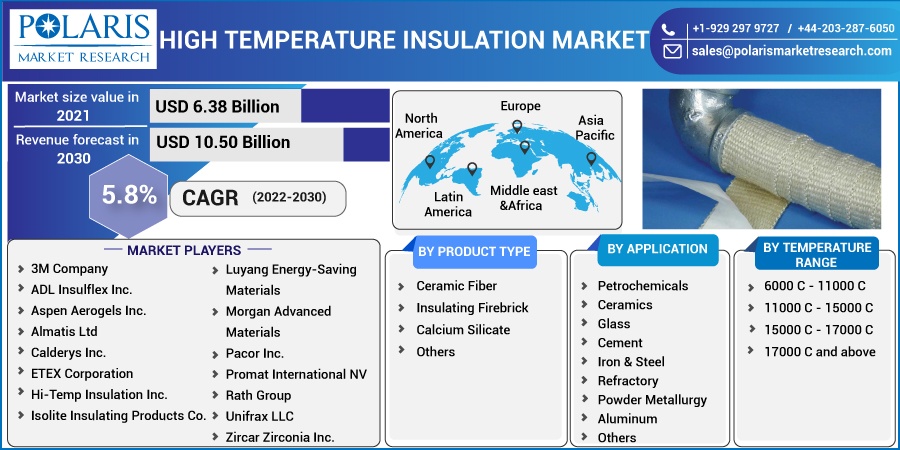 Know more about this report: Request for sample pages
Industry Dynamics
Growth Drivers
Due to their numerous detrimental consequences on the environment and human health, carbon dioxide emissions from industrial plants have grown to be a major global problem. This pollution has accelerated climate change in recent years. According to reports from the US Environmental Protection Agency, around 79 percent of all greenhouse gas emissions caused by human activity in the United States in 2020 were CO2 emissions. The necessity of reducing greenhouse gas emissions from industrial districts has been brought to the attention of several economies.
Governments and social organizations all over the world have mandated the usage of necessary elements in industrial facilities to cut back on carbon dioxide emissions. Industrial constructions use insulated panels, facades, roofs, incorporated solar panels, heating systems, and other insulation materials.
The burning of fossil fuels is the main cause of CO2 emissions. The production of electricity and cement in significant economies contributes significantly to the high levels of CO2 emissions. Therefore, it is anticipated that stringent CO2 emission regulations would increase the use of high temperature insulation materials.
Report Segmentation
The market is primarily segmented based on product, application, temperature range, and region.
By Product

By Application

By Temperature Range

By Region

Ceramic Fiber
Insulating Firebrick
Calcium Silicate
Others

Petrochemicals
Ceramics
Glass
Cement
Iron & Steel
Refractory
Powder Metallurgy
Aluminum,
Others

6000 C - 11000 C
11000 C - 15000 C
15000 C - 17000 C
17000 C and above

North America (U.S., Canada)
Europe (France, Germany, UK, Italy, Netherlands, Spain, Russia)
Asia Pacific (Japan, China, India, Malaysia, Indonesia, South Korea)
Latin America (Brazil, Mexico, Argentina)
Middle East & Africa (Saudi Arabia, UAE, Israel, South Africa)
Know more about this report: Request for sample pages
The temperature range 11000 and 15000C market segment is expected to witness the fastest growth
HTI materials are needed for temperature-intensive applications to limit heat transfer, shield equipment from heat exposure, consume less energy, and cut greenhouse gas emissions. Applications for high-temperature insulation use a variety of fiber insulations with different densities, shapes, flexibility, and chemical composition. With temperatures between 11000 and 15000 C, high-temperature insulation materials function as efficient thermal insulation materials.
High-temperature insulation wool (HTIW), also named kaowool, is a variety of mineral wool made synthetically that withstand temperatures between 11000 and 15000 C. Due to its higher production costs and restricted availability when compared to mineral wool, it is primarily used in high-temperature industrial applications and procedures.
During the creation of HTWI, fibers of various lengths and diameters that are synthesized from mineral raw materials are gathered. The three forms of HTWI are aluminosilicate wool (ASW), polycrystalline wool (PCW), and amorphous alkaline earth silicate wool (AES).
The glass market segment accounted for the second-largest market share in 2021
The need for high-temperature insulation goods in the glass segment is being driven by the growing usage of smart glass in the transportation, consumer electronics, and architecture sectors. This is further enhancing the growth prospects of the glass manufacturing industry.
Glass is one of the most important and adaptable construction materials, and it has gained recognition as a medium for enhancing the thermal and solar efficiency of infrastructures. Buildings have insulated windows placed to control the temperature inside and preserve humidity and air quality. The use of glass insulation is becoming more and more prevalent in a variety of commercial constructions, such as hotels, hospitals, and offices.
In addition, some renovations have used glass insulation to improve energy efficiency and conform to government rules for environmentally friendly structures. Government restrictions for energy efficiency and rising environmental concerns have been important factors in the market expansion for glass insulation. However, a significant amount of ignorance prevents the market from expanding. It is anticipated that demand from emerging economies will be opportunistic for market expansion.
The ceramic fibers market segment is expected to hold the significant revenue share
Ceramic fiber has a substantial demand in the insulating business due to its high temperature endurance, cost-effectiveness, adaptability, and ease of customization. Rising crude oil consumption is anticipated to increase the fleet of crude oil carriers, which will increase the demand for ceramic fiber in the production of substantial carriers.
Ceramic fiber's resistance to thermal stress and capacity to sustain high temperatures is utilized as an insulating material. Ceramic fiber can be found in blankets, felts, papers, fabrics, vacuum-formed fibers, and cast-shaped fibers.
The demand in North America is expected to witness significant growth
The high temperature insulation market for North America is predicted to due to the considerable demand growth from several end-use sectors, such as petrochemicals, ceramics, glass, iron, steel, and cement, These industries frequently use insulation materials for boilers, furnaces, ducts, precipitators, and industrial ovens.
One of the key contributions to the Asia Pacific economy is the manufacturing sector. The largest base for electronic manufacturing is located in China. The electronics sector saw the largest rise in products including smartphones, television, cables, gaming systems, and other personal electronic gadgets. In addition to meeting domestic demand, the nation also exports electronic products to foreign nations.
The manufacturing of electronics in China is anticipated to rise as a result of rising disposable income among the middle-class population and increased demand from nations importing electronics from China. The need for enchanced insulation is anticipated to rise along with the electronics and construction industries.
This is primarily because of the expanding population and significant investments made by corporations and governments to boost output capacity in several end-use industries, including glass, cement, iron and steel, and ceramics, in response to the expanding demand. Due to the growing focus on and regulations about fuel efficiency, greenhouse gas emission decrease, and carbon footprint reduced, the market for the product is anticipated to expand over the projected period in nations like China, Japan, and Australia.
Competitive Insight
Some of the major players operating in the global high temperature insulation market include 3M Company, ADL Insulflex Inc., Aspen Aerogels Inc., Almatis Ltd, Calderys Inc., ETEX Corporation, Hi-Temp Insulation Inc., Isolite Insulating Products Co., Luyang Energy-Saving Materials, Morgan Advanced Materials, Pacor Inc., Promat International NV, Rath Group, Unifrax LLC, and Zircar Zirconia Inc.
Recent Developments
In July 2020, Hysil was acquired by Calderys. The acquisition gave the acquiring corporation access to the enormous clientele of the acquired company while expanding its line of products.
In April 2020, the production facility for Pyrotek had been built in Dubai, United Arab Emirates. The advancement enables the business to better serve and supply the area's quickly growing aluminum smelting businesses.
High Temperature Insulation Market Report Scope
| | |
| --- | --- |
| Report Attributes | Details |
| Market size value in 2021 | USD 6.38 billion |
| Revenue forecast in 2030 | USD 10.50 billion |
| CAGR | 5.8% from 2022 - 2030 |
| Base year | 2021 |
| Historical data | 2018 - 2020 |
| Forecast period | 2022 - 2030 |
| Quantitative units | Revenue in USD billion and CAGR from 2022 to 2030 |
| Segments Covered | By Product, By Application, By Temperature, By Region |
| Regional scope | North America, Europe, Asia Pacific, Latin America; Middle East & Africa |
| Key Companies | 3M Company, ADL Insulflex Inc., Aspen Aerogels Inc., Almatis Ltd, Calderys Inc., ETEX Corporation, Hi-Temp Insulation Inc., Isolite Insulating Products Co., Luyang Energy-Saving Materials, Morgan Advanced Materials, Pacor Inc., Promat International NV, Rath Group, Unifrax LLC, and Zircar Zirconia Inc. |