The global food fortifying agents market was valued at USD 74.7 billion in 2021 and is expected to grow at a CAGR of 9.8% during the forecast period.
Food fortification is the practice of boosting a food's nutritional value by including micronutrients in it. To eliminate nutritional deficiencies in the people, manufacturers and the government are working together as part of public healthcare policy. The substances used to improve nutritional value are known as food-fortifying substances. The fortification of food can be done in three different ways: commercially, bio-fortification, as well as at home.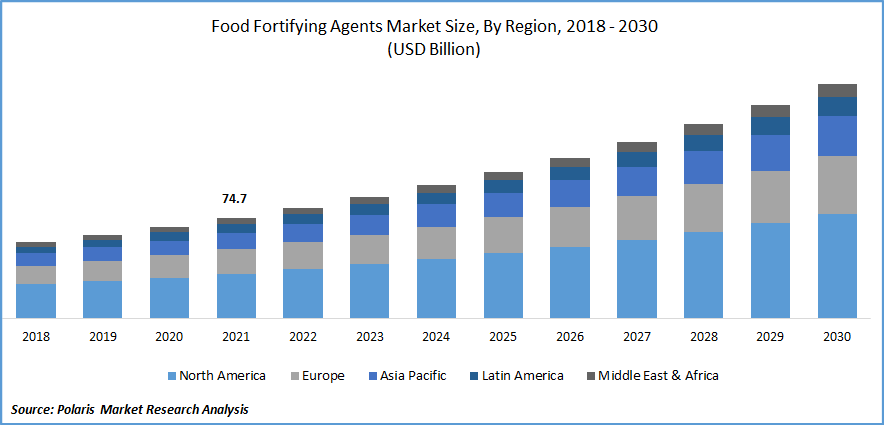 Know more about this report: Request for sample pages
The increased demand for nutritious foods is the primary driver of food-fortifying agents. Since people's lifestyles are changing, there is an increase in consumer knowledge of healthy food options. The changing lifestyle of people, such as an increase in the demand for nutrient foods and vegan products, also the eating habits of bakery items after food, has led to an increase in the demand for food fortifying agents.
The rising chronic conditions among the people are the major factor boosting the demand for food-fortifying agents. It aids in the reduction of chronic conditions brought on by a lack of nutrient-rich meals, including high blood pressure, cardiovascular disease, Alzheimer's disease, and many others. For instance, As per the Alzheimer's Association, Alzheimer's affects more than 6 million Americans of all ages. In 2022, there will be 6.5 million Americans 65 and older who have Alzheimer's. 73% of people are 75 years of age or older. Alzheimer's affects 1 in 9 people aged 65 and older (10.7%).
Additionally, the market will benefit from the growing elderly population, which has considerably raised the demand for fortified foods due to various medical conditions such as adult malnutrition. For instance, in June 2021, Manna iStrong, a multigrain instantaneous drink mix for women with added iron, was introduced by Southern Health Foods Pvt. Ltd. in the market for women's health beverages. Hence, the initiative by the significant players of product launches with medicinal benefits is the factor boosting the market growth over the forecast period.
The COVID-19 outbreak has significantly impacted food fortifying agents due to heightened consumer awareness in food selection. The market for these products and their components is driven by this tendency toward an ecological, regenerative, plant-based diet and the desire for foods and beverages that contain elements that improve immunity. Most food and beverage companies also intend to seize both home and foreign markets, concentrating on broadening applications and introducing new product offerings.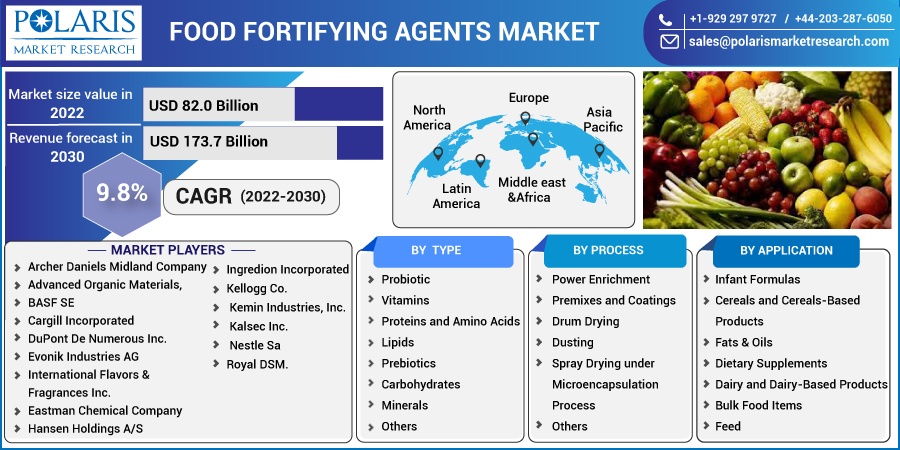 Know more about this report: Request for sample pages
Industry Dynamics
Growth Drivers
The global food and beverage industry's growing demand for food fortifying agents to boost food's nutritional value and micronutrient content would help the market expand. For instance, in March 2022, The Nigerian government teamed up with local and international groups to establish a pilot program to create a digital system to ensure that basic foods are fortified with the appropriate levels of important vitamins and minerals supporting optimum nutrition and health. The system also aims to monitor fortified meals to ensure they effectively access Nigerian consumers.
Further, the bakery and confectionary, dairy goods, dietary supplements, beverages, and other industries are those that use food-fortifying agents. Dietary supplements are one of these businesses, and the usage of food-fortifying agents is rising due to consumer knowledge of the health advantages and a shift in consumer consumption toward nutraceuticals like vitamins and minerals. Due to expanding demand for sports nutrition beverages and increased consumption of functional beverages, there is also a demand for food-fortifying agents in the beverage industry. Food fortifying agents are encouraged by other businesses, including those producing bakery and confectionery goods, dairy goods, morning cereals, and infant formula. Thus, the wide adoption across the applications is propelling the growth.
Report Segmentation
The market is primarily segmented based on type, process, application, and region.
By Type

By Process

By Application

By Region

Probiotic
Vitamins
Proteins and Amino Acids
Lipids
Prebiotics
Carbohydrates
Minerals
Others

Power Enrichment
Premixes and Coatings
Drum Drying
Dusting
Spray Drying under Microencapsulation Process
Others

Infant Formulas
Cereals and Cereals-Based Products
Fats & Oils
Dietary Supplements
Dairy and Dairy-Based Products
Bulk Food Items
Feed
Others

North America (U.S., Canada)
Europe (France, Germany, UK, Italy, Netherlands, Spain, Russia)
Asia Pacific (Japan, China, India, Malaysia, Indonesia. South Korea)
Latin America (Brazil, Mexico, Argentina)
Middle East & Africa (Saudi Arabia, UAE, Israel, South Africa)
Know more about this report: Request for sample pages
Minerals segment is expected to witness the fastest growth
Minerals are inorganic compounds that plants can acquire from soil and water. Minerals from the plants that mammals eat are absorbed by them. Microminerals and macrominerals are two further categories. While both are essential, micro minerals are needed in smaller quantities than macro minerals. Due to its use in items like infant foods, meat products, breakfast cereals, and health drinks, among many others, the category is experiencing the fastest expansion in the market.
The vitamins segment industry accounted for the highest market share in 2021
The vitamin segment holds the highest share due to rising consumer health consciousness and vitamin deficiency, which can result in health diseases. Additionally, investigations have shown that these disorders are not just deficiency diseases but also ones that exist in a community that is generally well-nourished. Thus, it was established that vitamin fortification of food successfully addressed the populace's nutritional deficits. Further, due to the increase of vitamin deficiency-related diseases like osteoporosis and rickets, the rising cost of healthcare, and the expanding aging of people, the vitamin sector accounts for a sizeable portion of the global economy. The growing older population and interest in personal fitness are mostly aimed at them.
Bulk food is expected to hold a significant revenue share.
The popularity of this application might be ascribed to the rising demand for premium food goods and shifting health preferences, which in turn raises the need for food-fortifying agents. The market is fueled by customers' rising health consciousness, which pushes businesses to provide different food-fortifying agents for functional foods, drinks, dietary supplements, infant formula, and dairy products due to their health benefits. It is meant for intervention programs to treat the deficit in a particular target demographic. Fortification of bulk food products is an appropriate carrier for the micronutrient and is consumed worldwide by the general population.
The demand in North America is expected to witness significant growth.
North America holds the largest share due to the increase in obesity and chronic diseases; consumers are choosing healthier foods, which is boosting the market for food-fortifying agents. For instance, as per the CDC, One or more chronic diseases, such as diabetes, cancer, heart disease, and stroke, affect six out of ten Americans. These and other chronic illnesses are the main contributors to health care costs and the major causes of death and disability in the United States. Also, in America, about 40% of persons who are 20 or older are obese. Obesity affects 71.6% of persons aged 20 and older who are overweight. Thus, this rising prevalence of the disease has increased the demand for food with nutritional benefits. Also, due to consumer knowledge of food and nutrition, North America holds the most significant market share for food fortifying agents.
A large portion of the market is held by Asia Pacific, which can be due to the region's abundance of manufacturers and the region's rapidly growing population in countries. The prevalence of chronic illnesses is rising quickly in China and India, which raises the need for food-fortifying agents in these countries. As a result, the industry is adopting food-fortifying chemicals more frequently. In developing nations like India and Nigeria, food-fortifying chemicals are utilized to bridge the gap between agriculture and nutrition.
Competitive Insight
Global players include Archer Daniels Midland Company, Advanced Organic Materials, Arla Foods, BASF SE, Cargill Incorporated, DuPont, Evonik Industries, International Flavors & Fragrances, Eastman Chemical Company, Hansen Holdings, Ingredion Incorporated, Kellogg, Kemin Industries, Kalsec, Nestle, and Royal DSM.
Recent Developments
In January 2022, Nirogam Ayurveda is getting ready to introduce its new food segment. The newly launched division is known as Mysca. Food products like cookies, crispies, jam, etc. that have been ayurvedically fortified will be introduced under this section.
In November 2021, The Norwegian business Vestkorn Milling was purchased by Royal DS for an asset value of EUR 65 million. It is is well positioned, delivering proteins, carbohydrates, & dietary fibers for vegan, in addition to pet food and livestock feed.
Food Fortifying Agents Market Report Scope
| | |
| --- | --- |
| Report Attributes | Details |
| Market size value in 2022 | USD 82.0 billion |
| Revenue forecast in 2030 | USD 173.7 billion |
| CAGR | 9.8% from 2022 - 2030 |
| Base year | 2021 |
| Historical data | 2018 - 2020 |
| Forecast period | 2022 - 2030 |
| Quantitative units | Revenue in USD billion and CAGR from 2022 to 2030 |
| Segments Covered | By Type, By Process, By Application, By Region |
| Regional scope | North America, Europe, Asia Pacific, Latin America; Middle East & Africa |
| Key Companies | Archer Daniels Midland Company, Advanced Organic Materials, S.A., Arla Foods Inc. BASF SE, Cargill Incorporated, DuPont De Numerous Inc., Evonik Industries AG, International Flavors & Fragrances Inc., Eastman Chemical Company, Hansen Holdings A/S, Ingredion Incorporated, Kellogg Co., Kemin Industries, Inc., Kalsec Inc., Nestle Sa, and Royal DSM. |