The global Fencing market was valued at USD 28.18 billion in 2022 and is expected to grow at a CAGR of 5.1% during the forecast period. The market is expected to experience growth in the forecast period due to an increase in new housing construction, commercial construction, home improvement projects, and remodeling activities. This growth can be attributed to adopting the latest fencing solutions, which offer improved safety and security, lower maintenance costs, and higher reliability.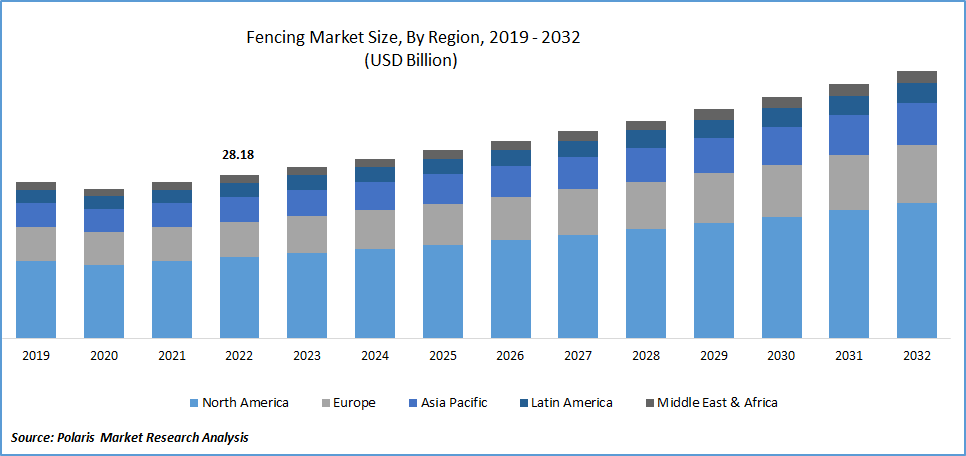 To Understand More About this Research: Request a Free Sample Report
The demand for fencing products is projected to increase, driven by the desire to enhance property appearance and value. Furthermore, the growth of this segment is expected to be aided by the availability of affordable, lightweight, and easy-to-install PVC and plastic fences. Customers now prioritize criteria such as cost, quality, design, and aesthetic value when making their purchasing decisions. Moreover, increased spending on institutional construction and government efforts to enhance physical security for parks, public places, and government premises also drive market growth.
Emerging countries such as China and India are experiencing a surge in real estate development and industrialization, leading to a higher demand for safety and security solutions in the construction industry. Fencing Market players are developing innovative fencing solutions to address the increasing instances of security breaches and meet the evolving needs of end-users, further contributing to market growth.
The COVID-19 pandemic had a significant impact on the fencing market. While the construction industry, a significant consumer of fencing products, was impacted due to supply chain disruptions, labor shortages, and reduced demand, the pandemic also increased the need for home improvement projects, leading to increased demand for fencing products for residential properties.
Additionally, the emphasis on safety and security prompted by the pandemic led to a higher demand for fencing products in public spaces, parks, and government premises. Overall, while the pandemic negatively impacted the demand for fencing products in the short term, the long-term impact is expected to be positive due to the growing need for safety and security solutions and the rebound of the construction industry.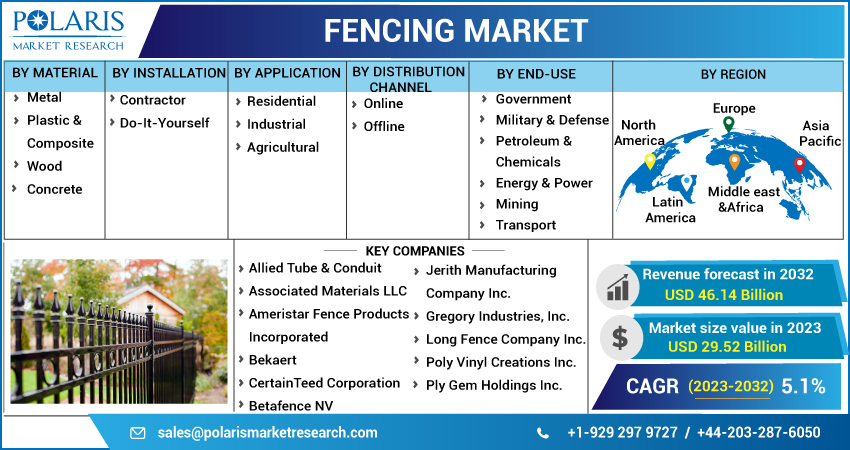 For Specific Research Requirements, Request for a Customized Report
Industry Dynamics
Growth Drivers
Due to the pandemic, the fencing market is experiencing a rise in interest in home enhancement as more people spend time at home. Homeowners are increasingly interested in upgrading their outdoor spaces, including adding new fencing or improving existing fencing. The rise in remote work has also increased the demand for privacy and security, further driving the interest in fencing products.
Moreover, the availability of a wide range of fencing options has made it easier for homeowners to choose fencing products that match their aesthetic preferences and fulfill functional requirements. Fencing products are now available in various materials, designs, and colors to suit different budgets and preferences. As such, fencing products are enhancing the security and privacy of homes and improve their overall appearance.
Additionally, with the continued growth of e-commerce and online shopping, homeowners can conveniently browse and purchase fencing products from the comfort of their homes. This has made it easier for homeowners to access fencing products, leading to increased demand for fencing products in the home enhancement sector. Overall, the interest in home enhancement is a positive trend for the fencing market, which is likely to continue in the post-pandemic world.
Report Segmentation
The market is primarily segmented based on material, installation, application, distribution channel, end-use, and region.
By Material

By Installation

By Application

By Distribution Channel

By End-use

By Region

Metal

Plastic & Composite

Wood

Concrete

Contractor

Do-It-Yourself

Residential

Industrial

Agricultural

Government

Military & Defense

Petroleum & Chemicals

Energy & Power

Mining

Transport

Others

North America (U.S., Canada)

Europe (France, Germany, UK, Italy, Netherlands, Spain, Russia)

Asia Pacific (Japan, China, India, Malaysia, Indonesia, South Korea)

Latin America (Brazil, Mexico, Argentina)

Middle East & Africa (Saudi Arabia, UAE, Israel, South Africa)
For Specific Research Requirements: Request for Customized Report
The metal fencing segment dominated the fencing market in 2022
The metal fencing segment dominated the fencing market in 2022. Chain link fences and ornamental fences are particularly popular in public places and government organizations due to their durability and security features. The increasing demand for stronger fences to enhance security, coupled with the growing preference for durable fences that can withstand various weather conditions, is driving the popularity of metal fencing.
Wood fencing is a popular choice for residential applications, especially in semi-urban and rural areas, owing to its unique aesthetic appeal and the affordability of wood. However, the growth of the wood segment is expected to face competition from plastic and composite fencing due to their lower cost and maintenance requirements.
Contractor segment accounted for the highest revenue share in 2022
The contractor segment accounted for the highest revenue share in 2022. These contractors offer expertise in the installation of fences and possess the ability to handle materials, which is typically difficult for customers. They can also deploy skilled professionals who can install fences with maximum efficiency, making them the preferred choice of customers.
The DIY segment is expected to experience significant growth in the coming years as customers increasingly opt for customized fences. Numerous DIY fencing kits are available in the market, with vinyl fences being the most popular as they are the easiest to install. However, the fence installation process can be time-consuming for customers who choose DIY kits. In other words, those who opt for DIY kits may have to deal with a lengthy construction process.
Residential segment dominated the global market in 2022
The residential segment was the dominant player in the fencing market in 2022. The segment's growth can be attributed to the increasing demand for residential construction and remodeling activities. Households are putting more emphasis on security and privacy, leading to investments in fencing products for residential applications. In addition, the installation of personalized fences to improve the visual appeal of residential properties is also propelling the growth of this segment.
The agricultural segment has also witnessed growth due to the need to protect farm animals, crops, and agricultural areas from wild animals and theft. The increasing instances of agricultural area intrusions are driving the demand for fences for agricultural applications. Fences for agricultural applications are typically customized according to the customers' requirements, using high-quality raw materials. Meanwhile, the industrial segment is expected to grow as industrial and manufacturing units increasingly demand fencing solutions to enhance their security and safety measures.
North America dominated the global market in 2022
North America was the dominant region in the fencing market. The region's construction industry has been growing consistently, making it a prominent player in the global market. North America has more than 50,000 fencing contractors who supply products and services worldwide. Additionally, the region is expected to witness significant growth during the forecast period due to the rising household demand for home décor products.
Asia Pacific region is anticipated to witness substantial growth during the forecast period. The region's consumers are increasingly concerned about safety, and governments are taking initiatives to enhance public infrastructure, which is expected to contribute to the market's growth. The growth in urbanization and farmers' growing need to protect their assets and property are expected to drive the market's growth in the region. Moreover, India's increased spending on institutional construction is expected to boost the regional market's growth.
Competitive Insight
Some of the major players operating in the global market include Allied Tube & Conduit, Associated Materials LLC, Ameristar Fence Products Incorporated, Bekaert, CertainTeed Corporation, Betafence NV, Jerith Manufacturing Company Inc., Gregory Industries, Inc., Long Fence Company Inc., Poly Vinyl Creations Inc., and Ply Gem Holdings Inc.
Recent Developments
In February 2023, Crossplane Capital announced its acquisition of a controlling stake in Viking Fence. Viking Fence is a renowned provider of fence rentals, sanitation rentals, fence installations, and other building products and services for both commercial and residential markets across Texas.
In February 2023, Phoenix Fence Corp., revealed that TriWest Capital Partners has acquired a controlling interest in the company. The current management team at Phoenix Fence will continue to oversee the company's operations. The acquisition of Phoenix Fence represents the sixth platform investment of TriWest's Growth Fund, which was launched in 2021 and had a value of USD 175 million.
Fencing Market Report Scope
| | |
| --- | --- |
| Report Attributes | Details |
| Market size value in 2023 | USD 29.52 billion |
| Revenue forecast in 2032 | USD 46.14 billion |
| CAGR | 5.1% from 2023 – 2032 |
| Base year | 2022 |
| Historical data | 2019 – 2021 |
| Forecast period | 2023 – 2032 |
| Quantitative units | Revenue in USD billion and CAGR from 2023 to 2032 |
| Segments Covered | By Material, By Installation, By Application, By Distribution Channel, By End-use, By Region |
| Regional scope | North America, Europe, Asia Pacific, Latin America; Middle East & Africa |
| Key Companies | Allied Tube & Conduit, Associated Materials LLC, Ameristar Fence Products Incorporated, Bekaert, CertainTeed Corporation, Betafence NV, Jerith Manufacturing Company Inc., Gregory Industries, Inc., Long Fence Company Inc., Poly Vinyl Creations Inc., and Ply Gem Holdings Inc. |