The global fall protection equipment market was valued at USD 2.2 billion in 2018 and is expected to exhibit a CAGR of 3.7% over the forecast period. Fall protection equipment is used in different end-use industries such as construction, transport, mining, power and energy, telecommunications and other industries. Due to high demand, fall protection equipment is commonly used in the energy and utilities sector. Fall protection equipment is a type of protective equipment used in various end use sector to protect workers from injuries when working from heights. Introduction of ergonomically designed fall protection equipment plays a significant role in avoiding repetitive stress injuries and eliminate stress injuries associated with the overuse of muscles. The various drop protection equipment is the chest harness, full body harness, body belts, safety nets, and suspension belts. These include the preference for the full body harnessing equipment due to the improvement of support and common rescue use.
Strict safety norms led by the government for the safety of workers are expected to contribute to the growth of the 1 for fall protection equipment in the forecast period. The growth in demand for fall protection equipment such as body belts, suspension belts, body harness, drop arrest and safety nets from construction, mining and energy and utilities is another major aspect fueling the market growth. In addition, the market will further be driven over the forecast period by stringent and comprehensive safety regulations from various governmental organizations.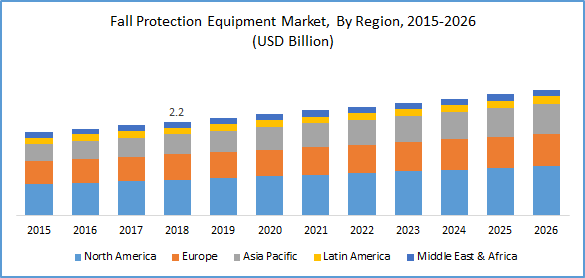 Know more about this report: request for sample pages
Increased safety concerns, increasing size of emergency fleet service and increasing workplace regulatory mandates are further projected to bolster the market growth. The sale of low quality and low cost products is expected to hinder the growth of demand for fall protection equipment in the global market over the forecast period. Moreover, due to lack of awareness and use of a sub-standard product, demand among developing countries will also act as a restrictive factor for the growth of this market for fall protection equipment industry during the forecast period.
Increasing concern for the safety of employees and increasing industry deaths should promote the size of the overall market. Safety standards for health and safety of the workforce should be stimulated by regulatory agencies including OSHA and ANSI. Rapid industrialization along with professional labour requirements can increase the market demand for fall protective equipment, boosting industry growth over time. Increased projects in India, China and the United States in the area of construction and infrastructure can create huge market expansion opportunities.
The market is primarily segmented on the basis of products, applications and geographic region.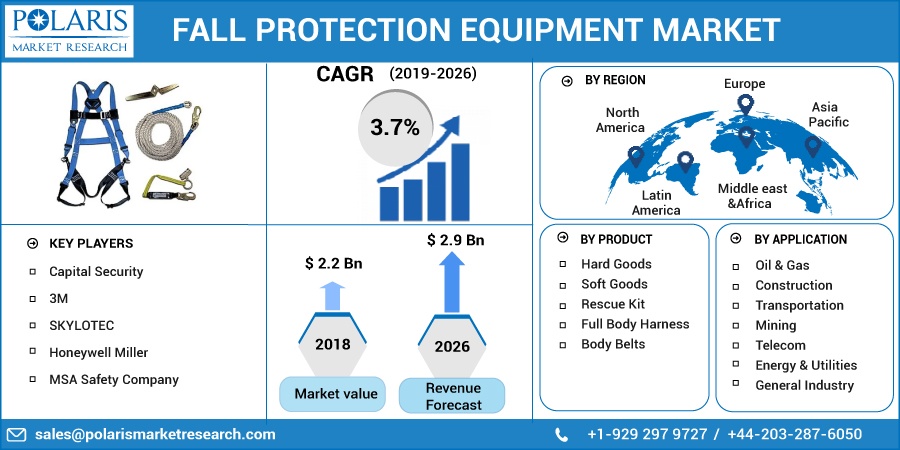 Know more about this report: request for sample pages
Fall Protection Equipment Market Report Scope
By Product

By Application

By Region

Hard Goods
Soft Goods
Rescue Kit
Full Body Harness
Body Belts

Oil & Gas
Construction
Transportation
Mining
Telecom
Energy & Utilities
General Industry

North America (U.S., Canada)
Europe (Germany, UK, France, Italy, Russia)
Asia Pacific (China, South Korea, Japan, India)
Latin America (Brazil, Mexico, Colombia)
MEA (Saudi Arabia, South Africa, Israel, UAE)
Know more about this report: request for sample pages
Product Outlook
Soft goods segment is anticipated to hold significant share in the global market. The development of technology in soft goods with increasing manufacturers can improve the demand for products. Lanyards provide elasticity for averting falls and enhance comfort and reduces weight. The rescue kits is anticipated to witness above average growth over the forecast period for global fall protection equipment market. They are designed for the retrieval of retractable lifelines and lanyards. These meet OSHA and ANSI standards that reduce the risk of declining employees and thus promote market demand.
Application Outlook
Construction segment is expected to hold major share in the global industry and is also expected to retain its dominance across the forecast period. In addition to the strict application of health & security regulations and project renovation, high fatalities rates in the construction sector may have a positive effect on market growth due to agglomerated, slippery or instable surfaces, floor holes, unprotected borders and wall openings. In the estimated timeframe, the mining industry can see significant increases by more than average growth in the forecast period. Slips and falls are important causes of mining malfunctions, according to MSHA (Mine Safety and Health Administration).
These deaths are mainly caused by improper use of arrest systems and lack of information on products. The comprehensive implementation of the mineral safety and productivity prevention strategy requires personnel training and partnerships with companies that avoid the potential risk of mining falling. Increased demand for renewable sources like wind energy and the maintenance of windmills and construction could favor the market demand for fall protection equipment. It requires the crew to operate hundreds of feet above ground, requiring harnesses, vertical systems, climbing systems and lanyards to be used, thus stimulating overall market growth.
Regional Outlook
Market sizes of fall protection equipment can increase by showcasing moderate growth over the foreseeable period in North America driven by Mexico, Canada and the USA. Increasing government agencies' mandates to meet various EPP standards on the job to reduce death rates and to improve worker protection should promote regional demand. Officials like the Health & Safety Executive (HSE) are committed to providing security and welfare for workers. In order to increase the awareness of risks and reduce injuries to work in favor of market growth in the region, HSE inspects and boosts the compliance with health and safety laws.
The Asia Pacific region, led by Japan, India, Australia and China, is likely to see significant gains over the forecast period. In addition to quick industrialization, increasing infrastructure expenditure has caused various manufacturing industries to grow, thus accelerating the growth of the regional sector. Increased government rules on energy-efficient and intelligent technology for building and construction is expected to see a rising market trend over the forecast period.
Competitive Landscape
The prominent manufacturers of fall protection equipment are Capital Security, 3M, SKYLOTEC, Honeywell Miller and MSA Safety Company and comprise of significant part of the total market share. E-commerce has been adopted and on-line selling by most manufacturers which allow companies to reduce operating costs and generate more sales by targeting the global customer base. Furthermore, companies are involved in partnerships to increase their regional presence and focus on the development of new products to gain competitive advantage in the global market.