The global eyewear market was valued at USD 167.31 billion in 2022 and is expected to grow at a CAGR of 8.0% during the forecast period. The eyewear market is experiencing growth due to changing lifestyle patterns and the increasing adoption of luxurious accessories among millennials. Eyewear makers are responding to the growing demand by focusing on developing attractive and affordable eyewear. The leading market players are making continuous efforts to acquire new customers and retain existing ones, which is positively impacting market statistics.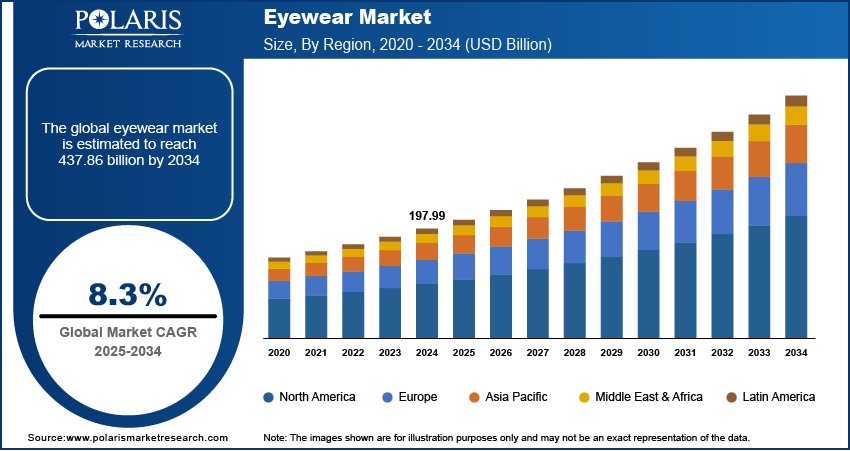 Know more about this report: Request for sample pages
Eyewear companies are focused on enhancing the consumer experience by offering new facilities and innovative products. For instance, Essilor launched the My Vision Check app, which allows users to conduct screening at home before booking an appointment for a complete eye examination with their local practice. Warby Parker also introduced a new app called Virtual Vision Test, which offers an at-home vision test similar to what eye specialists provide and provides a renewed prescription that consumers can use to purchase glasses or contact lenses.
E-commerce websites and social media platforms such as Instagram, Twitter, and Facebook are widely used by eyewear companies for advertising and analyzing audience preferences. These platforms also enable innovative marketing strategies such as influencer and affiliate marketing to increase profits.
The COVID-19 pandemic has had a positive impact on the eyewear market. Remote working and online learning due to lockdown restrictions have resulted in increased screen time, leading to higher sales of blue light canceling and anti-fatigue lenses as consumers prioritize eye health.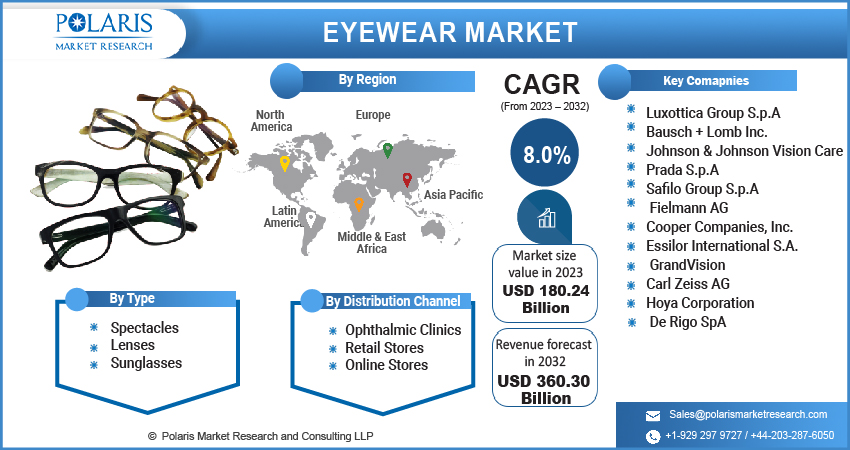 Know more about this report: Request for sample pages
Industry Dynamics
Growth Drivers
The increasing prevalence of eye health issues is expected to drive the growth of the eye health market in the coming years. With the aging population and the rising adoption of digital devices, there has been a significant increase in the number of people suffering from eye problems such as cataracts, glaucoma, and age-related macular degeneration (AMD).
According to the World Health Organization (WHO), approximately 2.2 billion people worldwide suffer from visual impairments or blindness, with the majority of cases occurring in low- and middle-income countries. This presents a huge opportunity for companies operating in the eye health market to develop innovative solutions to address these issues and improve the quality of life for millions of people around the world.
Furthermore, the growing awareness about eye health and the importance of regular eye exams is also expected to fuel market growth. Governments and healthcare organizations across the world are actively promoting eye health initiatives and programs, which are driving demand for eye care services and products.
Additionally, technological advancements in eye care products such as contact lenses, surgical instruments, and diagnostic tools are further propelling market growth. The increasing adoption of telemedicine and remote patient monitoring solutions is also creating new opportunities for companies operating in the eye health market.
Overall, the rising incidence of eye health issues coupled with the increasing demand for innovative eye care solutions is expected to drive the growth of the eye health market in the coming years.
Report Segmentation
The market is primarily segmented based on product type, distribution channel, and region.
By Product Type

By Distribution Channel

By Region

Spectacles

Lenses

Sunglasses

Ophthalmic Clinics

Retail Stores

Online Stores

North America (U.S., Canada)

Europe (France, Germany, UK, Italy, Netherlands, Spain, Russia)

Asia Pacific (Japan, China, India, Malaysia, Indonesia, South Korea)

Latin America (Brazil, Mexico, Argentina)

Middle East & Africa (Saudi Arabia, UAE, Israel, South Africa)
Know more about this report: Request for sample pages
Spectacles segment accounted for the highest market share in 2022
Spectacles, lenses, and sunglasses are all significant segments of the eyewear market, and each has its own unique market dynamics. However, in terms of market size and dominance, spectacles (also known as prescription glasses) are the largest segment of the eyewear market. Spectacles are widely used by people of all ages and are often prescribed to correct vision problems such as nearsightedness, farsightedness, and astigmatism. The increasing prevalence of vision disorders, coupled with the aging population, is expected to drive the growth of the spectacles market in the coming years. Moreover, technological advancements in lens materials, frames, and designs are creating new opportunities for innovation and product differentiation in the spectacles segment.
Lenses and sunglasses, on the other hand, are smaller segments of the eyewear market but are growing at a rapid pace. Contact lenses, in particular, are gaining popularity due to their convenience and comfort compared to spectacles. Additionally, the rising awareness about the harmful effects of UV rays on the eyes is driving the demand for sunglasses. The fashion aspect of sunglasses is also driving growth in this segment, with consumers looking for stylish and trendy options. Overall, while spectacles dominate the eyewear market in terms of size and revenue, lenses and sunglasses are gaining traction and are expected to continue to grow in the coming years.
The online stores segment is projected to exhibit the fastest rate of growth
Online stores have emerged as the fastest-growing distribution channel for the eyewear market. Online stores offer consumers the convenience of shopping from home, with a wide range of options and competitive prices. Moreover, the COVID-19 pandemic has further accelerated the shift towards online shopping, as consumers seek to avoid crowded retail stores and maintain social distancing. Online stores also provide a platform for new entrants and smaller brands to reach a wider audience, creating a more diverse and competitive market.
While online stores are growing rapidly, traditional retail stores, such as independent optical shops and chain stores, remain an important distribution channel for the eyewear market. These stores offer a personalized shopping experience, with expert advice and fittings. Moreover, many consumers prefer to try on glasses before purchasing, making traditional retail stores an important option.
Ophthalmic clinics, which offer specialized eye care services, also play a significant role in the distribution of eyewear, particularly prescription glasses and contact lenses. In conclusion, while traditional retail stores and ophthalmic clinics remain important distribution channels, online stores are emerging as the fastest-growing channel, with the potential to disrupt the market and reshape the industry.
North America accounted for the largest market share in 2022
North America is expected to have the largest market share due to the increasing acceptance of vision care products in the region. The contact lens segment is likely to experience growth in Asia Pacific and Latin American countries due to the aesthetic appeal, while developed countries in North America and Europe may witness a dip in the adoption rate due to higher costs and maintenance.
In contrast, Asia Pacific is projected to follow North America in terms of revenue, driven by the higher population of people using eyeglasses for vision correction in China, Japan, and India, where ocular diseases are prevalent. The adoption of spectacles is estimated to increase in developing countries of Asia Pacific and Latin America due to the availability of cheaper eyeglass products and rising disposable incomes. The Middle East and Africa market is expected to grow slowly, while Latin America is predicted to grow steadily due to unmet demand for eyewear products.
Competitive Insight
Some of the major players operating in the global market include Luxottica Group S.p.A, Bausch + Lomb Inc., Johnson & Johnson Vision Care, Carl Zeiss AG, GrandVision, Essilor International S.A., Cooper Companies, Inc., Fielmann AG, Safilo Group S.p.A, Prada S.p.A, Hoya Corporation, and De Rigo SpA
Recent Developments
In March 2021, JINS eyewear introduced its JINS&SUN sunglasses brand in the United States, featuring 29 shapes and 84 styles.

In February 2021, Johnson and Johnson Services, Inc. obtained a CE mark for ACUVUE OASYS MULTIFOCAL contact lens, which is designed for people with presbyopia.
Eyewear Market Report Scope
| | |
| --- | --- |
| Report Attributes | Details |
| Market size value in 2023 | USD 180.24 billion |
| Revenue forecast in 2032 | USD 360.30 billion |
| CAGR | 8.0% from 2023 – 2032 |
| Base year | 2022 |
| Historical data | 2019 – 2021 |
| Forecast period | 2023 – 2032 |
| Quantitative units | Revenue in USD billion and CAGR from 2023 to 2032 |
| Segments Covered | By Product Type, By Distribution Channel, By Region |
| Regional scope | North America, Europe, Asia Pacific, Latin America; Middle East & Africa |
| Key Companies | Luxottica Group S.p.A, Bausch + Lomb Inc., Johnson & Johnson Vision Care, Carl Zeiss AG, GrandVision, Essilor International S.A., Cooper Companies, Inc., Fielmann AG, Safilo Group S.p.A, Prada S.p.A, Hoya Corporation, and De Rigo SpA |