The global electronic toll collection market was valued at USD 9,492.07 million in 2022 and is expected to grow at a CAGR of 6.9% during the forecast period.The market is experiencing significant growth due to the increasing adoption of digital technologies over manual toll-collection systems. This transition is driven by various factors, including the need to address traffic congestion issues and enhance the speed and efficiency of traffic flow. ETC systems enable vehicles to pass through tolls without stopping, utilizing electronic means to charge tolls to established customer accounts.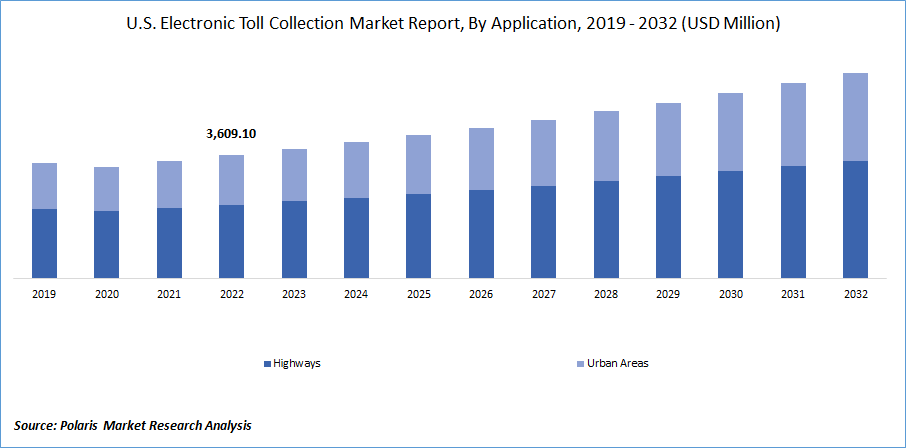 To Understand More About this Research: Request a Free Sample Report
One of the market's primary drivers is the escalating traffic congestion problem in many regions. As traffic increases, the manual toll collection system becomes inefficient and time-consuming, leading to delays and frustration for drivers. ETC systems offer a more streamlined and convenient approach, reducing traffic congestion and saving drivers' time. This convenience factor has contributed to the growing demand for ETC systems.
However, the emergence of the COVID-19 pandemic severely impacted the electronic toll collection market. Lockdowns and strict regulations implemented worldwide limited people's movement, reducing transportation demand. The disruption in the supply chain also led to a decline in economic activities, further affecting transportation and logistics services. Many manufacturers had to temporarily close their production sites to contain the spread of the virus.
Despite the challenges posed by the pandemic, the electronic toll collection market is expected to recover and continue its growth trajectory. In response to the evolving market landscape, ETC system providers focus on strategic measures such as acquisitions, partnerships, and collaborations to bring innovative system solutions.
Industry Dynamics
Growth Drivers
The key advantage of electronic toll collection systems is the increased convenience offered by cashless payments. With traditional manual toll collection systems, drivers must carry and exchange cash or use physical payment methods like tickets or tokens, which can be time-consuming and inconvenient.
In contrast, ETC systems enable cashless transactions, allowing drivers to pay their tolls electronically through pre-established accounts or other digital payment methods such as credit cards, debit cards, or mobile wallets. This eliminates the need for physical currency and facilitates a seamless payment process.
The convenience of cashless payments in ETC systems offers several benefits. Firstly, it saves drivers time by eliminating the need to stop at toll booths or search for exact change. This contributes to smoother traffic flow and reduces congestion, enhancing overall roadway efficiency.
Additionally, cashless payments provide a more secure and efficient means of payment. It reduces the risk of theft or loss associated with carrying cash and provides a digital trail for transaction records and reconciliation. Moreover, it allows for easier management of toll accounts, as drivers can conveniently track their toll expenses and make payments online or through mobile applications.
Report Segmentation
The market is primarily segmented based on type, offering, technology, application, and region.
By Type

By Offering

By Technology

By Application

By Region

Transponder-/Tag-based Tolling Systems

Other Tolling Systems

Hardware

Back-office and Other Services

North America (U.S., Canada)

Europe (France, Germany, UK, Italy, Netherlands, Spain, Russia)

Asia Pacific (Japan, China, India, Malaysia, Indonesia, South Korea)

Latin America (Brazil, Mexico, Argentina)

Middle East & Africa (Saudi Arabia, UAE, Israel, South Africa)

To Understand the Scope of this Report: Speak to Analyst
Transponder-/tag-based tolling system is expected to experience a higher revenue share during the forecast period.
The transponder-/tag-based tolling system is expected to experience a higher revenue share during the forecast period in the market. This system relies on transponders or tags installed in vehicles, enabling automatic and contactless toll payments. The transponder-/tag-based tolling system offers numerous advantages, including improved accuracy, faster processing times, reduced congestion, and enhanced driver convenience. With its seamless and user-friendly operation, this system is anticipated to witness increased adoption, driving its higher growth rate in the ETC market.
Additionally, technological advancements, such as the integration of RFID and GPS technologies, further enhance the capabilities of the transponder-/tag-based tolling system, making it a preferred choice for toll operators and governments looking to improve efficiency and enhance the overall tolling experience.
The RFID segment is anticipated to exhibit a substantial growth rate during the forecast period.
The RFID (Radio Frequency Identification) segment is anticipated to exhibit a substantial growth rate during the forecast period. RFID technology enables automatic identification and tracking of vehicles using radio frequency signals, making it an integral part of modern tolling systems. RFID-based ETC systems offer several advantages, including high accuracy, reliable performance, and quick processing times.
The increasing demand for contactless and efficient toll-collection solutions drives the RFID segment's growth. Governments and toll operators worldwide recognize RFID technology's benefits in streamlining toll operations, reducing traffic congestion, and enhancing the overall user experience. Additionally, ongoing technological advancements and cost-effective RFID solutions contribute to the segment's significant growth rate, making it a preferred choice for ETC implementations in various regions.
The highways segment is projected to experience a higher revenue share during the forecast period.
The highways segment is projected to experience a higher revenue share during the forecast period. This growth can be attributed to various factors. Firstly, governments and transportation authorities are increasingly focusing on improving the efficiency and management of toll collection on highways to reduce congestion and enhance traffic flow. Secondly, the expansion and development of new highways and expressways in emerging economies are driving the demand for effective toll-collection systems.
Additionally, the highway segment often witnesses higher traffic volumes, making the implementation of efficient ETC systems crucial for faster and smoother toll transactions. The adoption of advanced technologies and the integration of intelligent transportation systems further contribute to the growth of the highway segment in the ETC market, ensuring accurate tolling and seamless user experience for highway users.
North America dominated the global market in 2022
North America emerged as the leading region, capturing the largest revenue share. This can be attributed to the region's strong focus on digital transformation and technological advancements, which have accelerated the adoption of electronic toll-collection systems. Additionally, the high rate of car ownership in North America compared to other regions presents a lucrative opportunity to expand the market.
Furthermore, the Asia Pacific region is projected to experience significant growth during the forecast period. This growth is driven by the rapidly increasing demand for vehicles and automobile production in the region's developing and developed countries. Moreover, there is a notable shift in customer preferences towards smart vehicles and advanced transportation solutions in the Asia Pacific, further contributing to the positive outlook of the electronic toll collection market in the region.
Competitive Insight
Some of the major players operating in the global market include Conduent, Inc., Cubic Corporation, Efkon GmbH, Feig Electronic, Jenoptik AG, Kapsch Trafficcom AG, Mitsubishi Heavy Industries, Ltd., Neology, Inc., Q-Free, Raytheon Technologies Corporation, Siemens, Star Systems International Ltd., Thales, Toshiba Corporation, and TransCore.
Recent Developments
In November 2021, SiVA, a Grupo Marhnos company, partnered with Thales to revolutionize toll collection in Guatemala by bringing Thales's well-known PITZ® (Peage Intelligent Transport Zero) electronic toll collection system to the country's vital Palin-Escuintla toll road corridor.

In October 2019, TransCore introduced a new product that enables RVers to travel across the country using only one transponder to pay tolls electronically without stopping at a toll booth. RV Toll Pass was made to change how RVers travel through different tolling jurisdictions nationwide.
Electronic Toll Collection Market Report Scope
| | |
| --- | --- |
| Report Attributes | Details |
| Market size value in 2023 | USD 10,132.00 million |
| Revenue forecast in 2032 | USD 18,540.88 million |
| CAGR | 6.9% from 2023 – 2032 |
| Base year | 2022 |
| Historical data | 2019 – 2021 |
| Forecast period | 2023 – 2032 |
| Quantitative units | Revenue in USD million and CAGR from 2023 to 2032 |
| Segments Covered | By Type, By Offering, By Technology, By Application, By Region |
| Regional scope | North America, Europe, Asia Pacific, Latin America; Middle East & Africa |
| Key Companies | Conduent, Inc., Cubic Corporation, Efkon GmbH, Feig Electronic, Jenoptik AG, Kapsch Trafficcom AG, Mitsubishi Heavy Industries, Ltd., Neology, Inc., Q-Free, Raytheon Technologies Corporation, Siemens, Star Systems International Ltd., Thales, Toshiba Corporation, and TransCore. |