The global electronic flight instrument system (EFIS) market was valued at USD 605.81 million in 2021 and is expected to grow at a CAGR of 3.17% during the forecast period.
Increasing needs for lightweight devices with more functionality, better accuracy, better situational awareness, and increased safety through the use of electronic flight instrument systems (EFIS) are major features likely to drive the market in the years to come.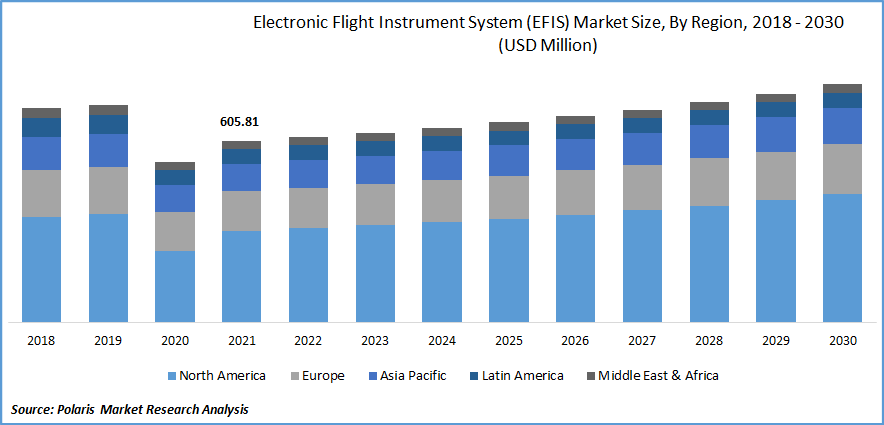 Know more about this report: Request for sample pages
The market for electronic flight instrument systems is, however, significantly constrained by the industry regulations that apply to EFIS. This is due to the high cost of the technology used in these systems. Before being mounted on an aircraft's panel, factory-made parts require approval from some agencies, including the U.S. Federal Aviation Administration (FAA).
Early in 2023, SAUDIA will introduce a new connection solution driven by the GX. It is an inflight service that goes above and beyond what will be offered in the following year. Saudi Arabia national carrier has used SITA's L-band satellite-based Internet service for a very long period. It then decided to use the Taqnia Space Ka/Ku terminal in collaboration with the SITA for its operational A320s. But in November 2021, SAUDIA made history by becoming the first airline to choose a "Falcon 300 next-generation GX terminal" from Stellar Blu.
Early EFIS systems used CRT technology to show information. Multicolour liquid crystal display (LCD) screens are used for later instrument displays, which may replace part or all of the traditional flying instruments for both pilots. A primary flight display, an electronic horizontal situation indicator, and an electronic attitude direction indicator (EADI) make up a standard EFIS system. The EADI also includes additional data like heading, altitude, and airspeed. All information a pilot needs to determine fundamental flight characteristics is displayed on a contemporary PFD.
The COVID-19 pandemic has affected the ways businesses' function. The EFIS industry will be adversely impacted by the Coronavirus illness 2019 (COVID-19) globally in 2020. Flight cancellations travel bans, restrictions on outdoor events, a decline in business confidence, escalating public panic, and future uncertainty are just a few of the effects of the COVID-19 outbreak. Additionally, operating expenses are projected to increase soon for airports and airlines due to additional health and safety rules before they are passed on to the customers. If applied to air travel, social segregation practices could reduce the passenger load factor by as much as 50%.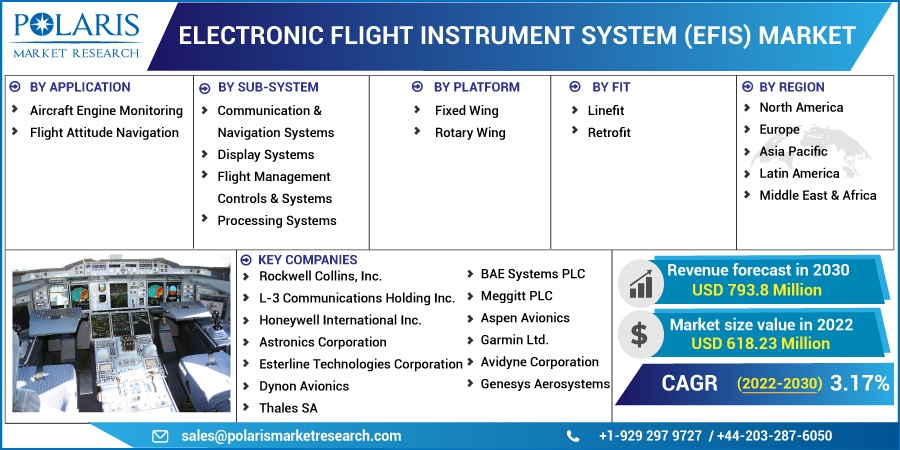 Know more about this report: Request for sample pages
Industry Dynamics
Growth Drivers
The performance metrics of older-generation airplanes were displayed using large electromechanical gauges and indicators. However, EFIS technology eventually and gradually replaced them due to low reliability and bulkiness. Due to its ability to overcome traditional instruments' physical constraints, EFIS offers multi-function capabilities.
Modern EFIS provides high-quality infographics on a single screen for monitoring many aircraft systems, including GPS, EVS, terrain avoidance, and meteorological data. By reducing the need for the user to process the data to gather pertinent information, EFIS displays all the information in the form of numbers, tracks, bearings, intended tracks, distances, and several other essential aspects, enabling the user to make decisions straight away.
Report Segmentation
The market is primarily segmented based on application, sub-system, platform, fit, and region.
By Application

By Sub-system

By Platform

By Fit

By Region

Aircraft Engine Monitoring
Flight Attitude Navigation

Communication & Navigation Systems
Display Systems
Flight Management Controls & Systems
Processing Systems

North America (U.S., Canada)
Europe (France, Germany, UK, Italy, Netherlands, Spain, Russia)
Asia Pacific (Japan, China, India, Malaysia, Indonesia, South Korea)
Latin America (Brazil, Mexico, Argentina)
Middle East & Africa (Saudi Arabia, UAE, Israel, South Africa)
Know more about this report: Request for sample pages
The Flight Attitude Navigation segment is expected to witness the fastest growth.
In 2021, the flight attitude navigation segment had the most significant share. During the forecasted period, the flight attitude sector will dominate the market. One of the key factors driving the flight attitude segment of the market is the integration of cutting-edge avionics suites that track the aircraft's orientation. Incorporating sophisticated avionics one of the key factors in the growth of flight attitude navigation is the incorporation of cutting-edge avionics suites that track the aircraft's direction. Adopting advanced avionics technology, which controls aircraft movement, is the market's primary driver for flight attitude factors. This equipment that controls aircraft movement drives the demand for flight attitude factors.
Display Systems accounted for the second-largest market share in 2021
Display systems accounted for the largest revenue share and are expected to maintain dominance over the study period. It is difficult to retransmit what is displayed on an EFIS display easily. What is needed is a new method of display monitoring that offers the same level of safety as the established technique. One way to prevent errors from being introduced by the display unit is to keep it as straightforward as possible. Either the display unit functions properly, or it doesn't. Failure is never sneaky-always it's clear. The monitoring task can move upstream to the symbol generator's output.
In this method, each generator has two display monitors. The symbol generator's roll attitude input from the INS or AHRS is then contrasted with the computed roll attitude (Attitude and Heading Reference System). Any discrepancy is likely the result of improper processing, which causes a warning to appear on the appropriate display.
The Rotary wing segment is expected to witness the fastest growth
In 2021, the rotary wing segment had the most significant share. During the forecast period, the rotary wing segment will dominate the market. They're all capable of vertical takeoff and landing. Most of the time, they can hover, which makes them useful for various rescue operations. They don't have to pay more to fly very slowly. They often perform more effectively than fixed-wing aircraft on grass and another unprepared terrain. Most of them don't require a runway. Therefore, they take up less space when used.
The Line fit segment is expected to witness the fastest growth
The line-fit sector will dominate the electronic flight instrument system (EFIS) market during the anticipated time frame. The increase in demand is caused by the need for additional deliveries to effectively serve the steadily rising passenger demand, which motivates airlines to expand their operations. The inability of older airplanes to retrofit EFIS technology raises the need for line-fit portions.
The demand in North America is expected to witness significant growth
The market is driven by a need for automated flight control and lighter-weight electronic flight instrument systems with improved safety, accuracy, and situational awareness.
Due to high domestic player R&D expenditures in cutting-edge electronic flight instrument systems and increased consumer demand for lightweight and easy-to-install systems, North America held the greatest market share.
Due to the US government's emphasis on passenger safety, the aerospace and aviation industry in the US has boosted investment during the past five years. The US is also contributing to the development of EFIS. Major US-based market participants are making major investments in creating cutting-edge avionics and EFIS. These elements support the expansion of the EFIS market in the area.
Competitive Insight
Some of the major players in the global market, such as Rockwell Collins, L-3 Communications Holding, Honeywell International, Astronics Corporation, Esterline Technologies Corporation, Dynon Avionics, Thales, BAE Systems, and Meggitt, Aspen Avionics, Garmin, Avidyne Corporation, and Genesys Aerosystems and others.
Recent Developments
In July 2022, FlightHub, a service used along with the Flight Profile Optimization solution for real-time route guidance while saving fuel and time while lowering CO2 emissions, was introduced by Collins Aerospace.
In May 2021, the "G3000H Flight Deck" was introduced by Garmin and had "WAAS/SBAS" ILS approach capabilities and Connext connection capabilities.
Electronic Flight Instrument System (EFIS) Market Report Scope
| | |
| --- | --- |
| Report Attributes | Details |
| Market size value in 2022 | USD 618.23 million |
| Revenue forecast in 2030 | USD 793.8 million |
| CAGR | 3.17% from 2022 – 2030 |
| Base year | 2021 |
| Historical data | 2018 – 2020 |
| Forecast period | 2022 – 2030 |
| Quantitative units | Revenue in USD million and CAGR from 2022 to 2030 |
| Segments Covered | By Application, By Sub-system, By Platform, By Fit, By Region |
| Regional scope | North America, Europe, Asia Pacific, Latin America; Middle East & Africa |
| Key Companies | Rockwell Collins, Inc., L-3 Communications Holding Inc., Honeywell International Inc., Astronics Corporation, Esterline Technologies Corporation, Dynon Avionics, Thales SA, BAE Systems PLC, and Meggitt PLC, Aspen Avionics, Garmin Ltd., Avidyne Corporation, and Genesys Aerosystems and others. |