The global countertops market was valued at USD 131.28 billion in 2022 and is expected to grow at a CAGR of 6.4% during the forecast period. The countertop market is rapidly growing and provides a diverse range of products for both residential and commercial applications. This market is influenced by various factors, including changing consumer preferences, economic conditions, and advancements in manufacturing technologies and materials. Consumers are increasingly seeking natural-looking, visually appealing materials such as porcelain slabs, engineered stone, and butcher-block countertops.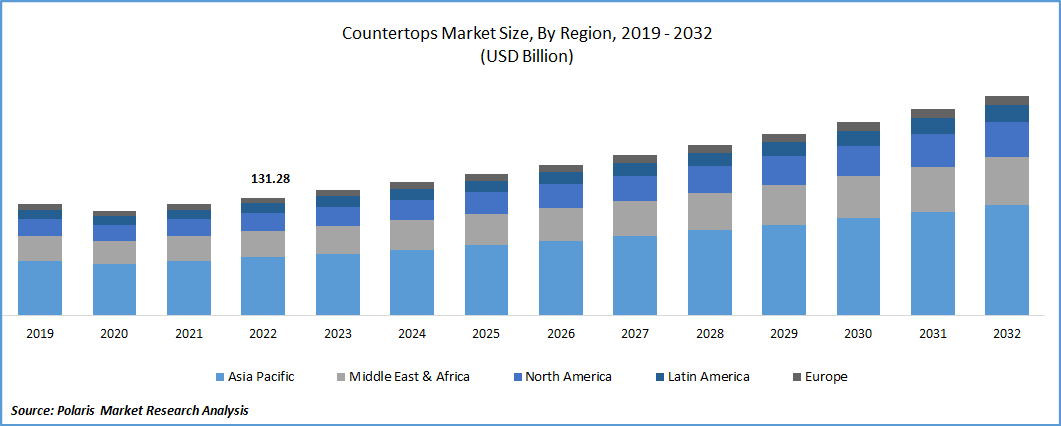 To Understand More About this Research: Request a Free Sample Report
Furthermore, the significant drivers of the countertop market are the increasing demand for larger kitchens & multiple bathrooms. Increasing food outlets and hotel rooms around the world is also driving market growth. Countertops are essential in many applications, including labs, kitchens, retail, workrooms, and bathrooms. To cater to these diverse needs, manufacturers use a variety of materials to create work surfaces based on practicality, durability, aesthetics, and specific needs.
During the COVID-19 pandemic, the countertop market has experienced a significant decline in growth owing to the closure of building sites and hotels has led to a decrease in demand for countertops, while limitations on labor and raw materials have caused a notable decrease in manufacturing. However, the availability of credit for home renovation, along with a tendency towards more expensive materials, could potentially result in increased countertop sales positively.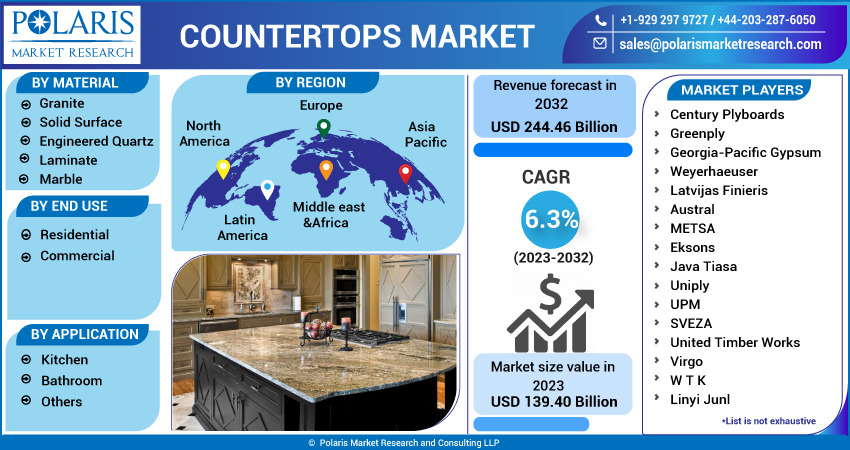 For Specific Research Requirements, Request For Customized Report
Industry Dynamics
Growth Drivers
The countertops market is witnessing strong growth globally, driven by various factors such as the steady rise in the residential construction sector, increased private spending on home enhancements, and the introduction of advanced, durable, and aesthetically pleasing countertops. With the rise in disposable income, more consumers are demanding residential buildings and the demand for countertops is expected to grow as demand for modular kitchens and luxury bathrooms increases. In addition, the increased availability of credit for refurbishment of existing homes has also boosted the demand for countertop products.
Countertops have expanded their applications from being a work surface to a decorative shelf for toiletries in luxury bathrooms. As a result, key countertop manufacturers are producing a wide variety of materials due to the rising demand for natural stone in new building construction. Across the world, construction firms are investing in the refurbishment of existing buildings, driving demand for natural stone, engineered stone, & other materials for constructing kitchens, bathroom, & customized laboratory platforms.
Report Segmentation
The market is primarily segmented based on material, end-use, application, and region.
By Material

By End-use

By Application

By Region

Granite

Solid Surface

Engineered Quartz

Laminate

Marble

Others

North America (U.S., Canada)

Europe (France, Germany, UK, Italy, Netherlands, Spain, Russia)

Asia Pacific (Japan, China, India, Malaysia, Indonesia. South Korea)

Latin America (Brazil, Mexico, Argentina)

Middle East & Africa (Saudi Arabia, UAE, Israel, South Africa)
To Understand the Scope of this Report: Speak to Analyst
The granite material segment dominated the market in 2022
The granite material segment dominated the market owing to its strength, resistance to abrasion, and durability against weathering. It has been used in construction for many years, including as exterior cladding and paving, and is favored by modern architects. Granite's natural patterns and colors make it visually appealing, adding character to any space. It is eco-friendly since it is quarried from the earth and doesn't require harmful manufacturing processes. With its unique features and aesthetic appeal, granite is becoming a popular choice among homeowners and designers looking for a reliable and sustainable countertop material and this is driving the market growth at a rapid pace.
Moreover, Demand for engineered quartz in the kitchen and bathroom cabinet segment is expected to increase due to its rising popularity among consumers. The demand for eco-friendly countertop materials has further accelerated the growth of engineered quartz in the market. Furthermore, NIOSH conducted a study on the usage of crystalline silica stone, also known as quartz stone, to develop preventative strategies to limit exposure to it and avoid respiratory conditions.
The residential segment contributed to the largest share
The residential segment garnered the largest share due to the trend of larger kitchens &multiple bathrooms in single-family homes and a further rise in investments in home remodeling as home values rise. As disposable incomes rise and homeowners seek to enhance their home's good and aesthetic appeal, demand for kitchen sink countertops has surged. Various residential projects underway worldwide are also expected to boost demand. Thus, this is propelling the growth of the market positively.
Furthermore, the commercial segment has registered significant growth over the study period owing to the growing demand for high-end design kitchens and bathrooms from travelers, even in budget-level hotels, which is prompting luxury and mid-range hotel owners to improve their facilities, including finishes, countertops, and furniture, and adding new features to enhance the guest experience. This trend is expected to drive the growth of the commercial segment in the market in near future.
The kitchen segment has registered the highest demand in the market
The kitchen countertop segment has witnessed the highest demand over the anticipated period due to increased demand and an increase in the average share of housing space dedicated to kitchens in new residential construction and growing interest in large kitchens and kitchen remodeling drives the market, with kitchens being the primary location for worktop installation due to bathroom competition from pedestal sinks. Kitchen cabinet manufacturers produce durable and attractive products to meet customer expectations with adequacy.
Furthermore, the bathroom application segment is estimated to grow at the fastest CAGR over the forecast period owing to the rising bathroom activities in the residential sector, as well as customer willingness to trade up to more expensive materials to improve home standards, is inducing segment's growth.
Asia Pacific accounted for the largest share of the market in 2022
Asia Pacific dominated the global market and accounted for the largest share in 2022. It is projected to maintain its dominance throughout the anticipated period due to the increasing demand for home improvement projects and upgrades in both residential and non-residential properties, as well as the desire for improved living standards. Countertop replacement, which is a popular home renovation activity, is expected to contribute significantly to the market's growth. Additionally, customers are showing more interest in visually pleasing and natural-looking surface materials such as porcelain slabs, engineered stone, and butcher-block countertops, which will further drive the market growth at a quick pace.
Furthermore, the Middle East & Africa region is projected to experience the highest growth rate. This expansion is mainly attributed to the rising number of hotel rooms and the growing hospitality sector, which is driving the demand for countertop products. In addition, the increasing popularity of commercial establishments like coffee shops, bars, and restaurants, coupled with the desire for more sophisticated and visually appealing interior designs, is further accelerating the growth of the countertop market in this region.
Competitive Insight
Some of the major players operating in the global countertops market include Century Plyboards, Greenply, Georgia-Pacific Gypsum, Weyerhaeuser, Latvijas Finieris, Austral, METSA, Eksons, Java Tiasa, Uniply, UPM, SVEZA, United Timber Works, Virgo, W T K, Linyi Junli., Duroply., and Vishwas Enterprise, VICOSTONE, Caesarstone, Pokarna, DuPont., Cosentino, COSENTINO, AKG Group, Cambria, Aro Granite, Asian Granito, Arborite, Cambria, ARISTECH SURFACES, Wilsonart, Caesarstone, Formica, Cosentino, M S International., Daltile, ROSSKOPF, Masco.
Recent Developments
In April 2021, Formica Corporation launched its latest collection of Formica Laminate, expanding their product range with 11 new designs that cater to different design preferences. The collection features an array of warm woodgrains, modern solid colors, and more, making it easier for customers to find the perfect fit for their kitchen or bathroom.

In October 2021, the Cosentino Group expanded its range of ultra-compact dekton surfaces with the launch of two new colors. The introduction of these two new colors is set to enhance the brand's already extensive product portfolio, providing designers and homeowners with an even wider range of surface options to choose from.
Countertops Market Report Scope
| | |
| --- | --- |
| Report Attributes | Details |
| Market size value in 2023 | USD 139.40 billion |
| Revenue forecast in 2032 | USD 244.46 billion |
| CAGR | 6.4% from 2023 – 2032 |
| Base year | 2022 |
| Historical data | 2019– 2021 |
| Forecast period | 2023– 2032 |
| Quantitative units | Revenue in USD billion and CAGR from 2023 to 2032 |
| Segments covered | By Material, By End-use, By Application, By Region |
| Regional scope | North America, Europe, Asia Pacific, Latin America; Middle East & Africa |
| Key companies | Century Plyboards, Greenply, Georgia-Pacific Gypsum, Weyerhaeuser, Latvijas Finieris, Austral, METSA, Eksons, Java Tiasa, Uniply, UPM, SVEZA, United Timber Works, Virgo, W T K, Linyi Junli., Duroply., and Vishwas Enterprise, VICOSTONE, Caesarstone, Pokarna, DuPont., Cosentino, COSENTINO, AKG Group, Cambria, Aro Granite, Asian Granito, Arborite, Cambria, ARISTECH SURFACES, Wilsonart, Caesarstone, Formica, Cosentino, M S International., Daltile, ROSSKOPF, Masco |