The global construction & demolition waste market was valued at USD 126.79 billion in 2022 and is expected to grow at a CAGR of 7.8% during the forecast period.Construction and demolition waste, often called C&D waste, is the waste materials generated during construction, renovation, demolition, and deconstruction activities. These materials can include a wide range of items such as concrete, wood, metals, bricks, glass, plastics, insulation materials, electrical wiring, piping, and more.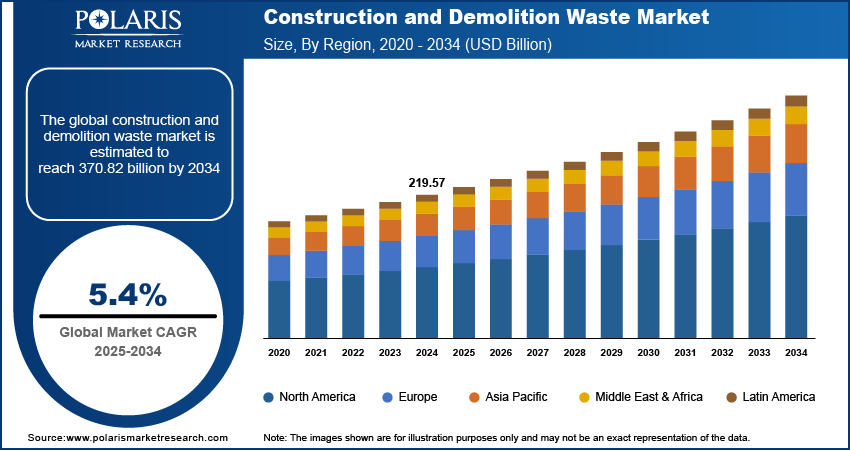 To Understand More About this Research: Request a Free Sample Report
Construction and demolition waste is a significant component of the overall waste stream, accounting for a substantial portion of global waste. These waste materials arise from construction sites, demolition projects, and infrastructure development activities.
The construction and demolition waste has a broad scope encompassing various aspects of waste management, recycling, and sustainable practices in the construction and demolition sector.
The collection and transportation of construction and demolition waste involve efficiently handling and logistics waste materials from construction sites, renovation projects, and demolition sites to designated recycling facilities or disposal sites.
The waste Recycling and Processing aspect focuses on the recycling and processing construction and demolition waste materials. Technologies and processes are employed to sort, separate, and process waste materials into reusable or recyclable components such as aggregates, metals, wood, plastics, and concrete.
Proper disposal and management of non-recyclable or hazardous construction and demolition waste are essential. This aspect involves adhering to regulations and guidelines for safe and environmentally sound waste disposal in landfills or waste-to-energy facilities.
The global construction & demolition waste market demand is driven by increasing government efforts to combat illegal dumping and promote sustainable practices in construction. In addition, the rise in infrastructural activities is further fueling this trend. Support from various NGOs and social welfare organizations, which advocate for sustainability, also plays a significant role in developing the market. Moreover, the rapid pace of urbanization contributes to generating construction and demolition debris. The introduction of green buildings is another important factor accelerating industry growth worldwide.
Like many other sectors, the global construction and demolition waste industry has been significantly affected by the outbreak of COVID-19. The industry has experienced substantial challenges due to the pandemic, particularly regarding key cost components for infrastructure projects, materials, and labor segments. The implementation of social distancing measures and stringent lockdowns has resulted in the disruption of numerous projects across different regions. As a result, the industry has needed help maintaining a smooth supply chain, due to an overall negative impact. However, as industries gradually reopen, there is potential for growth in the construction & demolition waste market.
Industry Dynamics
Growth Drivers
The global demand for construction & demolition waste management is expected to be driven by increasing regulatory policies worldwide. In the European Union, construction and demolition waste constitute a significant portion of the total debris generated annually, accounting for approximately 0.85 billion tons, or 25% to 30%. This waste includes asbestos, gypsum, concrete, plastic, wood, bricks, glass, and metals, most of which can be recycled or repurposed. However, due to adverse environmental impacts, a significant amount of construction and demolition waste must be disposed of with proper processing.
Policies and Regulatory norms have been implemented to address this issue to enforce the reuse and recycling of over half of the construction and demolition waste produced. These guidelines and landfill legislation play a crucial role in promoting smart management practices for construction and demolition waste. They encourage the development and continuity of service providers that offer efficient services, products, and solutions for managing construction and demolition waste. Consequently, these factors are expected to accelerate the growth of the construction & demolition waste market shortly.
Report Segmentation
The market is primarily segmented based on type, Source, and region.
By Type

By Source

By Region

Soil, Sand & Gravel

Concrete

Bricks & Masonry

Wood

Metal

Others

Residential

Commercial

Industrial

Municipal

North America (U.S., Canada)

Europe (France, Germany, UK, Italy, Netherlands, Spain, Russia)

Asia Pacific (Japan, China, India, Malaysia, Indonesia, South Korea)

Latin America (Brazil, Mexico, Argentina)

Middle East & Africa (Saudi Arabia, UAE, Israel, South Africa)
To Understand the Scope of this Report: Speak to Analyst
Sand, soil, and gravel segment accounted for the largest market share in 2022
The sand, soil, and gravel segment accounted for the largest market share in the construction & demolition waste. According to the European Cement Association, gravel, sand, and soil collectively represent a significant portion of the salvaged materials from construction and demolition sites worldwide. The substantial output of recycled sand, soil, and gravel contributes to the prominence of this segment in the overall industry. The increasing adoption of recycled and composted soil, gravel, and sand debris in new construction and demolition sites further supports the dominance of this segment in the foreseeable future.
Similarly, the bricks and masonry segment dominate the global industry. Salvaged bricks are directly applied in new buildings and demolition sites, while masonry materials are also used as raw materials for coarse aggregates and manufacturing sites. These factors are expected to accelerate the growth of the bricks and masonry segment in the industry.
industrial segment held the highest revenue share in 2022
The industrial segment held the highest revenue share in the global construction and demolition waste industry and is expected to grow in the coming years. Vertical integration of assets such as landfills, transfer stations, and recycling operations can lead to improved operating margins and higher profitability, thereby enhancing cash flow and boosting the growth of the industrial segment.
Meanwhile, the commercial segment is projected to exhibit the highest compound annual growth rate (CAGR) in the global market in the foreseeable future. The segment's growth is driven by the increasing number of commercial activities and the growing population. Additionally, implementing government policies for effective debris management is expected to drive the demand for the retail segment.
Asia Pacific held the largest market in 2022
In 2022, Asia Pacific held the largest market due to growing emphasis placed by governments on infrastructural development, particularly in emerging economies such as China, Japan, and India. The continuous creation of various building and construction projects in these countries contributes significantly to the market demand.
For instance, the Indian Ministry of Housing and Urban Affairs (MoHUA) has implemented favorable regulatory policies to advance the construction sector in India. This initiative aims to promote sustainable practices, including recycling debris as a raw material for green buildings and eco-friendly construction. With an ample supply of waste available for recycling centers, these efforts contribute to the overall growth of the market in the region.
Furthermore, North America is expected to experience the highest compound annual growth rate (CAGR) globally in the coming years. This growth can be attributed to the substantial investments made by key market players to establish and manage new recycling building projects in the region, thereby driving market demand. Additionally, the emergence of technology in scrap management and the overall high level of economic development in North America create lucrative opportunities for the segment. These factors combine to propel the market growth across North America.
Competitive Insight
Some of the major players operating in the global market include Casella Waste Systems, Clean Harbors, Inc., Duromech, GFL Environmental, Metso Outotec, Remondis Se & Co. KG, Renewi, Nswai, Republic Services, Infrastructure Leasing & Financial Services Limited, Rubicon, FCC Environment, Shanghai Zinth Mineral Co., Ltd., Ecowise, Suez, Cleanaway, Veolia, CDE Global Ltd., Waste Management, Biffa, Westart India, and Ramky Enviro Engineers Ltd.
Recent Developments
In January 2021, SUEZ strengthened its capabilities in treating and recovering hazardous waste in Europe, specifically emphasizing the industrial sector. The company aims to prioritize safety and regulatory adherence by providing solutions that foster the circular economy.

In September 2019, DTG Recycle acquired Recovery One, a waste management and recycling center in Washington, USA. This acquisition was made to enhance DTG Recycle's recycling capacity and promote using recycled construction and waste products throughout the region.
Construction & Demolition Waste Market Report Scope
| | |
| --- | --- |
| Report Attributes | Details |
| Market size value in 2023 | USD 135.61 billion |
| Revenue forecast in 2032 | USD 265.68 billion |
| CAGR | 7.8% from 2023 – 2032 |
| Base year | 2022 |
| Historical data | 2019 – 2021 |
| Forecast period | 2023 – 2032 |
| Quantitative units | Revenue in USD million/billion and CAGR from 2023 to 2032 |
| Segments Covered | By Type, By Source, By Region |
| Regional scope | North America, Europe, Asia Pacific, Latin America; Middle East & Africa |
| Key Companies | Casella Waste Systems, Clean Harbors, Inc., Duromech, GFL Environmental, Metso Outotec, Remondis Se & Co. KG, Renewi, Nswai, Republic Services, Infrastructure Leasing & Financial Services Limited, Rubicon, FCC Environment, Shanghai Zinth Mineral Co., Ltd., Ecowise, Suez, Cleanaway, Veolia, CDE Global Ltd., Waste Management, Biffa, Westart India, and Ramky Enviro Engineers Ltd. |