The global battery management system market was valued at USD 6.66 billion in 2022 and is expected to grow at a CAGR of 19.4% during the forecast period. The increasing application of battery management systems in electric vehicles primarily drives the growth of this market. The rising need for management systems for batteries in renewable energy systems and the high demand for BMS from data centers also supports market growth. The increasing need to use renewable and green energy further increases the adoption of the BMS. The growing demand for consumer electronics such as smartphones and laptops to offer longer-lasting batteries and high efficiency is pushing this market.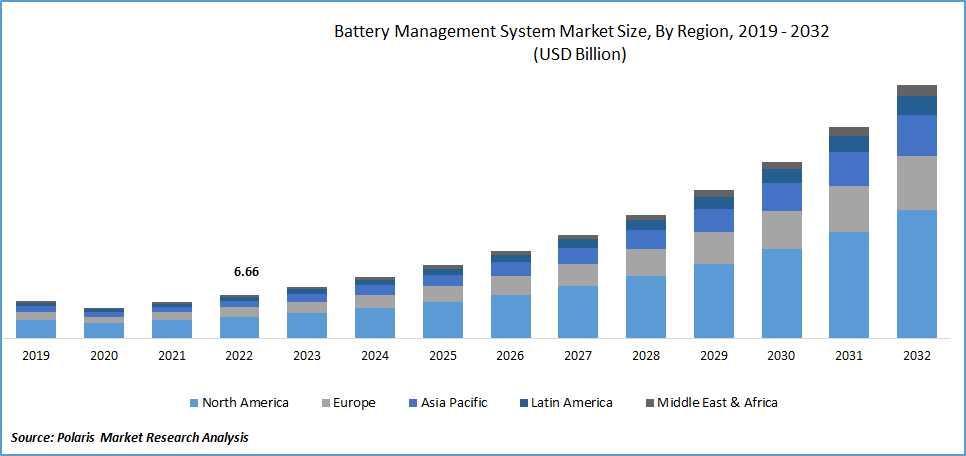 Know more about this report: Request for sample pages
In addition, other factors driving the growth of this battery management system market include technological advancement and application in varied industries such as aerospace and defense, healthcare, and electronics, among others. However, increased prices and compatibility issues restrict market growth. Additionally, proper standards for developing battery management systems are yet to be developed, which further limits the market's growth.
Battery Management Systems (BMS) are electronic regulators which primarily offer functionalities such as cell protection, charge control, demand management, cell balancing, and monitoring & reporting data regarding battery operation for rechargeable batteries. BMS is also responsible for charging and discharging, managing output, protecting the batteries from damage, and providing notifications regarding the status of battery packs.
Furthermore, the basic functional blocks of these systems include a cell-voltage monitor, temperature monitors, real-time clock, cutoff field-effect transmitters (FETs), cell-voltage balance, fuel-gauge monitor, and a state machine, among others. These systems are used across various applications such as consumer goods, medical devices, automotive, industrial, and computing devices.
In the medical sector, the BMS is used in digital blood pressure meters, digital thermometers, blood cholesterol meters, blood glucose meters, digital heart rate monitors, and portable health and fitness equipment. In contrast, wireless computing devices are used in smartphones, accessory chargers, tablets, digital cameras, Bluetooth headsets, in-car charging systems, and speakers.
The market was significantly impacted the COVID-19 pandemic due to disruptions in supply chains, production, and logistics, leading to a short-term decline in demand. However, the increasing demand for electric vehicles, renewable energy storage, and portable electronic devices is expected to drive the growth of the BMS market in the long term. BMS plays a critical role in ensuring the safety and performance of battery systems, which are integral components in these applications. Moreover, the pandemic has increased the focus on energy storage systems to support remote work, online learning, and telemedicine. This will likely boost the demand for BMS in the coming years as more energy storage systems are deployed.
Industry Dynamics
Growth Drivers
The rising demand for electric vehicles drives the demand for BMS, which is critical in managing and monitoring the battery system. BMS ensures the safety and reliability of the battery system, which is crucial for the performance of electric vehicles.
The increasing adoption of renewable energy sources like solar and wind power drives the demand for energy storage systems. BMS is essential to these systems, as it helps manage the battery system and optimize its performance. As the renewable energy storage market grows, the demand for BMS is expected to increase.
In addition, the focus on reducing carbon emissions is driving the demand for BMS in various applications, including electric vehicles, renewable energy storage, and smart grid systems. BMS helps optimize the performance of the battery system, which can reduce carbon emissions and improve overall system efficiency. Additionally, the constant advancements in battery technology drive the demand for BMS as battery systems become more complex, requiring advanced BMS systems to manage and optimize their performance. The growing demand for portable electronic devices like smartphones, laptops, and tablets is also driving the demand for BMS as it helps manage the battery system of these devices, ensuring their safe and efficient operation.
Report Segmentation
The market is primarily segmented based on battery type, component, charging source, topology, end-use, and region.
By Battery Type

By Component

By Charging Source

By Topology

By End-Use

By Region

Lead-acid Batteries

Nickel-based Batteries

Li-ion Batteries

Flow Batteries

Others

Hardware Components

Software Components

Conventional

Non-conventional

Hybrid

Distributed

Centralized

Modular

Medical

Automotive

Telecommunication

Consumer Electronics

Military

Others

North America (U.S., Canada)

Europe (France, Germany, UK, Italy, Netherlands, Spain, Russia)

Asia Pacific (Japan, China, India, Malaysia, Indonesia, South Korea)

Latin America (Brazil, Mexico, Argentina)

Middle East & Africa (Saudi Arabia, UAE, Israel, South Africa)
Know more about this report: Request for sample pages
Lithium-ion batteries segment expected to dominate the market
Lithium-ion batteries are expected to dominate the market during the forecast period due to their growing usage in various industries. Lithium batteries are becoming increasingly popular among vehicle manufacturers as they offer high charge density and low weight compared to other contemporary batteries, such as lead-acid and nickel batteries.
Lithium-ion batteries have become the preferred choice for EVs due to their high energy density, low self-discharge rate, lightweight design, and low maintenance needs. In contrast, lead-based batteries are commonly used in ICE vehicles and will likely remain the dominant mass-market battery technology soon. However, lithium-ion batteries will need significant cost reductions for SLI (starting, lighting, and ignition) applications to become a viable mass-market alternative to lead-based batteries.
Modular segment is expected to experience the highest growth over forecast period
By topology, the modular segment is anticipated to experience the highest growth rate in the market, during the forecast period, many manufacturers favor the modular topology due to its excellent computational power, safety, and minimal need for extensive wire harnesses in various applications such as energy storage systems, industrial UPS, medical mobility vehicles, drones, and electric vehicle components. As a result of its usefulness, there is a high demand for modular topology, which is expected to increase further in the coming years.
Automotive segment holds the highest revenue share in 2022
The automotive industry had the highest revenue share in 2022, propelling the market by increasing demand for advanced and inventive batteries. Fleet operators are particularly interested in Internet of Things (IoT)-enabled battery management systems, enhancing the market's revenue growth.
Emuron, an Indian startup, is offering IoT-enabled BMS to fleet operators. This asset management system keeps a real-time check on the vehicle's battery performance, and it includes a GPS monitoring device that provides users with current information about lithium-ion battery conditions and usage. The device also permits remote charging and immobilization in an emergency by collecting, sharing, and analyzing real-time battery data, providing valuable insights into battery usage and status.
North America holds the highest revenue share of the market
The North America holds the highest revenue share in the market and expected to grow rapidly over the projected period, due to the increasing demand for sustainable energy storage solutions and the rising adoption of electric vehicles (EVs). The United States is leading the way in EV adoption, and the government's incentives and subsidies for EV purchases and charging infrastructure installation are further fueling the market's growth.
Additionally, the demand for advanced energy storage solutions is increasing with the adoption of renewable energy sources like solar and wind. BMS plays a crucial role in ensuring energy storage systems' safe and efficient operation, driving the market's growth. The presence of key players like Tesla, Johnson Controls, and Texas Instruments in the region also contributes to the market's growth, as they invest heavily in research and development to develop advanced BMS solutions that meet the market's evolving needs.
Competitive Insight
Some of the major players operating in the global market include Texas Instruments Inc., Ricardo Edition, Johnson Matthey PLC., Mastervolt, Linear Technology Corporation, Vecture Inc., Microchip Technology Inc., Toshiba Corp., Elithion Inc., AVL, East Penn Manufacturing Company, NXP Semiconductors, Intersil Corporation, Robert Bosch GmbH, Nuvation Engineering, Ventec SAS, Generex Systems, Lithium Balance A/S, Panasonic Corporation, Merlin Equipment, and Lithium Balance.
Recent Developments
In September 2022, Sensata Technologies, Inc. has launched its latest offering, the Lithium Balance n3-BMS, a Battery Management System (BMS) designed for high-voltage applications.
In June 2022, Xing Mobility launched its immersion-cooled battery system at a conference held in Germany. The advanced battery management system is designed to operate efficiently in challenging conditions like harsh temperatures and rough road conditions.
Battery Management System Market Report Scope1
| | |
| --- | --- |
| Report Attributes | Details |
| Market size value in 2023 | USD 7.94 billion |
| Revenue forecast in 2032 | USD 39.30 billion |
| CAGR | 19.4% from 2023 – 2032 |
| Base year | 2022 |
| Historical data | 2019 – 2021 |
| Forecast period | 2023 – 2032 |
| Quantitative units | Revenue in USD million/billion and CAGR from 2023 to 2032 |
| Segments Covered | By Battery Type, By Component, By Charging Source, By Topology, By End-Use, By Region |
| Regional scope | North America, Europe, Asia Pacific, Latin America; Middle East & Africa |
| Key Companies | Texas Instruments Inc., Ricardo Edition, Johnson Matthey PLC., Mastervolt, Linear Technology Corporation, Vecture Inc., Microchip Technology Inc., Toshiba Corp., Elithion Inc., AVL, East Penn Manufacturing Company, NXP Semiconductors, Intersil Corporation, Robert Bosch GmbH, Nuvation Engineering, Ventec SAS, Generex Systems, Lithium Balance A/S, Panasonic Corporation, Merlin Equipment, and Lithium Balance. |