The global asphalt pavers market was valued at USD 1.1 billion in 2019 and is expected to grow at a CAGR of 3.6% during the forecast period. The major factors driving the market growth include infrastructural development along with an increase in the number of paved roads, development of road networks in the emerging economies, strong government push and investment through public-private mode, and the increasing demand for energy-efficient construction equipment.
There has been a significant rise in the rental business associated with asphalt pavers as major construction industry players are eyeing road & dam projects; however, commercial & residential project contractors prefer purchasing their own pavers. As these pavers require a substantial initial investment, manufacturers are offering attractive financing options such as flexible payment terms. The increasing availability of financing options has enabled contractors in purchasing asphalt pavers without any significant impact on their budget. For instance, Deere & Co. provides its customers with financing that includes loans and leasing related to construction equipment such as compactors, along with installment options. Such offerings by manufacturers will further proliferate sales of asphalt pavers over the coming years.
Know more about this report: request for sample pages
Industry Dynamics
Growth Drivers
The growth of the construction sector is expected to create opportunities for asphalt pavers. The ongoing boom in the construction and infrastructure sector, particularly in emerging economies such as India, Brazil, and China is driving the demand for various construction equipment. Moreover, initiatives taken by policymakers and infrastructure planning commissions are further supporting the growth of the construction sector in these countries. In addition, urban and rural infrastructure projects associated with roads & highways, dams, railways & metros, and power infrastructure development are expected to create value propositions for the asphalt pavers market over the coming years.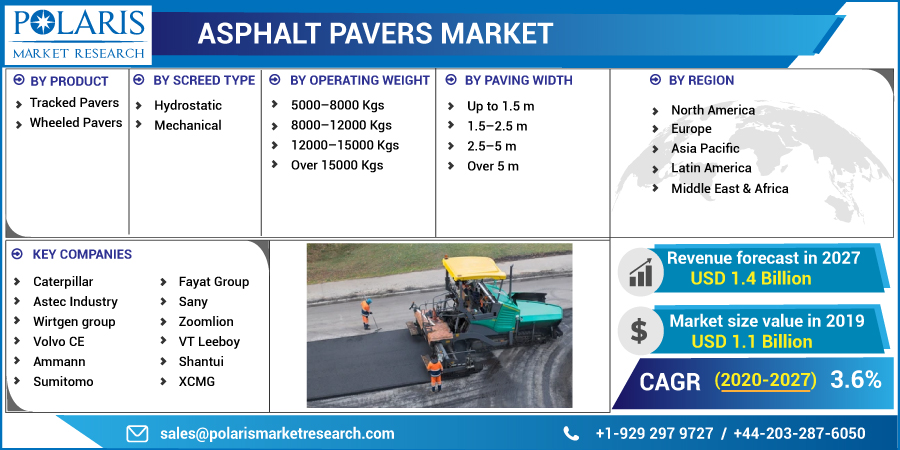 Know more about this report: request for sample pages
The need to develop good public infrastructure is a key driver for sustainable development and to boost economic growth in every country across the globe. By 2028, global spending on roadways is expected to increase three times the current spending and would have occupied 80% of the present road network. China and India represented approximately 50% of paved roads and is expected to contribute further over the forecast period. Paved lane accounted for 58% of the global road lane in 2010, whereas by 2016 over 65% of the total road lane were paved.
Asphalt Pavers Market Report Scope
The global asphalt pavers market is primarily segmented on the basis of product type, screed type, operating weight, paving width, and region.
By Product Type

By Screed Type

By Operating Weight

By Paving Width

By Region

Tracked Pavers
Wheeled Pavers

5000–8000 Kgs
8000–12000 Kgs
12000–15000 Kgs
Over 15000 Kgs

Up to 1.5 m
1.5–2.5 m
2.5–5 m
Over 5 m

North America (U.S., Canada)
Europe (France, Germany, UK, Italy, Spain, Netherlands, Austria)
Asia Pacific (Japan, China, India, Malaysia, Indonesia. South Korea)
Latin America (Brazil, Mexico, Argentina)
Middle East & Arica (Saudi Arabia, UAE, Israel, South Africa)
Know more about this report: request for sample pages
Insight by Product Type
Based upon the type, the market has been bifurcated into tracked asphalt pavers and wheeled asphalt pavers. In 2019, the tracked pavers segment accounted for the largest revenue share. This can be attributed to its high efficiency as compared to wheeled pavers. Tracked wheelers are also preferred over wheeled owing to their high traction and floatation allowing better stability and their ability to turn in tighter places. Moreover, tracked pavers are also suitable in hilly and mountain regions with steep areas. They can deliver without slipping and are able to push the truck uphill or hold it from being run downhill.
Insight by Screed Type
Based on screed type, the asphalt pavers market has been bifurcated into hydrostatic and mechanical. In 2019, the hydrostatic segment accounted for the largest market share owing to its higher machine efficiency and lower operating costs. The hydrostatic system provides step-less speed from zero to maximum within minimum turnaround time and has two working gears suitable for high altitudes.
Geographic Overview
North America is one of the significant contributors to asphalt pavers market revenue. The region's growth is dependent on several factors such as on-going construction activities, development of roadways, railways, ports, dams, bridges, and long-distance highways. The U.S. federal government's spend on highways reached over USD 1,038 million in the period of 2014-18. In Canada, the government through its flagship program "Canada Infrastructure Plan" has invested over USD 180 billion in the last twelve years in the public transit projects, transportation routes, green infrastructure to unite the country's weaker sections of society residing in southern and northern communities.
Asia Pacific accounted for the largest revenue share in 2019 owing to their increasing demand from highway & other road construction projects along with increasing residential development. Asphalt pavers provide an improved base, density, and appearance which increases their preference driving demand in Asia Pacific. Key players in the asphalt pavers market lay emphasis on expansion of existing facilities and setting up corporate offices in South-east Asia to benefit from economies of scale and increase their global market shares.
Developing and maintaining roads in China will require an investment of approximately US$ 150 Bn in the next 10 years. Such a sizeable capital demand cannot be met by the government and/or bank loans, due to the downfall of China's economy coupled with its sluggish economic growth. Road congestion cost in Jakarta increased to USD 5.2 Bn in 2010 from USD 4 Bn in 2009 and 60% of the total road networks are poorly maintained, while 30% are heavily damaged.
The government of India in October 2017 introduced Bharatmala Pariyojana, a highway infrastructure program to develop 24,800 km of roads for total investments of around USD 72.0 billion. In line with this, NHAI introduced Infrastructure Investment Trusts to monetize and get more funds for such infrastructure projects.
Competitive Insight
The key players operating in the asphalt pavers market are Caterpillar, Astec Industry, Wirtgen group, Volvo CE, Ammann, Sumitomo, Fayat Group, Sany, Zoomlion, VT Leeboy, Shantui, and XCMG, among others. The asphalt pavers market players have adopted several strategies to retain and gain share. The manufacturers are introducing new and efficient products to gain an edge over other manufacturers present in the asphalt pavers market. In September 2020, the Swedish engineering firm, Dynapac, working under Fayat Group of companies, introduced the IMIX system, used for material segregation and temperature optimization in asphalt paving.