The global angiogenesis inhibitor and stimulators market was valued at USD 27.61 billion in 2022 and is expected to grow at a CAGR of 9.3% during the forecast period.
Angiogenesis is a vital natural process that aids in healing & reproduction. Within normal healthy tissues, the human body regulates angiogenesis by establishing a common link with the growth & inhibitory substances. During abnormal blood vessel development, it is now recognized as a common cause of a wide range of lethal & disabling disorders, including diabetic ulcers, cardiovascular disease, skin disease, cancer, age-related blindness, & stroke. Each year, various conditions with angiogenesis as an underlying mechanism have been arising, which has limited knowledge & substantial unmet medical needs.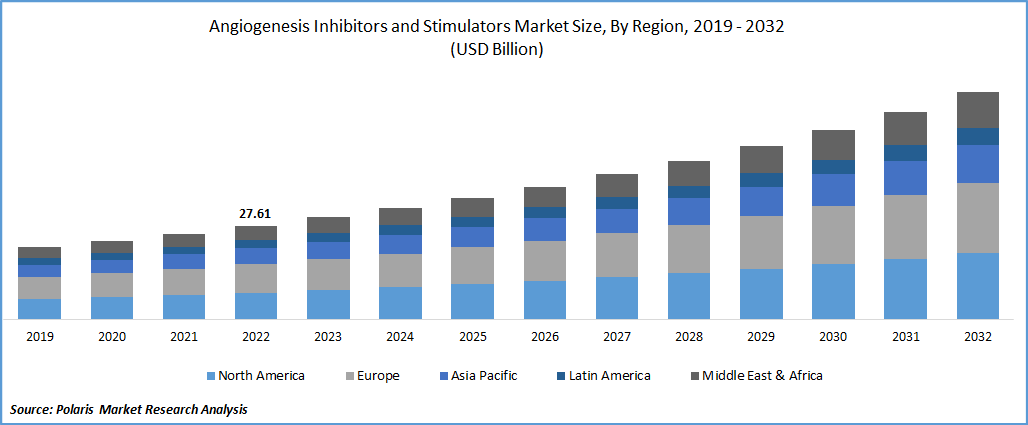 Know more about this report: Request for sample pages
Angiogenesis is a physiological process that occurs when new blood vessels grow from existing blood vessels. The process of angiogenesis is typically divided into two types: sprouting & intussusceptive angiogenesis. Sprouting angiogenesis is the primary method of vessel development in which new blood vessels are naturally developed and are controlled by a series of phases.
The most significant research and development activity are for creating advanced angiogenesis medicines for cancer therapy. As a result, the rising number of cancer cases will fuel market expansion throughout the projection period. According to the World Health Organization, cancer caused roughly 8.2 million deaths in 2012. It is also estimated that the number of cancer cases per year will increase from 14 million to 22 million during the following two decades.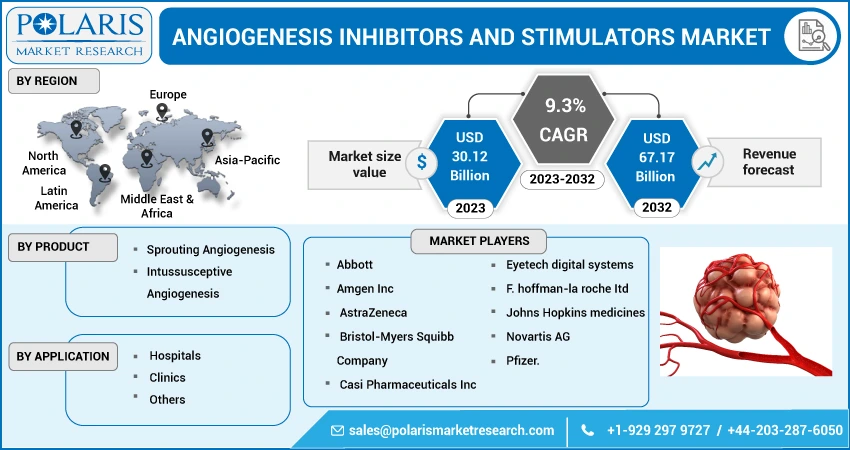 Know more about this report: Request for sample pages
Industry Dynamics
Growth Drivers
The rising incidence of various cancer affecting many individuals is likely to propel the angiogenesis inhibitors market to remarkable growth during the forecast period. Furthermore, due to the consequences of limitations induced by the abrupt breakout of COVID-19, the market is likely to experience negative growth throughout the projection period.
The rising worldwide burden of cancers such as lung cancer, prostate cancer, and breast cancer will accelerate the growth rate of the treatment industry. Furthermore, research and development efforts that result in innovative therapeutics are growth variables that support market expansion. Moreover, the availability of therapeutic alternatives and a healthy pipeline leading to prospective medications will fuel the addition for the angiogenesis inhibitors market.
Report Segmentation
The market is primarily segmented based on product, application, and region.
By Product

By Application

By Region

Sprouting Angiogenesis

Intussusceptive Angiogenesis

North America (U.S., Canada)

Europe (France, Germany, UK, Italy, Netherlands, Spain, Russia)

Asia Pacific (Japan, China, India, Malaysia, Indonesia. South Korea)

Latin America (Brazil, Mexico, Argentina)

Middle East & Africa (Saudi Arabia, UAE, Israel, South Africa)
Know more about this report: Request for sample pages
Sprouting angiogenesis is expected to dominate the market in 2022
In 2022, sprouting angiogenesis is expected to held the largest revenue share. The typical response of living tissues to healthy and pathological angiogenic stimuli is sprouting angiogenesis. Sprouting occurs when Ecs are activated by pro-angiogenic paracrine signals from their tissue milieu in response to an increasing need for oxygen and nutrients from parenchymal tissue cells or to pro-angiogenic substances released by wounded or tumor cells. Vascular endothelial growth factors, hypoxia-inducible factors, fibroblast growth factors, and angiopoietins are among the most effective and physiologically relevant inducers of sprouting angiogenesis.
Enzymatic breakdown of the endothelial cell proliferation, direct migration of the ECs, tubulogenesis, vascular fusion, & pericyte stabilization are the essential phases of sprouting angiogenesis. In poorly perfused tissues, sprouting angiogenesis begins when oxygen-detecting systems detect a degree of hypoxia that necessitates the development of new blood vessels to meet the metabolic needs of parenchymal cells. Most parenchymal cells respond to hypoxia by secreting a major pro-angiogenic growth factor. Most of the time, they do not appear as the redundant growth factor systems capable of replacing the VEGF involvement in hypoxia-induced angiogenesis. This mechanism is a significant driver to focus on angiogenesis therapy to shrink the existing tumor by the inhibitors.
Angiogenesis dysregulation is a significant cause of tumor development & progression. Various anti-angiogenic medicines are now used in clinical trials to normalize aberrant tumor vasculature. Unfortunately, these treatments are useless because of the development of resistance in patients during medication vacations. According to a large body of data, opposition to such anti-angiogenic medications arises due to most of the mechanisms involved in tumor angiogenesis.
Hospital sector is expected to grow at the fastest rate during the forecast period
During the projection period, the hospitals sector is expected to grow at a faster rate. This market segment is predicted to create the greatest revenue since hospitals are the key places for treating patients suffering uncontrolled angiogenesis and more individuals are having therapy against angiogenesis owing to improved awareness.
In 2022, hospitals hold a significant proportion in the global market. This category is also expected to expand the fastest throughout the projection period. The substantial proportion of this sector can be ascribed to hospitals' increasing spending on angiogenesis inhibitors therapy and the need for innovative therapies that are now only available in hospitals.
Clinical practice guidelines are created to help practitioners and patients decide on the best course of action for their specific situation. Comprehensive cancer centers take the lead in formulating and disseminating treatment guidelines both locally and nationally. Clinicians and researchers at the Center collaborate with professional organizations to establish recommendations for a wide range of settings hence sharing a significant share in the growth of the market.
North America is expected to dominate the market in 2022
North America dominates the market in terms of market share and revenue, and this dominance is expected to continue during the projected period. This is because the rising cancer incidence in the country, the presence of significant market competitors, and the introduction of new commodities all have an impact on market growth in this area.
Asia-Pacific, on the other hand, is expected to have the highest growth rate during the forecast period due to factors such as rising awareness about early diagnosis, increased healthcare expenditure, high unmet clinical needs of patients, and an effective treatment in the region's fast-growing countries such as India and China. Due to increased healthcare expenditure, rising knowledge of early diagnosis, high unmet clinical requirements of patients, and effective treatment in emerging nations such as China and India, hence Asia-Pacific is predicted to expand at the quickest rate throughout the projection period.
Competitive Insights
Key players include Abbott, Amgen Inc, AstraZeneca, Bristol-Myers Squibb Company, Casi Pharmaceuticals, Eyetech digital systems, Roche, Johns Hopkins Medicine, Novartis, and Pfizer.
Recent Developments
In January, 2023, Takeda announced its licensing agreement with HUTCHMED (China) limited for further commercialization and development of fruquintinib outside Hong Kong, mainland China and Macau.
Angiogenesis Inhibitors and Stimulators Market Report Scope
| | |
| --- | --- |
| Report Attributes | Details |
| Market size value in 2023 | USD 30.12 billion |
| Revenue forecast in 2032 | USD 67.17 billion |
| CAGR | 9.3% from 2023 – 2032 |
| Base year | 2022 |
| Historical data | 2019 – 2021 |
| Forecast period | 2023 - 2032 |
| Quantitative units | Revenue in USD billion and CAGR from 2023 to 2032 |
| Segments covered | By Product, By Application, By Region |
| Regional scope | North America, Europe, Asia Pacific, Latin America; Middle East & Africa |
| Key companies | Abbott, Amgen Inc, AstraZeneca, Bristol-Myers Squibb Company, Casi Pharmaceuticals Inc, Eyetech digital systems, F. hoffman-la roche Itd, Johns Hopkins medicines, Novartis AG, Pfizer. |